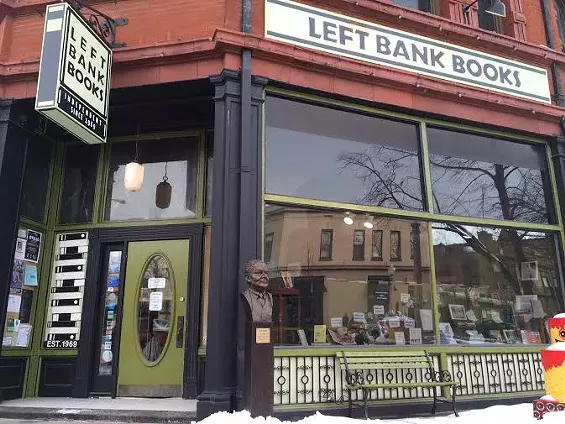 Lindsay Toler
Left Bank Books in the Central West End.
One of St. Louis' most beloved book stores is on the shortlist to earn some well-deserved recognition.
Left Bank Books is one of five bookstores across the country contending for Publishers Weekly's coveted Bookstore of the Year title.
"We are so proud to be nominated for this award and to be counted among some of the very best bookstores in the nation," co-owner Jarek Steele, who has worked at the store since 2002, says in a statement.
Founded by a group of Washington University graduate students in 1969, Left Bank Books moved from the Delmar Loop to its flagship location in the Central West End in 1974 and later to downtown St. Louis.
Left Bank announced in April it was closing its downtown location and consolidating its 21 employees, author events and school services to its Central West End location. In an email announcing the downtown store closure, owners said they were considering expanding the CWE location, including adding a coffee or wine and beer bar.
See also: Left Bank Books Closing Downtown Location
Steel called the last year "transformative" for the bookstore, starting with the closing of the downtown location and culminating with the launch of its Black Lives Matter reading list, inspired by the Ferguson protests.
Here's Steel's statement:
This past year had been transformative. Our bookstore has gone from making an indescribably painful decision to leave downtown, to physically transforming our store into what we dreamed it could be, to bearing witness to the epicenter of a new civil rights movement, to having a good year in spite of it all because of the outstanding work of our staff and breathtakingly touching loyalty of our customers.

In response to the events in Ferguson, Left Bank Books founded #FergusonReads, a monthly reading group designed to add civility and context to the conversation surrounding the protests by exploring race, not only in St. Louis, but in America as a whole. Left Bank also recently gained national attention and input for its Black Lives Matter reading list, a community curated list of books, poems, articles and blog posts that explore race in contemporary America.
Here are the book stores nominated for Publishers Weekly's 2015 Best Bookstore of the Year:
Books & Books (Miami, FL)
Left Bank Books (St. Louis, MO)
McLean & Eakin Booksellers (Petoskey, MI)
Powell's Books (Portland, OR)
Village Books (Bellingham, WA)
Follow Lindsay Toler on Twitter at @StLouisLindsay. E-mail the author at Lindsay.Toler@RiverfrontTimes.com.