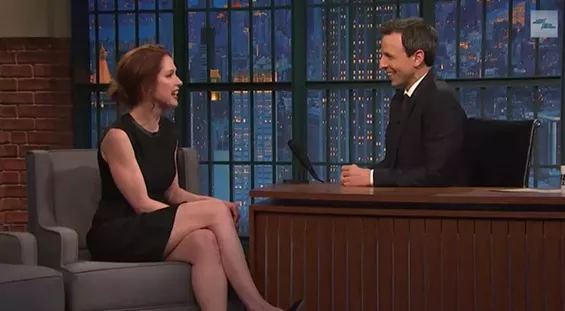 via Youtube
Ellie Kemper tells Seth Meyers why St. Louis loves Jon Hamm.
Ellie Kemper is totally jealous of Jon Hamm's St. Louis Cardinals bobblehead.
And really, who can blame her? Kemper, the sprightly star of the upcoming Netflix series Unbreakable Kimmy Schmidt, from co-executive producer Tina Fey, has known Hamm since he was her eighth-grade drama teacher.
"He's like the prince of St. Louis," Kemper told Seth Meyers during an appearance on his late-night talk show last week. "Everyone just adores him there."
See also: Jon Hamm, St. Louis Cardinals' Most Handsome Fan, Gets His Own Bobblehead
This may sound like typical, blowing-smoke-up-Don-Draper's-butt talk, but Meyers says he's seen St. Louis' love for Hamm in person. While Meyers was riding in a cab in the Lou, the cab driver told him he grew up with Hamm. Meyers texted Hamm, expecting for the TV and film star to balk; turns out, Hamm totally knew the driver and asked Meyers to say hello for him.
"He's the king of St. Louis," Meyers said.
That's just how Hamm is, Kemper says. "Everyone [in St. Louis] claims ownership of him, but then he does know everyone," she explained to Meyers.
See also: Paul Rudd Once Tried to Steal Jon Hamm's Prom Date, So They Faced Off in Trivial Pursuit
Hamm returned to his alma mater, John Burroughs School, after earning a bachelor's degree in English from the University of Missouri and taught drama for two years. Hamm taught Kemper, who would later appear in The Office and Bridesmaids, and Beau Willimon, the screenwriter of House of Cards.
"He's so kind," Kemper says of Hamm. "He's like an uncle to all of these people from our high school who go out to LA to and try to pursue acting."
Hamm even attended Kemper's one-woman show when she first moved to LA. She admits that Hamm, who was already starring on Mad Men, had the audience buzzing.
"He stole the show," she says.
The Cardinals created a Jon Hamm night in the ballpark, complete with a Jon Hamm bobblehead, to honor the actor who is so vocal about his support and love for the Cardinals. Now Kemper says she wants her own Cardinals bobblehead, and she might not be far off from getting one. She's a Cardinals fan and met Matt Holliday and David Freese in 2013 when the players came to visit the set of The Office, which featured three St. Louis natives: Kemper, Jenna Fischer and Phyllis Smith.
Here's the trailer for Kemper's new upcoming show:
Follow Lindsay Toler on Twitter at @StLouisLindsay. E-mail the author at [email protected].