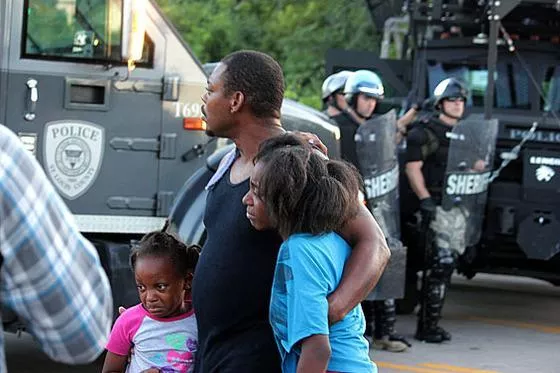 Danny Wicentowski
The report attributes anger and frustration seen in the Ferguson protests to years of racially discriminatory police tactics.
The Ferguson Police Department may be in for some major changes as the U.S. Department of Justice prepares to release a scathing report on the department's racially discriminatory tactics, according to the New York Times.
The report accuses Ferguson police of unfairly targeting blacks in traffic stops, causing years of pent-up animosity and racial enmity that culminated in weekslong protests after the August 9 shooting of Michael Brown by a then-Ferguson officer, anonymous officials briefed on the investigation tell the Times.
Anonymous sources have been leaking details from the federal investigations into Brown's death and into police tactics in Ferguson for months as Ferguson business owners, residents and the mayor implore Attorney General Eric Holder to release the results. In February, CNN reported that the justice department plans to sue Ferguson police unless Ferguson agrees to make changes to its racially discriminatory tactics on its own.
See also: Black Drivers Still Get Pulled Over More in Missouri, St. Louis: Attorney General
The justice department is also investigating former Ferguson police officer Darren Wilson, who was not indicted by a local jury, for shooting Brown. The justice department is not expected to charge Wilson with a crime.
The federal report into Ferguson's policing methods reveals how discriminatory tactics used by the north St. Louis County municipality's mostly white police force on its mostly black population contributed to the mounting sense of frustration that fueled last year's Ferguson protests, according to the Times:
Blacks accounted for 86 percent of traffic stops in 2013 but make up 63 percent of the population, according to the most recent data published by the Missouri attorney general. And once they were stopped, black drivers were twice as likely to be searched, even though searches of white drivers were more likely to turn up contraband.

For people in Ferguson who cannot afford to pay their tickets, routine traffic stops can become yearslong ordeals, with repeated imprisonments because of mounting fines. Such fines are the city's second-largest source of revenue after sales tax. Federal investigators say that has provided a financial incentive to continue law enforcement policies that unfairly target African-Americans.
The report includes a reference to a racist joke circulated by email among Ferguson city officials, law enforcement officials told the Times.
Holder has said he will announce the results of the federal investigations before he leaves his post in the coming weeks. Holder -- the first black attorney general in the United States and one of the longest serving members in President Barack Obama's cabinet -- plans to step down once the legislature confirms his replacement.
Last month, fifteen people who described themselves as "impoverished individuals" filed a lawsuit against Ferguson and nearby Jennings accusing the municipalities of jailing defendants because they couldn't pay traffic tickets, bench warrants and fees, in violation of the U.S. Constitution.
Follow Lindsay Toler on Twitter at @StLouisLindsay. E-mail the author at Lindsay.Toler@RiverfrontTimes.com.