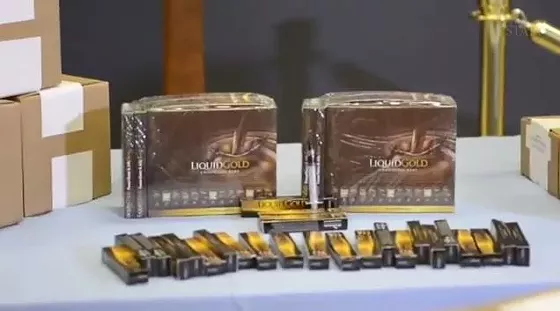 Kansas City Star via YouTube
Pot chocolate: It's the munchie that give you the munchies.
Channeling equal parts Hunter S. Thompson and Willy Wonka, a California man found himself behind bars earlier this week after Missouri police ended his cross-county quest to sweeten the lives of stoners.
On Tuesday, Jeffrey J. Woo, 42, of Ladera Ranch, California, was stopped by a Missouri Highway Patrol trooper while driving east on Interstate 70 in Lafayette County, around 30 miles from Kansas City. The trooper pulled over Woo's 2015 Infiniti QX60 for a traffic violation, and repordedly noticed Woo's "inconsistencies and deceptive behavior."
When the trooper searched the vehicle, he uncovered 400 pounds of marijuana chocolate bars stashed in boxes in the SUV's cargo area.
See also: Police Discover Suitcase Full of Weed In Car of Guy Peeing In Stranger's Front Yard
California-based company GFarmaLabs produces the line of Liquid Gold bars seized from Woo, and the packaging features a warning about the cannabis content. Medical marijuana is legal in the Sunshine State, and the GFarmaLabs website lists the price of the 2.25-ounce bars at $20 a pop. By our math, that means Woo was hauling around $56,000 worth pot chocolate.
There is a dizzying array of flavors of the Liquid Gold chocolate bars, some more delectable-sounding than others. From Woo, police seized bars with flavors including almond nut toffee, bacon, peanut butter and jelly swirl.
"These edibles that we are seeing look like regular chocolate bars, look like regular candy bars, look like regular food, and we're worried," Sgt. Collin Stosberg said during a press conference Thursday, reports WDAF Fox 4. "Our main concern is obviously getting in the hands of our children, and these THC levels in these edibles are at an all time high."
Woo is in custody on a $100,000 bond. He was charged with possession with intent to distribute a controlled substance.
Here's a video of the police press conference, via the Kansas City Star.
Follow Danny Wicentowski on Twitter at @D_Towski. E-mail the author at Danny.Wicentowski@RiverfrontTimes.com