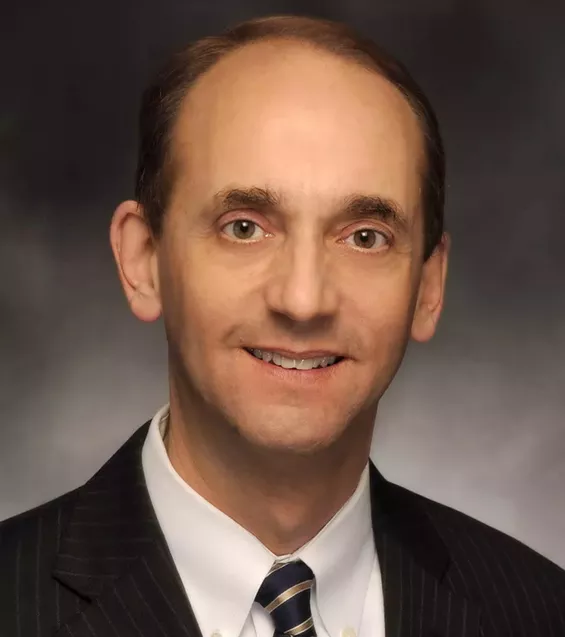 Missouri State Auditors office/UPI
Missouri auditor Tom Schweich.
Missouri auditor Tom Schweich died today in an apparent suicide inside his Clayton home. The Republican gubernatorial candidate was reportedly hospitalized for self-inflicted gunshot before official statements from his office confirmed his death.
"What we know at this point suggests an apparent suicide," Clayton Police Chief Kevin Murphy said during in a news conference this afternoon. He added that there is "nothing to support anything other than that at this point." He said Schweich died from a single gunshot wound.
According to the Post-Dispatch, a 911 call was placed from Schweich home at 9:48 a.m. reporting a gunshot wound. That was minutes after he'd left a voicemail with Post-Dispatch editorial page editor Tony Messenger requesting an interview in with one of the newspaper's reporters.
Schweich, who announced last month that he would be chasing the Republican nomination for governor, was taken from his Clayton home to Barnes-Jewish Hospital to be treated for a "medical condition," according to an earlier statement from his office. He was later pronounced dead.
The Post-Dispatch published the voicemail Schweich left for Messenger minutes before he died. In the message, Schweich said that he wanted to invite a reporter from the Post-Dispatch and Associated Press for an exclusive press conference at 2:30 p.m..
"I think this is more of a religion story than a politics story, but it's your choice on who the reporter is," Schweich said.
Here's the full audio of the voicemail:
We may never know the full extent of what Schweich planned on revealing in that press conference, or why he reportedly shot himself in the head. However, Messenger has disclosed details of a previous, private conversation with Schweich that casts an even more disturbing pall over the apparent suicide. According to Messenger, Schweich confided that he was planning to accuse John Hancock, the chairman of the Missouri Republican Party, with leading a "whisper campaign" among donors that Schweich was Jewish.
Schweich did not identify as Jewish and attended an Episcopal church, but Messenger wrote that Schweich was proud of the Jewish heritage he derived from his grandfather.
Hancock made a surprise stop in Jefferson City on Tuesday, allegedly to confront Schweich. Hancock believed Schweich was about to hold a press conference to accuse him of some form of serious misconduct, reported PoliticMo's Eli Yokely on Wednesday. That press conference never happened, but Yokely's report revealed how rumors have been swirling among Missouri Republicans that "Hancock at some point made an inflammatory comment to a Jewish donor."
Hancock has denied making anti-Semitic comments about Schweich.
Here's a statement from John Hancock he released shortly after news of Schweich's death.
"I am in utter shock at the news of Tom Schweich's tragic passing. Tom will be remembered as a tenacious, energetic, effective elected official who worked tirelessly on behalf of the citizens of this state and this nation. I ask all Missourians to join me in praying for Tom's family."
Update, Friday 1:30 p.m.: In an email to the GOP central committee, Hancock went into greater detail about his rocky relationship to Schweich. While he admitted that at one time he thought Schweich was Jewish, Hancock insisted the detail "was simply a part of what I believed to be his biography--no different than the fact that he was from St. Louis and had graduated from Harvard Law School."
Here's Hancock's full email to the GOP central committee:
By now each of you has heard of Tom Schweich's tragic passing.

The news came as an absolute shock to so many of us who knew him as a tenacious, energetic, and effective elected official who worked tirelessly on behalf of the citizens of this state and this nation.

No one will ever fully understand what led to yesterday's tragedy. Still, I am sad to have learned that some of Tom final moments were spent thinking of an ongoing disagreement with me.

Many of you on this committee are aware of the issue, as it came up in several of our conversations during the past few months. While those who know me understand I would never denigrate anyone's faith, Tom had mistakenly believed that I had attacked his religion.

Now, some political opponents--particularly liberal Post-Dispatch columnist Tony Messenger--are using this tragic incident as an opportunity to criticize me and to smear the Missouri Republican Party. These attacks are not only disgusting; they are wrong.

I would like to set the record straight, once and for all: Until recently, I mistakenly believed that Tom Schweich was Jewish, but it was simply a part of what I believed to be his biography--no different than the fact that he was from St. Louis and had graduated from Harvard Law School. While I do not recall doing so, it is possible that I mentioned Tom's faith in passing during one of the many conversations I have each day. There was absolutely nothing malicious about my intent, and I certainty was not attempting to "inject religion" into the governor's race, as some have suggested (in fact, I have never met with donors or raised money on behalf of the Hanaway campaign).

Over the past several months, I had hoped to dispel these untrue rumors about me and make peace with Tom. It is my sincerest regret that we will be forever unable to do so.

We may never know what drove Tom to take his own life--but it seems clear that there were deeper and more profound issues than a minor political squabble.

Ultimately, I continue to believe that Tom was good man and a terrific State Auditor. I hope you will join Georgann and me as we continue to pray for his family.

If you have any additional questions or want to discuss this further, please don't hesitate to contact me.

Thank you for your leadership in our state.

Best regards,

JH
Governor Jay Nixon was conspicuously missing from a press conference at the same time news of Schweich's hospitalization was breaking. It seems likely that Nixon's absence was related.
Nixon's office released this statement:
"I join all Missourians in mourning the passing of State Auditor Tom Schweich, a brilliant, devoted and accomplished public servant who dedicated his career to making Missouri and the world a better place," Nixon said. "From his courageous work to combat the illegal drug trade abroad in Afghanistan to his tireless efforts to protect the interests of taxpayers here in Missouri, Tom Schweich's exceptional intellect and unwavering dedication to public service left a legacy that will endure for many years to come. The First Lady and I send our most heartfelt condolences to Tom's wife Kathy and two children, Emilie and Thomas, Jr."
And here's a statment from Attorney General Chris Koster:
"Tom Schweich was a lifelong public servant for our state and country. I am deeply saddened by his sudden loss, and extend my heartfelt sympathy to his family. I ask all Missourians to keep his family in their thoughts and prayers during this difficult time."
Here's a video of Schweich's campaign kickoff, which was posted less than a month ago:
Follow Danny Wicentowski on Twitter at @D_Towski. E-mail the author at Danny.Wicentowski@RiverfrontTimes.com