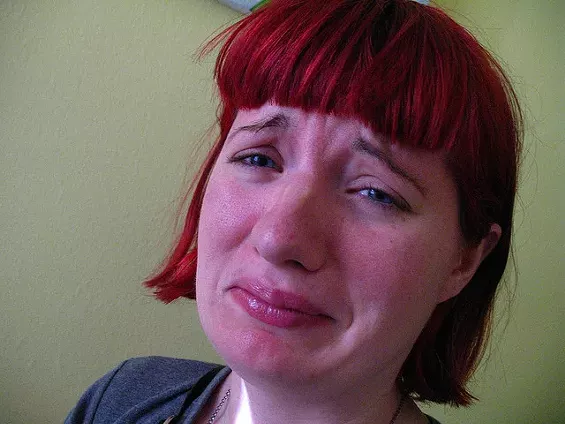 She's crying because her friends keep calling it Panera instead of St. Louis Bread Company.
Whether you're sniffling or sobbing, blubbering or bawling, everyone needs a good cry in public sometimes. Break-ups, student loans, layoffs, the death of a pet -- any of these can throw us into a full-blown crying jag.
So when the tears threaten to take over, don't run to your car and hide. Embrace your emotions and weep your way to one of these spots.
Here are Daily RFT's picks for top places to cry in St. Louis:
At the foot of the Stan the Man statue.
You can pretend you're mourning his death. Hell, if you're a real St. Louisan, you probably still are mourning his death.
The Farrell Auditorium bathrooms at the Saint Louis Art Museum.
Tucked away on the bottom level, no one will be able to hear you bawl. Plus, when you're ready to emerge from your crying session, you can cheer yourself up by visiting the ancient Egyptian mummy exhibit.
Sandrina's at 2:50 a.m.
Everyone else is.
A Rams game.
Just vaguely gesture toward the field if anyone asks why you're bawling.
The plane on top of the City Museum.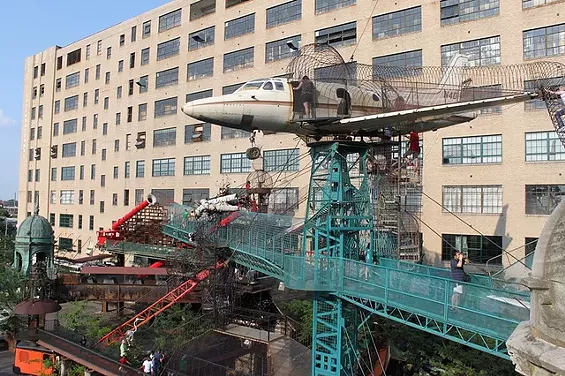 Or anywhere else inside the museum. There are a lot of private corners to hide and cry.
The jury duty lobby at the 22nd Judicial Circuit Court of Missouri.
Especially in the bathrooms.
In the spot where your tour van used to be.
Into a slice of St. Louis-style pizza.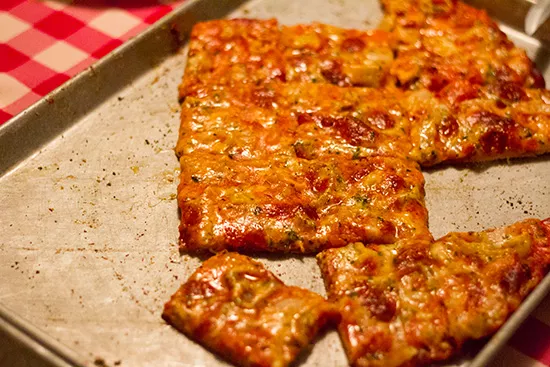 Disguise your snot in the Provel cheese.
More places to cry on page two! The bathroom of Colorado Bob's.
No one will hear your sniffles over the hacking coughs of smokers.
Lambert St. Louis International Airport.
Courtesy of Lambert St. Louis Airport
Speaking from first-hand experience, Daily RFT can assure you that no one will even look twice.
From the top of the Arch.
More specifically, looking east from the top of the Arch.
In line at the grocery store before a snowstorm.
Just tell everyone they ran out of bread.
Outside the Scottrade Center in April.
LGB.
Steinberg Ice Rink.
The cold wind makes everyone's eyes a little watery.
Pearl Cafe.
Pretend you just ate something at their level 100 spiciness, and everyone will think you're really tough.
Any Build-A-Bear Workshop.
The worldwide toy company's headquarters is here, and according to the NYC Crying Guide, employees are unfazed by tears.
Cathedral Basilica.
Just don't interrupt Mass.
Any other ideas? What did we miss?
Follow Lindsay Toler on Twitter at @StLouisLindsay. E-mail the author at Lindsay.Toler@RiverfrontTimes.com.