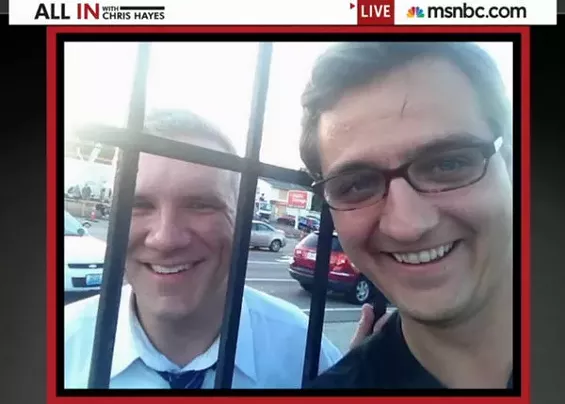 The two Chris Hayes met during the Ferguson protests last year and took this selfie together.
It's an easy mistake.
With two reporters named Chris Hayes in the media, inattentive tweeters are bound to mix up their Twitter handles: @ChrisHayesTV for FOX 2 (KTVI) reporter Chris Hayes, and @ChrisLHayes for MSNBC's host of All In with Chris Hayes.
Hayes (the St. Louis one) has been receiving tweets directed at the MSNBC host for years now. He even added a last line to his bio -- "FOX 2's Chris Hayes should not be confused with MSNBC's Chris Hayes" -- to help clear the confusion.
It didn't work.
On Tuesday, MSNBC's Hayes appeared on Last Call with Carson Daly and talked about climate change, calling it the biggest threat to mankind's survival.
"One hundred years from now, people will look back and be like, 'How did they talk about anything else, ever? Like, didn't they understand they were sitting tied to train tracks with a train coming?'" MSNBC's Hayes said.
See also: Kevin Costner Does Not Want Your St. Louis-Themed Birthday Gift, KSDK
That comment drew ire from right-wing, climate-change-denying tweeps across the country, especially once the clip went up on Drudge Report, a conservative news aggregator with a notoriously active fan base.
"Anytime you get a Drudge link like that, you can expect a barrage of just lovely people," a.k.a. trolls, "contacting you with some very strongly held views," MSNBC's Hayes said in a follow-up segment.
Angry viewers went to Twitter to express their displeasure with MSNBC's Hayes' views but ended up aiming their venom at St. Louis' Hayes instead. St. Louis' Hayes tells Daily RFT he likens Twitter outrage to road rage.
"It's a faceless being you think you can attack," Hayes says. "Then you realize, 'Well wait a minute, it's someone I sit next to in church.'"
After years of hateful messages aimed at the wrong reporter, Hayes says he still tries to be as patient as possible while pointing out the tweeter's mistake.
"I just respond to each one of them as nice as I could," Hayes says. "I take a little bit of appreciation in the fact that maybe they'll be embarrassed by it if they realize."
Hayes is right. The angry tweeters often apologize after he corrects them. Even MSNBC's Hayes noticed just how St. Louis' Hayes "couldn't be nicer" to the trolls aiming for him.
"When people offer an apology, he's still a gentleman, saying, 'No apology necessary. I certainly got the better Twitter handle,'" MSNBC's Hayes says in an October 2013 segment. "Right you are TV's Chris Hayes. Right you are."
St. Louis' Hayes can't even avoid the mix-up at his own office. When he reported on a store raided by the DEA for synthetic drugs complete with a sign saying, "No media or reporters, especially Chris Hayes," the FOX 2 staff came up with a sign of their own for the news desk:
"Only MSNBC's Chris Hayes allowed on the KTVI assignment desk."
Daily RFT has to hand it to St. Louis' Hayes for keeping his cool when the world insists on accusing him of being a douche:
Follow Lindsay Toler on Twitter at @StLouisLindsay. E-mail the author at Lindsay.Toler@RiverfrontTimes.com.