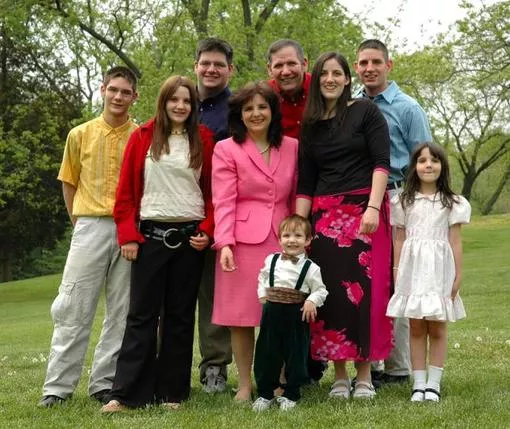 Cynthia Davis (in pink) agrees with Catherine Hanaway that unmarried sex is dangerous.
Amid the avalanche of scorn that followed GOP gubernatorial candidate Catherine Hanaway's speech on how slutty feminist culture leads to kiddie porn, an infamous former Missouri politician is now standing up to defend her.
No, not Todd Akin -- it's Cynthia "hunger can be a positive motivator" Davis.
Davis, you may recall, rose to national prominence in 2009 as a state representative when she questioned the need for summer food programs for children, arguing that hunger would probably motivate kids to get jobs at McDonald's. Yesterday, Davis sent out a newsletter praising Hanaway and calling her remarks "spot on."
See also: GOP Gubernatorial Candidate Says Abortions, Unwed Mothers Lead to Child Pornography
Davis left state government (and soon after, the GOP) in 2010, and since then she's taken to blogging and podcasting as she fights against secularism and America's "culture of permissiveness towards sexual activity." So when Davis saw one of her fellow conservatives taking flak for simply suggesting that it's wrong to let women control their sexual lives, she couldn't stay on the sidelines.
"Her remarks were spot on," Davis writes, "yet several left-leaning media outlets have treated with hostility and name calling. This just shows how short-sighted, small-minded and cruel people can be when reminded of the importance of having moral standards."
In fact, Davis takes Hanaway's slippery-slope logic even further:
"If we attempt to protect the culture of sexual permissiveness through abortion and other peripherals, we will end up at a conclusion where every sexual preference is acceptable i.e. pedophilia, animals, promiscuity, homosexuality, transgender behavior and any other deviant activities," she writes.
See also: A Missouri Politician Is Suing to Stop His Daughters From Getting Birth Control
Davis also points out that letting women have sex before marriage raises the chilling possibility that their children will be forced "to grow up in households where their mothers have to work."
Like Hanaway, it appears that somewhere beneath Davis' hand-wringing lies an authentic concern for the challenges facing single mothers. But both undermine their worry by ignoring tangible solutions to those challenges, such as providing Missourians with comprehensive sexual-health education and wider access to contraception services.
Instead, Davis and Hanaway douse the issue in morality, pushing a worldview that seems to leave no room for any kind of family (or reality) other than their own.
Follow Danny Wicentowski on Twitter at @D_Towski. E-mail the author at Danny.Wicentowski@RiverfrontTimes.com