Happy Mardi Gras, St. Louis!
River City likes to celebrate Fat Tuesday the Saturday before, and Soulard is already decked out in purple, yellow and green for the festivities.
But before you and your krewe head to the "island," here are a few important Mardi Gras tips to keep in mind:
1. It's also Valentine's Day
Jon Gitchoff
If it can't survive Mardi Gras, it's not real love.
Don't get so caught up in one holiday that you forget about the other. If you plan to attend the weekend's festivities with that special someone, remember that he or she might be expecting a Valentine's gift from you. If you didn't get your Valentine anything, at least make a special effort to snag them some beads during the parade.
2. Bundle up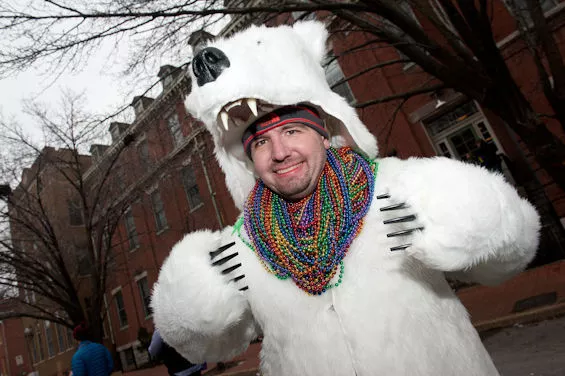 Jon Gitchoff
You don't have to dress like a polar bear, but it's not a bad idea.
Temperatures on Saturday probably won't climb above the low twenties, according to the National Weather Service. As for snow, St. Louis probably won't see anything more than a light dusting, similar to what we woke up to on Thursday morning. Stay warm so you can party hard.
3. MetroLink has a special Mardi Gras shuttle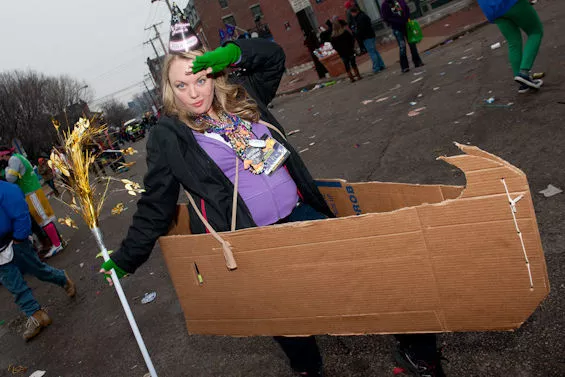 Jon Gitchoff
She doesn't need a ride, she brought her own boat.
The
shuttle
takes revelers from the Civic Center MetroLink Station to Tenth and Marion streets in Soulard for $6. Kids under five ride for free.
Here's a map.
4. You can order a ride home with smartphone apps now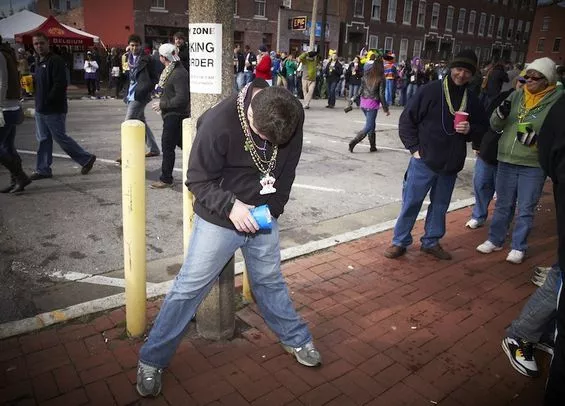 Steve Truesdell
Someone call this kid a taxi.
St. Louis still doesn't allow companies like Uber, Lyft or Sidecar to operate rideshares here, but there are a few apps that can help you order a car home if you're too drunk to drive. There's Uber's black car service UberBLACK, Carmel, Yellow Cab and County Cab all have apps that allow you to watch your ride approach from your smartphone.
5. Play these games.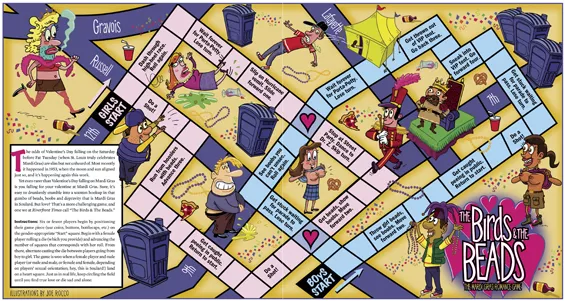 Joe Rocco
The winner gets an extra slice of king cake.
Got some downtime between swigging Hurricanes and snagging beads? Bring along some dice and play our board game the Birds & the Beads, inspired by the Valentine's Day/Mardi Gras craziness happening this weekend. Or bust out that OG RFT classic, Mardi Gras Bingo.
Follow Lindsay Toler on Twitter at @StLouisLindsay. E-mail the author at Lindsay.Toler@RiverfrontTimes.com.