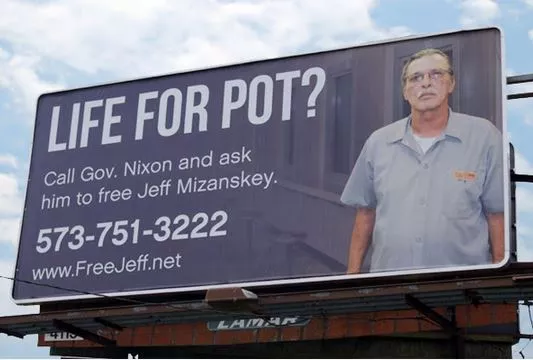 Show-Me Cannabis
It looks like Governor Jay Nixon is finally paying attention to Jeff Mizanskey.
Maybe it was the billboard placed near his mansion. Maybe it was the letter-writing campaign. Maybe it was the nearly 400,000 signatures on a Change.org petition. Or maybe it's the throngs marijuana-legalization advocates gearing up for Missouri's 2016 election.
Whatever the reason, Governor Jay Nixon now says he'll take a "hard look" at the case of Jeff Mizanskey, the only Missouri prisoner serving a life sentence for marijuana-only charges.
"It's a very serious amount of time," Nixon told KMBC-TV. "If the laws change after someone is sentenced, then you want to give those things a close look."
See also: Gov. Nixon Evades Questions About Jeff Mizanskey, Man Serving Life in Prison for Pot
Mizanskey was busted twice with relatively modest amounts of marijuana in 1984 and 1991, but his third arrest in 1993 -- for being involved in purchasing approximately six to seven pounds of bud -- made him a three-time drug offender under Missouri's Prior and Persistent Drug Offender statute. The law mandates life without parole regardless of whether the drug crimes were violent or not.
However, due to a sweeping criminal code reform bill that became law in May, the Prior and Persistent Drug Offender statute will be gone as of January 1, 2017. That change in criminal law appears to be what Nixon was referring to in the interview when he said, "If the laws change after someone is sentenced, then you want to give those things a close look." (Daily RFT has reached out to Nixon's office for comment.)
But it's worth noting that Nixon has historically shown zero interest in helping Mizanskey. Last year, a reporter asked him if he would take President Barack Obama's changing stance on pot as an opportunity to grant the 61-year-old grandfather clemency.
Nixon (as is his style) evaded the question with the oratorical grace of a water buffalo falling down an escalator:
"Certainly the president is entitled to his opinion, but I'll keep my executive authority vis-à-vis the folks in our district -- that's something we do at the state level," said the governor. "But we're constantly looking at areas where we can balance, shall we say, the scales of justice, but my sense is that we're busily engaged in the last three weeks of the legislative session on a number of things, but we'll go through our regular process and look through all petitions for clemency, as well as pardons."
When Daily RFT then asked Nixon if he thought it was "just" for a person to serve a life without parole sentence for a nonviolent offense, his answer was marginally more coherent but equally evasive.
"I think each case is separate, and we look at the entirety of their record and their cases, and we have a process in place to review all that. So I don't just pick a single act or occurrence out. We look at what the complete history is, and we'll give all of these a full and thorough review."
Yet, when Nixon made the unprecedented move in late December 2014 to pardon nine nonviolent offenders, Mizankey wasn't one of them.
Since Riverfront Times broke Mizanksey's story two years ago, the baffling injustice of imprisoning a three-time, nonviolent pot offender for life has drawn national and international coverage, and local marijuana legalization group Show-Me Cannabis used Mizanskey as a symbol for the enduring harm caused by Missouri's war on drugs.
Check out whole story of Jeff Mizanskey: How a Missouri Man Could Die in Prison for Weed
Follow Danny Wicentowski on Twitter at @D_Towski. E-mail the author at Danny.Wicentowski@RiverfrontTimes.com