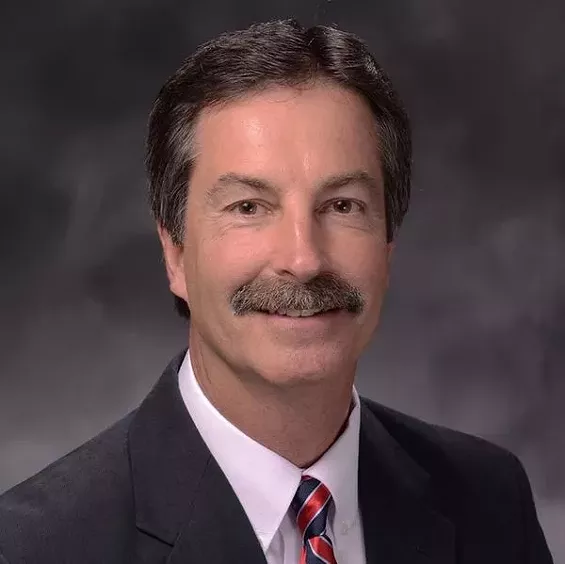 Missouri Representative Mike Moon.
The seven men and three women who represent Missouri in Congress just aren't hard enough for Republican state representative Mike Moon, apparently.
Moon wants Missouri's U.S. representatives and senators to repeal the Affordable Care Act and, in House Resolution No. 99 set for a hearing Tuesday, asks them to do so with "manly firmness:"
[W]e, the members of the Missouri House of Representatives, Ninety-eighth General Assembly, hereby insist that each member of the Missouri Congressional delegation endeavor with "manly firmness" and resolve to totally and completely repeal the Affordable Care Act, settling for no less than a full repeal.
Missouri's Congressional delegation includes three women: Senator Claire McCaskill, Representative Ann Wagner, who represents St. Louis County, and Representative Vicky Hartzler. But Moon tells the Columbia Daily Tribune he didn't mean for his archaic phrasing to demean Missouri's women lawmakers.
"It is just like going to war," Moon tells the Tribune. "You want a soldier to fight like a man. If a woman is in the trenches, you want them to fight like a man, too."
See also: Rep. Nick Marshall Files to Impeach Gov. Jay Nixon for Letting Gay Couples File Joint Taxes
The term "manly firmness" is a throwback to a line in the Declaration of Independence: "He [King George III] has dissolved Representative Houses repeatedly, for opposing with manly firmness his invasions on the rights of the people."
Rather than elevate his rhetoric to match current times when government isn't exclusively run by land-owning white men, Moon says he included the phrase to show how vehemently he wants Congress to repeal, and not replace, the Affordable Care Act.
"It was not meant to downplay their womanhood at all," Moon tells the Tribune. "We just want them to know, every man and lady who is representing us, that we are demanding, as citizens of Missouri, that Obamacare be repealed and make it clear we don't want a replacement."
After all, Moon mansplains, there are plenty of smart ladies out there.
"I know there are some women who are much smarter than I am, and I tip my hat to them," he said.
Update, 10:50 a.m.: Here's Senator Claire McCaskill's response to Moon's resolution asking her to act with "manly firmness:"
"I don't think you prove your manhood by kicking folks off their health coverage and once again letting insurance companies discriminate against women and sick people," McCaskill said in a statement. End of update.
Moon's resolution inspired hours of online riffing: Matt Wills, executive director of Missouri's Republican party, criticized Democrats for picking on the resolution's language instead of its substance: Representative Sonya Anderson, one of two women who signed the resolution as a co-sponsor says she's not insulted by Moon's phrasing.
"That's just a term they used," Anderson tells the Tribune. "I am not going to read anything into that."
Representative Stephen Webber told the Tribune the phrase was unnecessary and insulting.
"I can't believe anyone in 2015 talks like that," he said.
Follow Lindsay Toler on Twitter at @StLouisLindsay. E-mail the author at Lindsay.Toler@RiverfrontTimes.com.