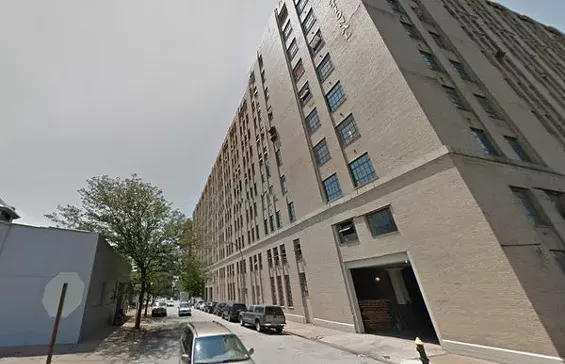 Google Maps
The 700 block of N. 15th Street, where an eighteen-year-old gunman shot Robert Christman during a robbery. The building on the right is the City Museum.
The purse-snatching robber who shot and killed a De Smet Jesuit High School graduate near the City Museum downtown last month now faces murder, robbery and gun charges.
The circuit attorney's office charged Christopher Grant, eighteen, of Collinsville, Illinois, Wednesday with first-degree murder, first-degree attempted robbery, unlawful use of a weapon and three counts of armed criminal action. Grant is in custody in St. Clair County on unrelated charges of battery and alcohol possession.
See also: Teen Shot in Head by Purse-Snatching Robber in Downtown St. Louis: Police
Police investigators say Grant used a gun to hold up Robert Christman, a 2013 graduate of De Smet Jesuit High School who was home for winter break from Southeast Missouri State, as well as Christman's brother and girlfriend while they were in a parked car in the 700 block of N. 15th Street, just behind the City Museum.
At about 12:45 p.m. on January 11, Grant approached Christman's car, opened the door on the driver's side, where Christman's brother was sitting, and ordered the brothers and girlfriend out of the car, police said.
Then Grant leaned inside the car and tried to steal a purse from the girlfriend, who was sitting in the back seat, police said. When Christman tried to stop him, Grant fired, striking him in the head and killing him.
Here's the police report released the day of the killing:
Incident: Assault 1st (Shooting)

Location: 700 block of N. 15th

Date/Time: 1/11/15 @ 00:43

Victim #1: 19-year old white male

Victim #2: 17-year old white male

Victim #3: 19-year old white female

Suspect: Unknown black male

Officers responded to the above location for a "shooting" and upon arrival, located Victim #1 seated in the front passenger seat of a vehicle, unconscious and suffering from a gunshot wound to the head. Victim #1 was conveyed to a hospital and listed in critical/unstable condition. Victims #2 and #3 stated all three victims were seated inside the parked vehicle when an unknown suspect approached them, opened a rear passenger door to their vehicle and produced a firearm. The suspect demanded the victims' property and grabbed Victim #3's purse. A struggle ensued over the purse and the suspect fired a shot, striking Victim #1. The suspect then entered the passenger side of a silver vehicle and fled the scene. The investigation is ongoing.
Follow Lindsay Toler on Twitter at @StLouisLindsay. E-mail the author at Lindsay.Toler@RiverfrontTimes.com.