All photos by Danny Wicentowski
Juanita Morris stands in front of the remains of her store, Fashion R Boutique, which was burned down in the rioting over Michael Brown's death.
It was an overcast Saturday in August, eight days after Michael Brown's death, when Juanita Morris rushed barefoot out the front door of Fashions R Boutique to watch hundreds of protesters surging north on West Florrisant Avenue. She was too excited to remember her shoes.
"I was working and I saw my people out here, I'm for it, I'm supporting it, so I came out," said Morris, who moved her boutique to this spot in Dellwood ten years ago. She said she wasn't afraid of the looters and vandals that struck other business the previous night. She refused to board up her shop's windows.
"God has got me covered," she said.
Much has changed since that day in August. On Thursday morning, Morris welcomed researchers from the Missouri History Museum to pick through the twisted and charred remains of Fashions R Boutique. The shop had been torched on November 24, shortly after the announcement that a grand jury's would not indict former Ferguson cop Darren Wilson in Michael Brown's killing.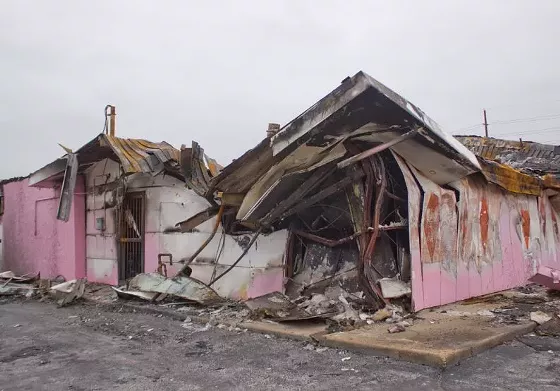 Fire gutted and warped Morris' shop, but historians have given it new life.
See also: Missouri History Museum Collects Ferguson Protest Artifacts, Wants Your Donations
Earlier this month, one of Morris' old customers put her in touch with museum officials seeking artifacts for their Ferguson Collecting Initiative. At first, Morris was incredulous.
"I told them I didn't think they would find anything," said the 69-year-old Florrisant resident. "Everything was destroyed."
But beneath piles of ash are potential remnants of Ferguson history, artifacts that Chris Gordon, the museum's director of library and collections, hopes to recover and preserve for future generations.
"It's like an archaeological excavation," Gordon explained. "This is the first opportunity we've had to actually go through any of the buildings that were affected by the rioting."
Yesterday, Gordon and his team carefully picked their way amid debris, finding stacks of Morris' business cards, sewing machines, flashy high-heeled shoes and a scarf rack, among other things. The museum has plans to open a civil-rights exhibit in 2017, and reaching store owners like Morris is essential for historians trying to record the complex history of Ferguson.
Jeff Meyer, the Missouri History Museum collections manager, holds up a hunk of melted glass and the remains of a parasol he found in the wreckage.
Indeed, building a historically significant collection out of St. Louis' tumultuous present will take time, maybe even decades.
"Historians say we need 25 years to actually get that objective perspective," said Gwen Moore, the museum's curator for urban landscape and community identity. In her view, preserving these artifacts of destruction is crucial to the museum's mission of preserving the full history of Ferguson and the movements sparked by Brown's death.
"Whether you agree or disagree, you have to understand what happened," Moore said. "You have to understand the anger and frustration."
Sewing machines recovered from inside Fashion R Boutique.
A selection of artifacts recovered by Missouri History Museum workers.
As for Morris, she is focused on moving on. With the help of a GoFundMe campaign that raised more than $20,000, she has begun to rebuild the business she ran for 28 years before the flames ripped it away. She reopened in a temporary location, but she wants to reconstruct her store on West Florrisant as soon as possible.
Even after all the anguish, Morris said she found a kind of solace in imagining how future museum visitors will learn from the artifacts recovered in her wreckage. When asked what it feels like to become part of history, she answered without hesitation:
"Can you explain a miracle?" she said. "You just accept it."
Follow Danny Wicentowski on Twitter at @D_Towski. E-mail the author at Danny.Wicentowski@RiverfrontTimes.com