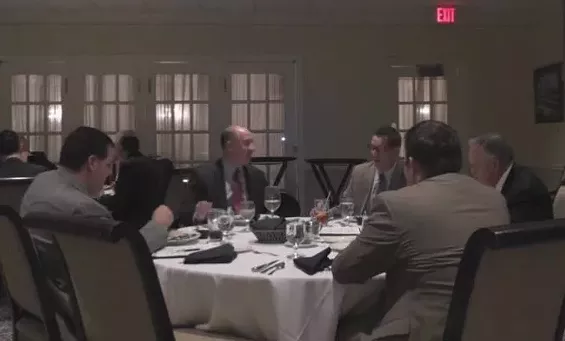 "When my wife saw it, she was like, 'What?!' and I was like, 'Uh-oh.'"
They say behind every strong man is a strong woman. Let's just hope the woman behind Republican state representative Ron Hicks is strong enough to keep him from voting for a uniquely egregious anti-women's-health bill currently before the legislature.
Hicks, who represents St. Charles, brought up his wife's shocked reaction to House Bill 131 at a lobbyist-comped dinner "hearing" at the upscale, jackets-only Jefferson City Country Club. (Don't worry, lawmakers aren't allowed to do that anymore.)
The bill, sponsored by Republican Rick Brattin, says women should only have access to abortion services in Missouri if the father grants written permission, or if they can prove they were victims of "legitimate rape."
See also: New Bill Requires Father's Permission or Proof of "Legitimate Rape" for Abortions in Missouri
"When my wife saw it, she was like, 'What?!' and I was like, 'Uh-oh,'" Hicks told the other members of the Missouri House Telecommunications Committee. "I don't know how the other representatives' wives are, but most of them pretty much try to stay out of the politics.... But when your wife goes, 'What is this?' and it has something to do with legislation, you better look at it and pay attention."
Hicks runs on a staunchly pro-life platform and says on his website he will fight "for the rights of the unborn." But even he seemed unconvinced that a bill that gives men authority over a women's health procedure could actually pass.
"I mean, bottom line, it's still her body," Hicks said at the meeting, adding that "none of the women" he's talked to are fans of Brattin's proposal.
Here's video of the conversation, captured by the left-leaning advocacy group Progress Missouri:
Hicks tells the Huffington Post he's not sure how he'll vote on the bill, adding that he's concerned about women seeking abortion services who can't find the father to get his written permission.
"I don't want to police a woman's relationship with her doctor," he said to the Huffington Post.
Brattin's bill inexplicably digs up a phrase that has haunted Missouri Republicans for years -- "legitimate rape" -- and attempts to make it a legal standard women must prove in order to access abortions without the father's permission. Brattin seems to believe that rape is only "legitimate" if the victim reports it, despite numerous studies that show most women do not report sexual assaults to police.
"Just like any rape, you have to report it, and you have to prove it," Brattin told Mother Jones after filing the bill in December. "So you couldn't just go and say, 'Oh yeah, I was raped,' and get an abortion. It has to be a legitimate rape."
It's already distinctly difficult to get an abortion in Missouri. The state's only abortion clinic is in St. Louis' Central West End and, thanks to a recent veto override from Missouri's GOP-dominated legislature, women must wait 72 hours between the initial consultation and the procedure. Missouri's abortion waiting period does not allow exceptions for rape or incest, making it the longest and harshest in the country.
Brattin's bill goes to even greater lengths to stop women from having abortions by requiring doctors to share information about the fetus, including the gestational age, the anatomical and physiological characteristics and color photographs of a fetus developing in two-week increments. Before any abortion, the patient would receive printed materials with this disclaimer: "The life of each human being begins at conception. Abortion will terminate the life of a separate, unique, living human being."
Brattin's bill doesn't have much Constitutional standing. In the 1992 case Casey v. Planned Parenthood, the Supreme Court ruled that a woman doesn't have to inform her husband if she has an abortion.
So thanks, Mrs. Hicks, for sticking up for your sisters about Brattin's bizarre bill. But real talk? This is why we need more women in office.
Follow Lindsay Toler on Twitter at @StLouisLindsay. E-mail the author at Lindsay.Toler@RiverfrontTimes.com.