Tony Rice
Theda Wilson at the hospital after an encounter with Kinloch Police.
A former city leader in the small North County municipality of Kinloch claims police there arrested and physically assaulted her after she called to report a burglary in her apartment complex.
Kinloch police cited Theda Wilson with a summons for resisting arrest and because she "fought with three police officers."
Kinloch police chief K. Williams says his department is investigating the incident and offered no other details. He told Daily RFT he wasn't even sure the incident had occurred because officers involved were not back on duty and therefore unavailable.
Police took Wilson to the Christian Northeast Hospital emergency room after the incident, where she was treated for pain and bruising from the handcuffs and from being hit by officers.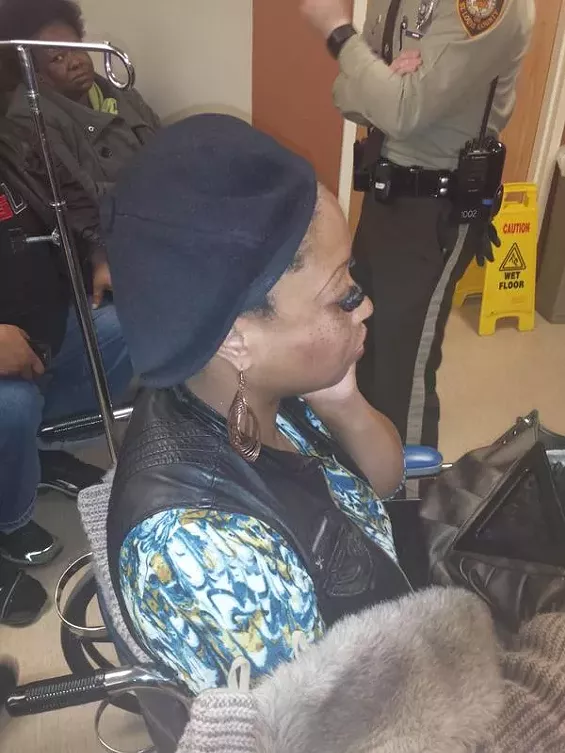 Tony Rice
A photo showing bruising on Wilson after her fight with police.
"They threw me down, punched me in my head, punched me in my face," she tells St. Louis County Police in a recording published by Tony Rice, who shares news from Ferguson protests on Twitter as
@search4swag
. St. Louis County Police spokesman Shawn McGuire says his department is not yet involved in the incident and that the Crimes Against Persons Unit has not been notified.
Wilson allegedly had called Kinloch police Thursday night to report a possible burglary at an abandoned property adjacent to her own.
"She heard a ruckus and thought people were breaking in," says Rice. "She called the police. When they got there, the tables just kind of turned."
Kinloch police released Wilson at the hospital under her own recognizance. "They ended up taking the cuffs off in the ambulance," says Rice, who met Wilson at the hospital. "They just dumped her (at the hospital.) They were like, 'Well, you're still under arrest.'"
Wilson, a former Kinloch alderman, was voted in as the city's interim mayor after the ouster of Darren Small, who forfeited office in 2013 after pleading guilty to a felony count of failing to pay child support. Small was reinstated in 2014, but Wilson continues to call herself the interim mayor.
Wilson and her supporters went to the Kinloch Police Department Friday morning to get answers, but officers blocked the driveway to the department and ordered them to stop filming -- despite a
federal judge's November ruling
saying that citizens are entitled to film police as long as they don't disrupt officers' duties.
Wilson did not immediately return Daily RFT calls for comment.
Kinloch is the oldest black community west of the Mississippi River and was once home to more than 10,000 people. But when Lambert Airport bought half of the city to make room for a (never built) second runway, Kinloch lost half its tax base. The city never recovered.
See also: A Video Tour of Kinloch, The Saddest City In St. Louis County
Kinloch's recent history is littered with political scandals and corruption. After the city's largest public housing project was condemned, more than 100 of Kinloch's 460 residents moved out into neighboring towns, including Ferguson and Berkeley.
Jessica Lussenhop contributed to this story.
Follow Lindsay Toler on Twitter at @StLouisLindsay. E-mail the author at [email protected].