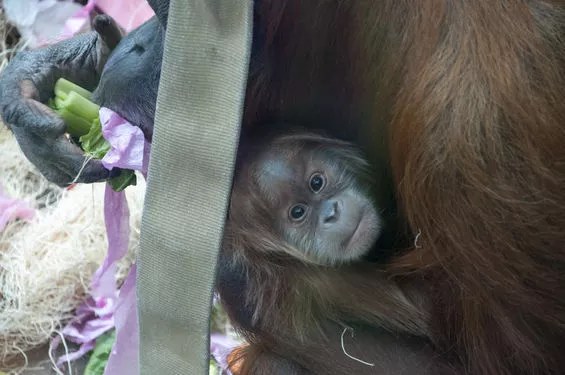 All photos by Micah Usher
Baby Ginger pokes her face out as her mother Merah snacks at the Saint Louis Zoo.
St. Louis, meet Ginger.
Born in mid-December at the Saint Louis Zoo, Ginger, a female Sumatran orangutan, made her public debut Monday at a baby shower, complete with brightly-colored decorations and sweet treats for the entire orangutan colony.
See more photos: Saint Louis Zoo Party for Baby Orangutan 'Ginger'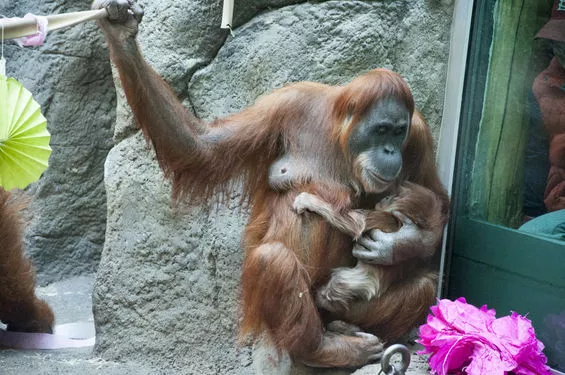 Merah (MEER-ah), a 45-year-old orangutan, carried her new baby Ginger in her arms throughout the party in her honor as groups of children off school for Martin Luther King, Jr. Day watched on in amazement.
Mother-baby bonding is vital during the first 30 days of an orangutan's life, so zoo officials shielded Ginger from the public until her baby shower reveal.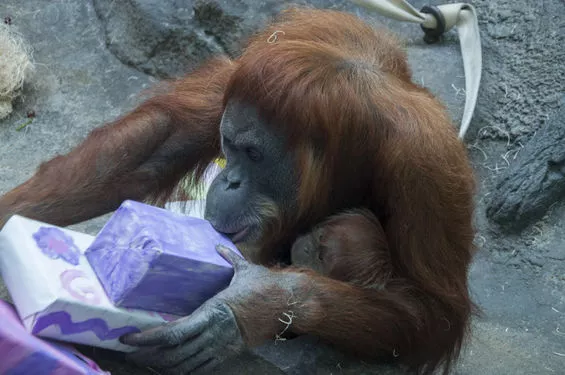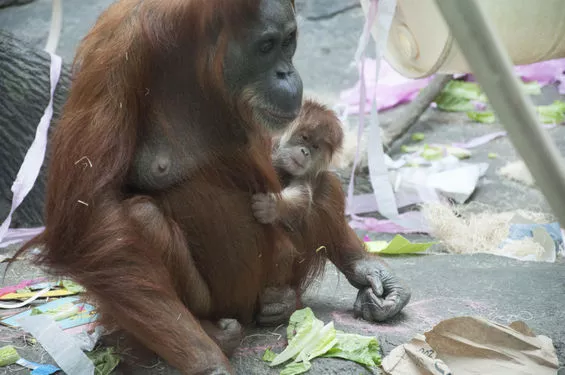 Before anyone caught a glimpse of the baby orangutan, the zoo asked people to help choose her name. Voters chose Ginger over the other three options: Cranberry, Marigold and Lucy.
See also: Baby Orangutan Born at Saint Louis Zoo
The newborn is the fifth baby for Merah, who is also a grandmother of two and a great-grandmother of one. Merah and Ginger will live at the zoo with another daughter, Rubih (RUBE-ee), who is ten years old, and Ginger's father, Cinta (Chin-TA), who is ten-years-old.
"Merah is an excellent and experienced mother," says Stephanie Braccini, the Saint Louis Zoo's zoological manager of great apes. "She is carrying the infant, facilitating nursing, essentially doing everything right."
Orangutans are a highly endangered species as the global demand for palm oil accelerates widespread deforestation and drastic declines in population, according to the zoo.
Follow Lindsay Toler on Twitter at @StLouisLindsay. E-mail the author at Lindsay.Toler@RiverfrontTimes.com.