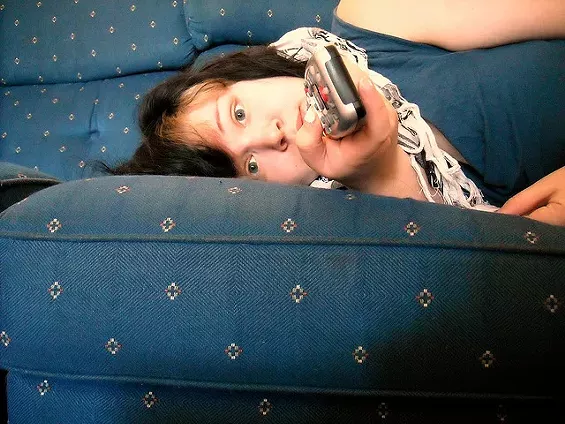 Would you pay $5 to learn how to binge-watch Netflix?
As anyone who's spent days on the couch tearing through seasons of Breaking Bad or Orange Is the New Black can attest, binge-watching TV shows is not for the faint of heart.
Next month, recent Webster University graduate Lauren Dreyer is sharing her time-tested tips and tricks in Binge-Watching Netflix 101, a class about the "delicate art and strategy behind completing a binge-watching marathon on Netflix."
"I was like, I'm really good at watching Netflix for long periods of time. Why don't I share that with the world?" Dreyer tells Daily RFT.
Dreyer works for Dabble, the startup that matches experts with students looking for cheap, one-time classes on topics like woodworking, cooking and jewelry-making. Dabble CEO Jay Swoboda moved the startup to St. Louis from Chicago after winning a $50,000 Arch Grant and challenged his staff to develop classes that would draw students.
See also: Chicago Startup Moves to St. Louis, Helps Users "Dabble" in New Hobbies with Cheap Classes
Dreyer posted on Dabble that she would teach a class on watching Netflix to anyone willing to pay $5 next month. It seemed too bizarre to be true, so Daily RFT had to ask: Is this a joke?
"No, it's not" a joke, Dreyer says. "It's real, and it's really going to happen."
Dreyer's two-and-a-half hour class starts with a meet-and-greet, snacks and drinks. Then she'll give a powerpoint presentation with her top tips for binge-watching.
Dreyer didn't want to give too much away, but she did share one binge tip with Daily RFT: She keeps a set of eight-pound weights handy when she's plowing through a new show.
"For five minutes, ten minutes of every episode, I'll do a different arm rep to get the blood moving and not gain 50 pounds by sitting around," says Dreyer, who watched all six seasons of Breaking Bad on a month-long Netflix binge recently.
After the presentation, Dreyer will screen the season premiere of Netflix's highly-bingeable original series House of Cards.
"It's just something fun and a little bit different," Dreyer says.
Want to attend Binge-Watching Netflix 101?
The class runs from 6:30 to 9 p.m. Friday, February 27 at T-Rex, 911 Washington Avenue. The cost is $5.
Follow Lindsay Toler on Twitter at @StLouisLindsay. E-mail the author at Lindsay.Toler@RiverfrontTimes.com.