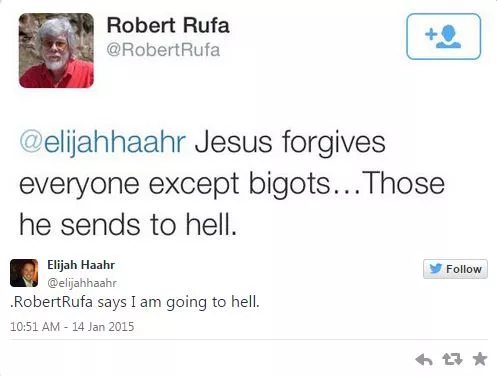 This was one of the nicer responses to Rep. Elijah Haahr's religious freedom bill.
An avowed defender of religious liberty, Missouri State Representative Elija Haahr was shocked last week by an onslaught of mean tweets, emails and Facebook messages directed at his "Student Freedom of Association Act," which seeks to enshrine religion-based discrimination on college campuses.
To be fair, "mean" may be putting it too mildly.
"The level of discourse in politics has descended into the gutter," tweeted Haahr, seemingly fuming after receiving messages that accused him of being secretly gay, a Nazi or, simply, just an asshole. In response, Haahr took a lesson from troll-shaming websites and began re-posting the nastiness, writing that "It's time to shine the light on those who send vile, nasty threats."
See also: Sen. Wayne Wallingford Is Having A Really Hard Time Defending His Religious Freedom Bill
The anger at Haahr revolves around HB 104, a bill that would prevent public universities from withholding benefits and recognition from student associations "based on the association's requirement that its leaders or members adhere to the association's sincerely held religious beliefs."
Like other pieces of legislation proposed under the banner of "religious liberty," Haahr's bill has received criticism that it will allow religious groups (read: Christians) to nab university funding while banning non-believers (read: gays) from joining or holding office in those organizations.
However, other opponents let fly with trollish, personal attacks on Haahr.
And, because this is the Internet, there was one guy who wished for Haahr to be decapitated by ISIS and followed up with an abortion and blowjob jab.
See also: Catholic High School Cor Jesu Fires Gay Teachers, Former Students to Protest
Granted, wishing for someone's swift beheading or accusing them of being a Nazi is nothing to cheer for. But there were also measured voices in the Twitterverse who expressed misgivings about the bill, particularly because it appears to value exclusionary religious beliefs over the rights of gays in Missouri, where -- by the way -- the law currently provides zero protection for employees fired for being LGBT.
"Sending nastygrams to @elijahhaahr (anyone) is not okay. Full stop," tweeted Sean Nicholson, executive director of progressive lobbying organization Progress Missouri. However, after Haahr defended the legality of the bill by mentioning a remarkably similar law passed last year in Oaklahoma, Nicholson retorted that "discrimination isn't okay, no matter what other states do."
This isn't Haahr's first time pushing a "religious freedom" bill in the Missouri legislature: Last year, Governor Jay Nixon signed into law the Haahr-sponsored "Student Religious Liberty Act," which blocked school districts from discriminating against students' voluntary expression of religious opinions.
See also: Anti-Religious Discrimination Bill Could Cause Religious Discrimination: MO Reverend
Follow Danny Wicentowski on Twitter at @D_Towski. E-mail the author at Danny.Wicentowski@RiverfrontTimes.com