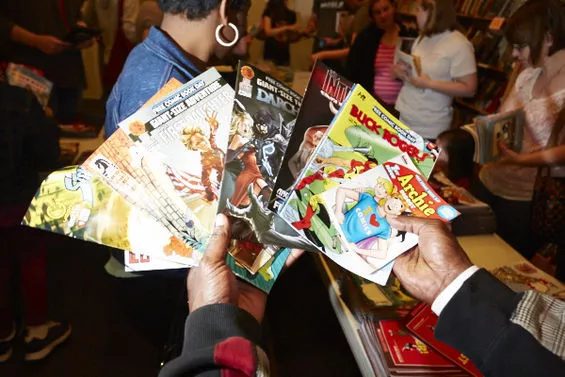 Theo Welling
RIP Star Clipper.
The announcement that venerated comic book shop Star Clipper is closing for good sent a shockwave of despair throughout St. Louis yesterday, hitting longtime collectors and casual comic fans alike.
For St. Louis' large community of geeks and nerds (and Daily RFT uses those terms with great affection), Star Clipper was more than just a place to stop by on Wednesdays for the latest issues. It was a community drawn together at artist signings, ladies' night and the annual Free Comic Book Day celebration to discover works from mainstream creators as well as up-and-coming local authors.
See also: Comic Book Store Owner Steve Koch Dies, Ran Comic Headquarters for 26 Years
So it's understandable that the comics lovers of St. Louis are in mourning over the loss of the revered shop Star Clipper.
Daily RFT dove into the online reaction to Star Clipper's closing and noticed three distinct stages of mourning:
First, there's the blind panic that sets in when you realize your favorite shop is closing. On Twitter, this is usually communicated via ALL CAPS and exclamation points. Then the heart-wrenching sadness sets in. And finally, you realize that there are fewer and fewer reasons to come to the Delmar Loop anymore.
So RIP, Star Clipper. Thanks for 27 years.
Follow Lindsay Toler on Twitter at @StLouisLindsay. E-mail the author at Lindsay.Toler@RiverfrontTimes.com.