All photos by Steve Truesdell
For more photos from the 2015 St. Louis No Pants MetroLink Ride, check out our Riverfront Times slideshow.
At first glance, Saturday night seemed like just another night on the MetroLink. Riders were reading books, sipping coffee, texting and trying to stay warm in the cold January weather.
But look a little closer and you'll notice something's missing: pants.
Saturday marked the fifth annual No Pants MetroLink Ride, organized by STL Improv Anywhere and inspired by the national No Pants Subway Ride, which started with seven riders in New York City in 2002.
See also: 2015 No Pants MetroLink Ride Is Saturday
Designed to bring a playfully artful disruption to everyday life on public transit, this year's No Pants MetroLink Ride drew dozens of pantsless folks for the daringly bare ride and the after party at Pi Pizzeria downtown.
Part of the fun of the No Pants MetroLink Ride is acting normal while pants-wearing riders wonder where everyone's clothes have gone. In honor of that quirk, here are ten photos of pantsless MetroLink riders acting like nothing strange is happening.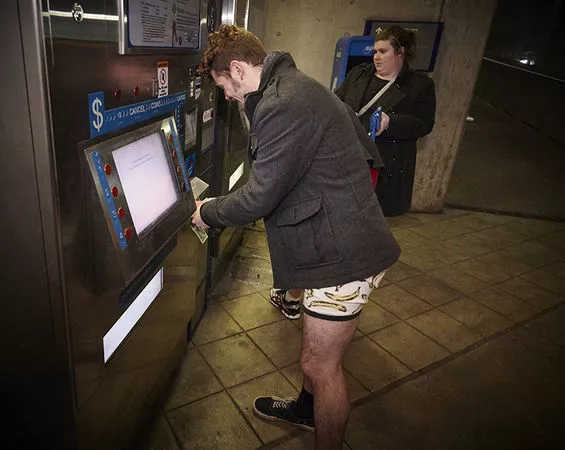 Pantsless people need tickets for the MetroLink, too.
"Oh, don't mind me. I'm just listening to music and wondering why my legs feel cold."
She's got her drink. She's got her magazine. What could she be missing? Oh, that's right -- pants.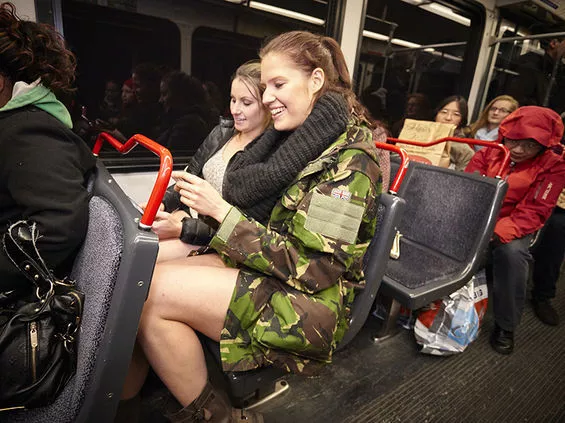 "You won't believe what we aren't wearing."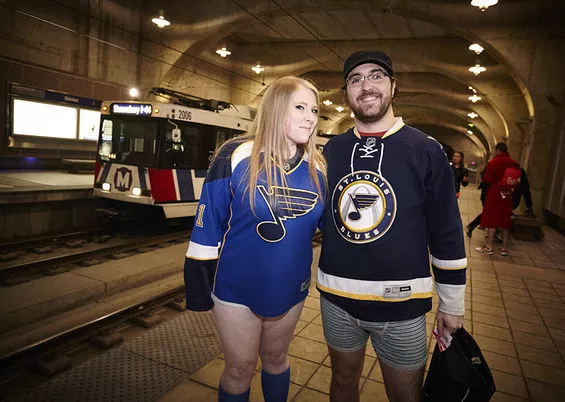 You don't need pants to support the St. Louis Blues.
The best part of going pantsless? Getting to show off your lucky underwear.
Why wear pants when you can carry them around all night?
This lady is not ready to join the pantsless party.
Manspreading is already a problem on public transportation, but it's even worse when guys aren't wearing pants.
So way to carry on the tradition, pantsless MetroLink riders of St. Louis. Any day on the Metro is better when this is your view: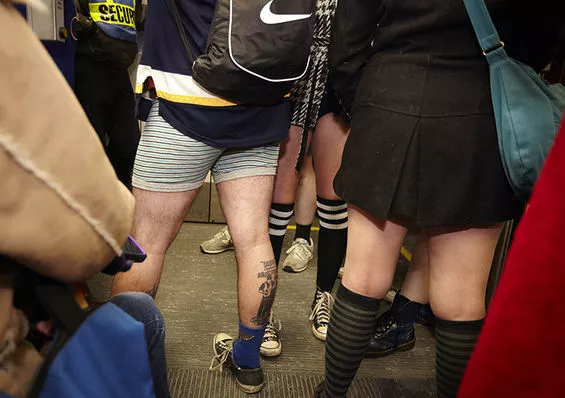 Follow Lindsay Toler on Twitter at @StLouisLindsay. E-mail the author at Lindsay.Toler@RiverfrontTimes.com.