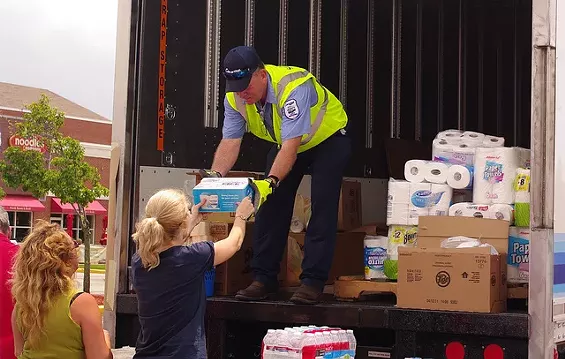 St. Louisans donating supplies to tornado victims in Joplin.
St. Louis is the most giving city in America.
That feather in the Lou's cap comes per the tenth annual national study from nonprofit Charity Navigator, which analyzes the financial, accountability and transparency practices of charities in the 30 largest philanthropic marketplaces in the country.
St. Louis has consistently ranked high in studies of philanthropic cities, though that didn't stop Charity Navigator from admitting what the rest of the country must be thinking: St. Louis? Really?
"Some people are surprised at St. Louis coming out on top of the list this year," says Sandra Miniutti, Charity Navigator's CFO. "In general, you expect mature philanthropic regions such as Philadelphia (No. 13), New York City (No.19) and Washington D.C. (No. 16) to do well in the ranking. But there are things in place in St. Louis that are allowing their charities to thrive."
See also: Archdiocese Asks St. Louis to Stop Ice Bucket Challenge Donations to ALS Association
Charity Navigator
Here's how St. Louis ranks.
Luckily, Missouri History Museum's director of development Sean McCaffery stood up for St. Louis, telling Charity Navigator that St. Louis' top ranking is good news but no surprise.
"I've worked for St. Louis nonprofits for twenty years, and I've never been at a place where we were unable to reach our goals or carry out our mission because of lack of funds," McCaffery says. "The people of our city are very supportive."
The 54 largest charities in St. Louis had more than $11 million in assets in 2014, compared to the national median of $6.5 million. St. Louis charities also raised $3.7 million in contributions through donations and grants, compared to the national median of $3 million.
St. Louis was the ninth most charitable city in 2013 and fifteenth most charitable in 2010.
See also: Take That, Chicago: St. Louis Is "More Charitable"
Here are the top ten most charitable cities:
1. St. Louis 2. Houston 3. Cleveland 4. Minneapolis/St. Paul 5. Pittsburgh 6. Cincinnati 7. Boston 8. San Diego 9. San Francisco 10. Miami
Follow Lindsay Toler on Twitter at @StLouisLindsay. E-mail the author at Lindsay.Toler@RiverfrontTimes.com.