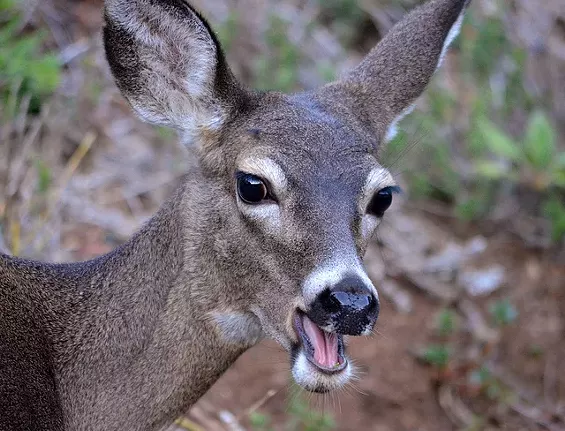 Town & Country has been waging a war against the herds of wild deer that roam here for years.
Tonight, neighbors and animal lovers alike are banding together to commemorate the fallen: the 100 deer that sharpshooters will cull this year to keep the population under control.
"I think it's a sad day in Town & Country," says Barbara Ann Hughes, a former Town & Country alderman. "And it's the deer that are paying the price for this."
Hughes and her supporters say they would prefer for the town to sterilize does to keep them from perpetuating the deer population rather than pay to kill them year after year.
"If that first year they had done sterilizations, they wouldn't have quite the problem they've got right now," says Al Gerber, who also used to be a town alderman. "We don't like shooting. It would be better if we got into a situation where you don't have to do it at all."
See also: Video: How Do You Sterilize 200 Suburban Deer? Like So...
But sterilizations are expensive, says city administrator Gary Hoelzer, and they don't solve the biggest threat the deer pose for residents: vehicle collisions. A sterilized deer can crash into a car just as easily as an unsterilized deer.
"It's primarily about car accidents, that's really really why we're doing what we're doing," Hoelzer tells Daily RFT. When humans populated Town & Country and drove away deer's natural predators, "the car became the unnatural predator."
Deer-vehicle collisions decreased by 11 percent in 2013. Officials are still calculating the decrease in 2014 but hope that culling will bring the rate down by at least another 10 percent.
"Our deer-vehicle collisions are still unacceptable," says Hoelzer. "We still have hot spots, and those hot spots are creating complaints from those neighborhoods."
See also: Oh, Deer: A buck goes nuts in a Town & Country strip mall
Hughes likens shooting deer year after year to "treading water" instead of actually solving the problem.
"I think this is an issue that can be resolved humanely and on a cost-effective basis," Hughes tells Daily RFT. "I don't think shooting a deer in its brains is humane."
Hoelzer says he was surprised to hear about Thursday's vigil since no Town & Country residents attended meetings to oppose this year's plan, approved by the Missouri Department of Conservation, to pay the nonprofit research organization White Buffalo $46,000 to cull 100 deer. (Cull, not hunt, Hoelzer says. "It's not a sport.")
But Gerber and Hughes both say they've opposed the strategy for years and didn't speak out against this year's plan at public meetings because the board of aldermen passed it so quickly.
"We don't want the board of aldermen to think that none of the residents oppose this," says Gerber. "We're interested in showing there are still a lot of people who don't like the idea of shooting in town every year."
Want to attend the vigil? The group is meeting at 5:15 p.m. tonight outside the Subway at the Mason Woods Village Shopping Center before moving to the intersection of Clayton and Mason roads to hold up signs and candles/flashlights until 6:30 p.m.
Follow Lindsay Toler on Twitter at @StLouisLindsay. E-mail the author at [email protected].