Stephanie Braccini, Saint Louis Zoo
Mommy Merah and her new (still unnamed) baby orangutan.
The Saint Louis Zoo's new baby Sumatran orangutan may be three weeks (and three days) old, but she still doesn't have a name.
That's where you come in.
The zoo is asking fans to help name the orangutan that was born December 14 at the zoo's Jungle of the Apes habitat to her 45-year-old mother, Merah (MEER-ah), and 10-year-old father, Cinta (Chin-TA).
See also: Baby Orangutan Born at Saint Louis Zoo
Voters get to pick from among four name choices: Cranberry, Marigold, Ginger and Lucy. As of Tuesday midday, Ginger was in the lead with 35 percent of the votes.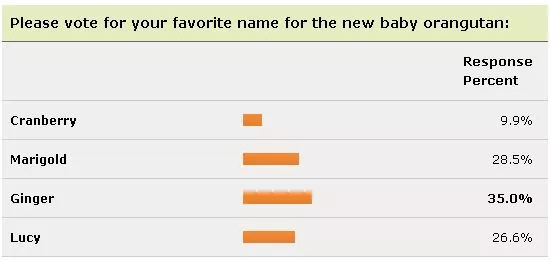 Voting ends January 16, and you can vote as often as you like.
Zoo officials will unveil the chosen name at a special baby shower, at 10 a.m. on January 19 at the Jungle of the Apes. Orangutan guests will get special presents and a cake.
Want to bring a present to the baby shower? The zoo is asking for heavy fleece blankets, DVDs of cartoons and nature shows, and jumbo Lego blocks for the orangutans and their chimpanzee and gorilla "cousins."
Zoo officials say mother and baby are healthy after the birth and are being monitored by a team of caretakers, veterinarians and a nutritionist. The newborn is the fifth baby for Merah, who is also a grandmother of two and a great-grandmother of one.
"Merah is an excellent and experienced mother," says Stephanie Braccini, the Saint Louis Zoo's zoological manager of great apes. "She is carrying the infant, facilitating nursing, essentially doing everything right."
Orangutan are a highly endangered species as the global demand for palm oil accelerates widespread deforestation and drastic declines in population, according to the zoo.
Merah and her still-unnamed infant will live at the zoo with another daughter, Rubih (RUBE-ee), who is ten years old.
Many are taking to Twitter to share their vote for the baby's name or offer a few write-in suggestions:
Follow Lindsay Toler on Twitter at @StLouisLindsay. E-mail the author at Lindsay.Toler@RiverfrontTimes.com.