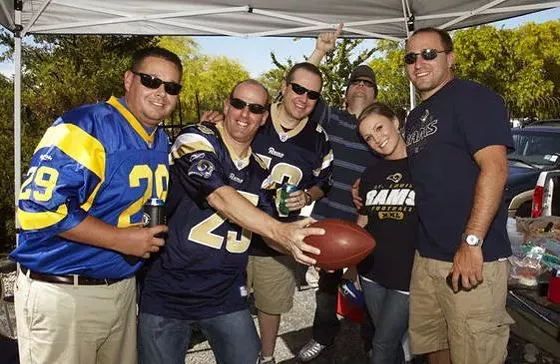 Steve Truesdell
The Rams will be sticking around St. Louis in 2015 -- but after that? Only Stan Kroenke knows.
St. Louis Rams owner Stan Kroenke is notorious for closely guarding his plans for the team's future, but the billionaire real estate developer appears ready to pull the trigger on an 80,000-seat NFL stadium within Los Angeles County, reports the Los Angeles Times.
The deal would combine a 60-acre plot of land Kroenke bought last year with the 238-acre Hollywood Park in Inglewood. Previous rumors of Kroenke's plans for the site included a dual football/soccer stadium, and this new deal would incorporate the stadium into a massive retail and entertainment complex.
See also: Joe Buck: My Father Wouldn't Have Let Kroenke Stay Silent on Rams Future
The news comes after another disappointing (but defiant) season for the Rams, and while NFL commissioner Roger Goodell has stated that no NFL team will be moving to LA in 2015, there's been little progress in resolving the team's long-term stadium needs in St. Louis.
In November, Missouri governor Jay Nixon declared, "Make no mistake about it -- St. Louis is an NFL city" after announcing the establishment of a task force to determine options to keep the team from moving westward. Kroenke will decide this month whether to shift to a year-to-tear lease on the Edward Jones Dome.
However, Kroenke's plans for the LA site appear to be pretty far along. The stadium would anchor a roughly 300-acre "neighborhood" in Inglewood that would offer ample parking and whose construction would use no public funds. The sports and entertainment complex could be ready by 2018, according to developers.
"We are committed to working with [the Kroenke Group] to build a project that will put Inglewood back on the map as home of the truly great sports and entertainment venues," said Terry Fancher, founder of Stockbridge, which owns Hollywood Park.
The project also has the support of Inglewood mayor James T. Butts Jr., who told the LA Times he will support a ballot initiative to add the stadium to the already-approved Hollywood Park development project.
"This will hasten the time for the citizens of Inglewood to get the project they deserve," Butts said. "This is something they have waited for for a long time."
Follow Danny Wicentowski on Twitter at @D_Towski. E-mail the author at Danny.Wicentowski@RiverfrontTimes.com