St. Louis, and especially St. Louis' county suburbs, have been taking a beating in the press since the August 9 killing of Michael Brown in Ferguson. When the national media do manage get St. Louis' complicated geography straight, it's often to tell stories about violence, crime, failing infrastructure and racism.
So the list "Top Thirteen Small Cities in Missouri" from City Described caught our eye this week when it painted a glowing, rhapsodic portrait of this Midwest metropolis that would fill us with pride for our city -- if it weren't full of lies.
Based almost entirely on "facts" from Wikipedia, the city websites and semi-scientific studies, City Described managed to gloss over the rough spots of eight St. Louis suburbs -- Florissant, Chesterfield, Ballwin, Manchester, Glendale, Ladue, Clayton and Kirkwood -- and spin their tales into Internet gold.
See also: That Cute Huffington Post List About Why St. Louis is a Hidden Gem Got One Thing Wrong
Daily RFT assumes the author(s) have never set foot in Missouri because the photos chosen to illustrate each city are bewildering. Which brings us to the first point in our list, Ten Things That Happen When Non-Missourians Write About St. Louis Suburbs:
1. They use photos of England to illustrate Missouri.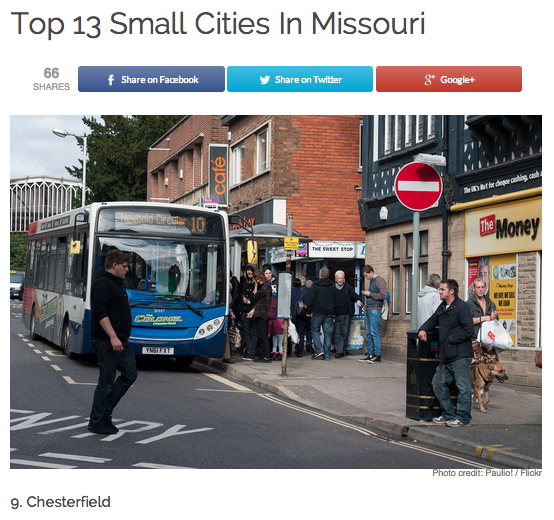 This is not Chesterfield, Missouri. It seems to be Chesterfield, England. We can't blame the City Described author too much, though, since both cities seem to have the same levels of racial diversity.
2. They let the Florissant Police Department convince them that Flo-Mo is the second safest city in Missouri. There's lots to love about Florissant, including its community of diverse families, its French and Spanish heritage and its outstanding (and inexpensive!) culinary scene. But the only way to call Florissant Missouri's second safest city is to turn the FBI's 2012 Crime Statistics handbook upside down.
3. They make Chesterfield sound historical and full of native artifacts instead of suburbanized and full of strip malls.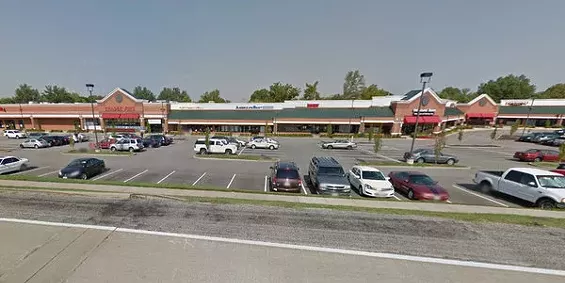 Google Maps
Chesterfield: Can't you just feel the history?
Maybe it was hard to find reasons to celebrate Chesterfield, because City Described seems to focus on inhabitants from more than 1,000 years ago more than its current residents. But someone needs to tell City Described that most St. Louis towns, not just Chesterfield, have French-inspired neighborhood names.
See also: America F*** Yeah: Chesterfield Hummer Dealership Also Sells Assault Rifles
4. They lie, just flat out lie, about what's in the city of Manchester. The Missouri Botanical Garden is not in Manchester. Neither is Grant's Farm, which is in Affton. That leaves you with Manchester's city hall, which, we admit, is a beautiful building.
5. They pretend like it's unique and special for a St. Louis suburb to be within a 30-minute drive to one of St. Louis many higher learning institutions.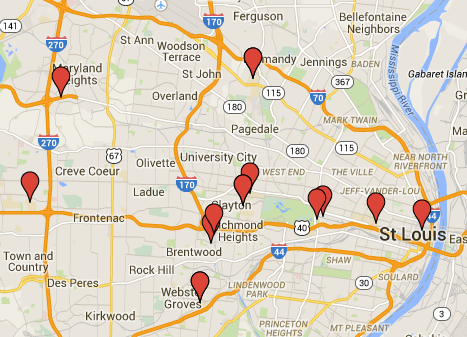 Google Maps
The locations of many of St. Louis' universities and colleges.
No matter where you live in St. Louis County, you'll always be a 30-minute drive from a university or college. You are not special, Manchester!
6. You learn that Ballwin was supposed to be called Ballshow. Actually, this is welcome news. We officially declare our support of changing the name of Ballwin back to Ballshow to fully embrace the obligatory testicle jokes that (we hope) are sure to follow.
7. They describe Ladue's entitled uptightness as simply the "more conservative side of small town living in upholding what they consider higher moral views." We'd call you rich bitches, but City Described's description is fine, too.
8. You get this unhelpful and unsubstantiatable description of Glendale: "City residents are known for being caring and helpful." We'd be willing to forgive this egregious dose of bullshit if City Described did anything to back it up. But alone, this sentence just proves that people assume everyone in the Midwest is a sweet, stupid hick.
9. They take Kirkwood's title as "Queen of the St. Louis Suburbs" seriously. Because we don't. No one in St. Louis does, except the twelve people in Kirkwood who know about it.
10. They describe St. Louis suburbs as "obscure." They're only obscure if you've never been there, which obviously they haven't.
Follow Lindsay Toler on Twitter at @StLouisLindsay. E-mail the author at Lindsay.Toler@RiverfrontTimes.com.