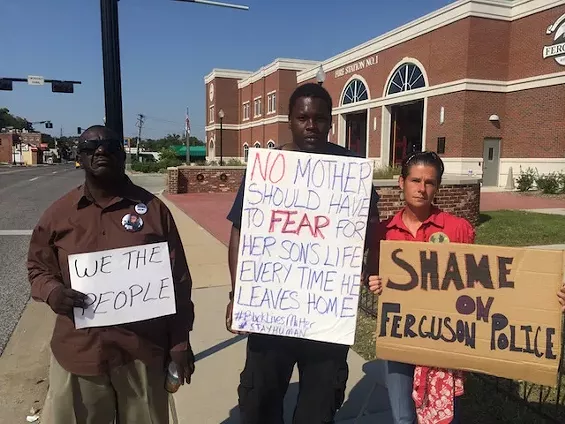 Mitch Ryals
This Riverfront Times photo went viral when someone edited it to say "robs a store" instead of "leaves the house."
What a year.
As 2014 comes to a close, Daily RFT thought we'd take our readers on a tour of the year's biggest stories -- the good, the bad and the blackface. It's been a good year if you like to read about racism and a bad year if you wanted to wear a sleeveless shirt to Ballpark Village.
Here, in reverse order, are the ten most read stories on the Riverfront Times news blog, Daily RFT, for 2014:
10. Wearing Blackface, Sullivan High School Seniors Play Powder-Puff Football Game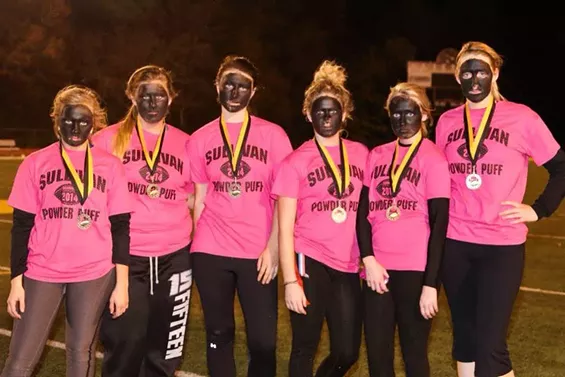 The Sullivan High School senior girls sported blackface at their annual powder-puff football game.
The senior girls at Sullivan High School played their annual powder-puff football game in full blackface just as St. Louis braced for the grand jury's decision on the fatal shooting of black teen Michael Brown. Principal Jennifer Schmidt told the Riverfront Times the senior team often wears black and gold facepaint to intimidate their opponents, the junior class, and that there was "nothing racial about it."
9. Wildwood Subdivision Threatens Teen with Fines, Police For Parking Truck in Driveway
Courtesy of Matt Perry
Matt Perry's "illegal" truck.
Seventeen-year-old Matt Perry worked two jobs to save up for his dream car, a 1965 cream-and-green Ford F100. But his subdivision in Wildwood has rules against trucks, so he faced a $25-per-day, or $9,000-per-year fine for parking it in his own driveway. One neighbor even threatened to call the police on him.
8. Family of Michael Brown, Teenager Shot to Death By Ferguson Police, Talks About His Life
Jessica Lussenhop
Michael Brown with his brother before he died.
Barely 24 hours after then-Ferguson Police officer Darren Wilson killed eighteen-year-old Michael Brown, his family wanted people to know two things: First, they wanted everyone online, including celebrities like Souljaboy, to stop sharing photos of his lifeless body laying in the middle of Canfield Drive. The second was that Brown was a shy, nonviolent kid who loved music and wanted to go to college.
7. The Nine Distinct States That Make Up Missouri
Kevin Cannon
The United States of Missouri.
Meth-o-potamia, Tom-and-Huck-istan, Lil' Dixie. There's nuance to Missouri (or should we say Missouriah?) than the Yankee vs. Confederate, urban vs. rural, Blue state vs. Red divides. So Riverfront Times created a scientific breakdown of the true states of Missouri based on geography, culture, politics, demographics and a heavy sprinkling of stereotyping.
6. Casting Call: Are You Cool Enough To Be on St. Louis' Crappy Version of The Hills?
Are you a twentysomething fresh out of college, spending your days at Whole Foods and your nights at Bar Napoli, always surrounded by a group of loud, crazy friends? Coolfire Studio -- the St. Louis-based group that brought us Salvage City -- was casting for a new reality-television series here in St. Louis earlier this year, and their casting wish list describes just about every midcounty douchebag in town.
The top five stories of the year, on page two!
5. Jeff Mizanskey, Missouri Man Serving Life for Pot, Asks Public to Write Letters to Gov. Nixon
Kholood Eid
Jeff Mizanskey, in prison for life for non-violent marijuana offenses.
Jeff Mizanskey is the only person in Missouri serving a life sentence without parole for non-violent, marijuana-only charges. Mizanskey, 61, says he's been overwhelmed by all the attention his case has received since the Riverfront Times broke his story last year, but he still needs the attention of the one person who can change his fate: Governor Jay Nixon. He's asking people to write letters to the governor asking for clemency.
4. Ballpark Village's Late Night Dress Code Basically Bans All of St. Louis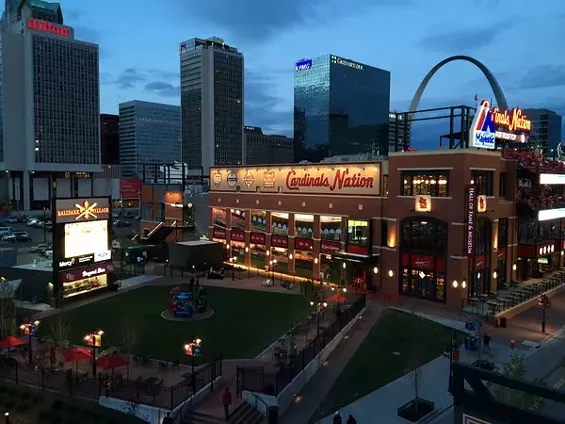 Lindsay Toler
Ballpark Village.
No jerseys, no hats, no backpacks, and no sleeveless shirts or else it's no Ballpark Village for you. The long-awaited entertainment district opened this year and, in preparation, released a very strict post-9 p.m. dress code online. The award for Most Specific Dress Code Rule goes to the Budweiser Brew House, where hats are forbidden on the second level.
3. You're Saying It Wrong: 20 Missouri Cities No One Knows How to Pronounce
Missouri. Missuruh. Mizurah. Standard pronunciation is hard to come by in the Show-Me State. But that's nothing compared to cities and towns in Missouri that use faux French, hick or just plain made-up pronunciations. If you've ever been laughed at by someone for referring to Nevada, Versailles or Spokane, Missouri, using the pronunciations from their homographic sister cities, this list is for you.
2. Ferguson Riots: North County Business Owners (Some Armed) Survey the Damage
Bryan Sutter
Business owners and their posse defend stores in Florissant from vandals and looters during the Ferguson protests.
The day after Michael Brown died at the hands of then-Ferguson Police officer Darren Wilson, peaceful protests turned into violent looting and arson. The owners of St. Louis Ink Tattoo Studio and County Guns, which share a storefront in a Florissant strip mall, strapped up and protected their shops from vandals. "We didn't want them coming in here and then running around with a bunch of free guns," Adam Weinstein, owner of County Guns, told Riverfront Times while outfitted with an assault rifle, pistol and tactical vest.
1. Ferguson Protester's Photo Gets Edited Into Racist Meme, Goes Viral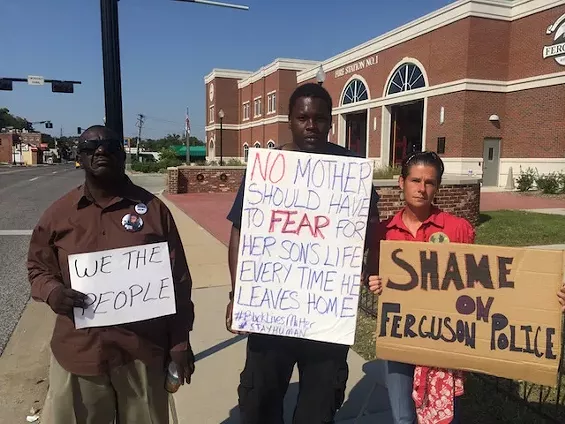 Mitch Ryals
This Riverfront Times photo went viral when someone edited it to say "robs a store" instead of "leaves the house."
When Jermell Hasson agreed to let Riverfront Times take his photo for a story about Ferguson protesters, he had no idea someone would later turn it into a viral and inflammatory meme. Hasson carried a sign in front of the Ferguson police station that read: "No mother should have to fear for her son's life every time he leaves home. #blacklivesmatter #stayhuman" Months later, a doctored photo of him holding a sign that says, "No mother should have to fear for her son's life every time he robs a store," went viral.