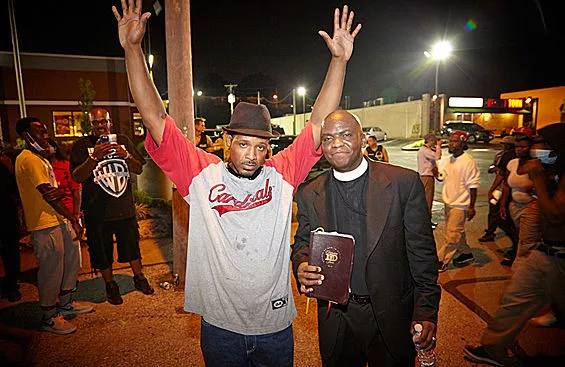 Steve Truesdell
Ferguson protesters and clergy are the 2014 people of the year in Time magazine, Gawker and HuffPost Religion.
When national media look for inspiration from the year that was 2014, they look to Ferguson.
Daily RFT rounded up the national news sites naming Ferguson protesters as their top people or heroes of 2014. (See more? Let us know!)
Time's Person of the Year - Runners Up
Steve Truesdell
A family joins Ferguson protesters nine days after the death of Michael Brown.
In November, two months after the protests broke out, Time magazine released its reader poll for the annual honor Time Person of the Year, and Ferguson protesters were on the list. Protesters quickly started earning more votes than more well-known names, including chart-topper Taylor Swift, new TV host John Oliver and the pope.
The official title of 2014 Person of the Year went to the medical teams fighting the Ebola pandemic, but the demonstrators who protested against racial inequality and police brutality in Ferguson and St. Louis earned a spot as second runners-up alongside three men who changed the world this year (for better and for worse): Russian president Vladimir Putin, Kurdish president Massoud Barzani and Chinese entrepreneur Jack Ma.
"What started in a Missouri suburb may end with change that can be measured in lives saved," Time said.
See also: Ferguson Protesters Are Runners-Up for Time Person of the Year, 2nd Place in Readers' Poll
In the reader's poll for 2014's Person of the Year, Ferguson protesters finished second to Indian Prime Minister Narendra Modi, the newly elected Prime Minister of India, the world's largest democracy. Modi, a social media sensation, received more than 16 percent of almost 5 million votes cast. An impressive 9 percent of the votes went to Ferguson protesters.
Ferguson protesters -- well, one Ferguson protester in particular -- earned the top spot on
Gawker
's list of 2014 heroes, defined as the people "who managed to make 2014 occasionally tolerable and, in some cases, even convince us that 2015 might be worth sticking around to see."
Edward Crawford, described by Gawker as Ferguson's Flag-and-Chips Man, became a one-man representation of an entire movement after St. Louis Post-Dispatch photographer Robert Cohen caught him on film throwing a burning tear-gas canister back at police mid-snack.
"On first glance, Crawford's pose read as that of a Molotov-throwing rioter, attacking the forces of law and order," writes Gawker's Tom Scocca. "But that gas bomb in his hand was not a protest weapon; it was what the police had unleashed on the protesters. One second Crawford was eating a snack, the next he was defending himself against a paramilitary assault."
Crawford's American flag t-shirt only adds to the quintessential nature of Cohen's photograph, showing Crawford to be an American man maligned by and fighting against the very system that was supposed to guarantee his freedom.
"Here still was brutality and racism, yet now the flag was not grim or ironic, but inspirational," Gawker says. "Edward Crawford was an American, fighting back as one."
HuffPost Religion's 2014 People of the Year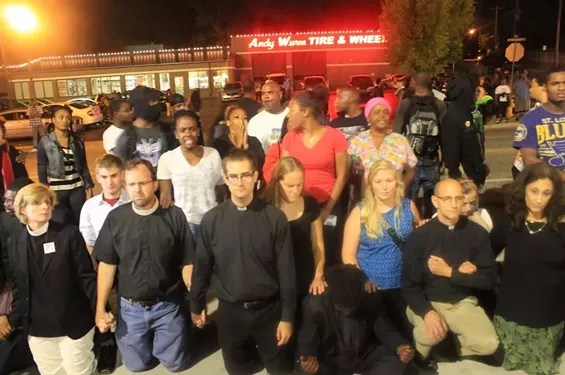 Ray Downs
Clergy form a barrier between police and protesters in Ferguson in September.
In a community devastated by the police shooting of an unarmed black teen, it was the religious leaders -- black and white, clergy and lay -- who offered healing and deescalated tensions.
That's why HuffPost Religion, the news site's all-religious news page, named religious leaders in Ferguson and St. Louis the 2014 People of the Year.
"In no time in recent American history has it been made so plain how crucial religious leadership can be in protesting injustice as well as in providing avenues for healing and transformation," HuffPost Religion wrote.
See also: As Clergy Join Ferguson Protesters, Capt. Ron Johnson Says He Wants Dialogue
Clergy were arrested, maced, pepper-sprayed and hit with rubber bullets alongside Ferguson protesters. Churches and houses of worship became safe spaces for protesters and residents living near the chaos, providing food, medicine, childcare and prayer to any who sought refuge.
HuffPost Religion credited clergy in Ferguson with saving lives by serving as buffers and liaisons between cops trying to clear the streets and protesters determined to make their voices heard.
Renita Lamkin, an African Methodist Episcopal church pastor, kept mediating between police and protesters even after she was hit in the stomach by a rubber bullet that left a cantaloupe-sized bruise.
Follow Lindsay Toler on Twitter at @StLouisLindsay. E-mail the author at Lindsay.Toler@RiverfrontTimes.com.