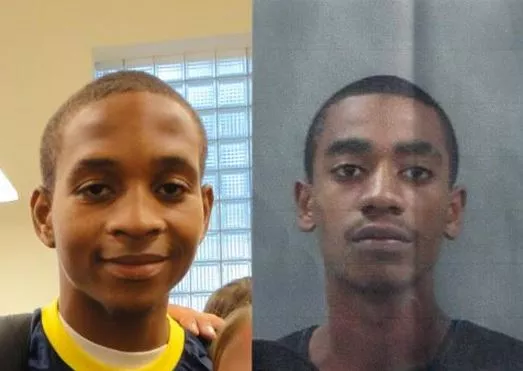 Lawyers for Cornell McKay (left) say cops mistakenly suspected him of an August 10 robbery, ignoring evidence that pointed to convicted murderer Keith Esters (right).
Cornell McKay turned 23 years old yesterday. Today, he got the best late-birthday, early-Christmas present he could have hoped for.
Earlier this morning, the state appeals court reversed McKay's conviction and twelve-year prison sentence for an August 10, 2012, robbery in the Central West End, writing that the trial judge's decision to block certain evidence created "manifest injustice" that affected the outcome of his December 2013 trial. The appeals court has ordered a new trial. See update below for comment from Attorney General Chris Koster, who is challenging today's ruling.
Much of that blocked evidence seeks to identify a different culprit in the robbery -- Keith Esters. He is a convicted murderer currently serving a 50-year sentence for the shooting death of former Saint Louis University volleyball player Megan Boken, which occurred on August 18, 2012, during a daylight robbery gone wrong. The murder also happened in the Central West End.
"I'd like to call it a Christmas miracle," says Thomas SanFillipo, one of McKay's attorneys. "The facts came out, the law was on our side, and today is a great day for racial justice and equality in this city."
A new trial will allow McKay's legal team to present significant evidence that Esters was behind the August 10 robbery, as well as the shooting on the 18th. Disturbingly, the timeline of this evidence suggests police may have missed an opportunity to stop Esters from killing Boken eight days later.
See also: Cornell McKay Sentenced To Twelve Years For CWE Robbery: "I Know I Didn't Rob Her"
During McKay's trial, Judge Robin Vannoy did not allow his attorneys to present records from the victim's cellphone. The records show a call placed to Esters' girlfriend just 30 minutes after the robbery took place.
However, Vannoy agreed with prosecutors that these phone records were "confusing," because they included calls that did not appear on a different set of phone records the victim previously obtained from Sprint. At the time, Vannoy ruled that the McKay's lawyers could not present their phone records without accompanying expert testimony to explain the discrepancy.
In today's ruling, the court wrote that Vannoy's refusal to allow the full phone records amounted to "an abuse of discretion," since expert testimony is not required to admit such records as evidence.
And although Vannoy allowed Esters' girlfriend to testify that Esters mentioned he took the phone in a robbery, she was ordered to refer to him only as "Keith." The jury was not allowed to hear about Esters' connection to other cell-phone robberies in the area or the Boken murder.
"Here, the prosecution's case relied entirely on eyewitness identification and testimony; there was no physical evidence linking defendant to the crime," the court notes. While prosecutors suggested McKay sold the phone to Esters after the robbery, they had no proof of such a transfer. The only witness to the crime was the victim.
"As such," the opinion continues, "the exclusion of the alternative perpetrator evidence denied defendant the ability to present evidence he could have used to undermine victim's credibility.... In cases where a witness's credibility is pivotal to securing a conviction, courts have found that the improper denial of impeachment evidence is incompatible with the accused's right to a fair trial."
Other evidence excluded from McKay's trial includes Esters' ownership of a small silver gun, the same kind used in the robbery, and that clothes matching the description of the perpetrator were found underneath Esters' sofa.
McKay's next hearing is scheduled for January 9. His lawyers plan to argue for McKay to be allowed to pay bond and go home until the trial. The new trial date is not yet set. McKay has been incarcerated since August 21, 2012.
Update: Beth Orwick, chief trial assistant for the St. Louis Circuit Attorney's Office, tells Daily RFT that it's possible that McKay's case will run through further appeals before a new trial, making difficult to determine when that new trial would occur.
Indeed, Attorney General Chris Koster announced this afternoon that he would challenge the Court of Appeals ruling and has requested the case be moved to the Missouri Supreme Court "without delay."
"I will defend without hesitation the work of the St. Louis Metropolitan Police Department and Circuit Attorney's Office in the State's highest court," said Koster in a press release.
Speaking for the Circuit Attorney's Office, Orwick says the Court of Appeals ruling hasn't shaken her confidence in the original conviction.
"It's a legal disagreement," she says of the decision. "They're not saying that Mr. McKay is innocent, they're saying that there are tools available that the trial court should have allowed the jury to hear. They're not saying it's a viable theory, they're not saying what weight it holds. I don't think it's harsh, I think it's very factual." (End of update)
This story is breaking, and we'll update as we know more. In the meantime, check out our previous coverage to catch up on this bizarre case:
See also: -- Cornell McKay Attorney: Police Framed Man For Robbery, Ignored Megan Boken's Killer -- Cornell McKay's Lawyers Want Megan Boken's Killer To Testify -- Cornell McKay Conviction Upheld By Judge; Post-Dispatch Reporter Compelled to Testify -- Cornell McKay Sentenced To Twelve Years For CWE Robbery: "I Know I Didn't Rob Her"
Continue to read the full text of ruling.
Cornell McKay - Appeals Court Ruling
Follow Danny Wicentowski on Twitter at @D_Towski. E-mail the author at Danny.Wicentowski@RiverfrontTimes.com