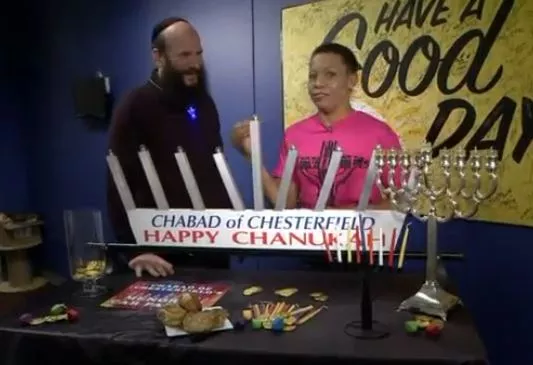 'Twas the day before Hanukkah, and all through FOX 2,
There was hustle and bustle to bring us the news.
The reporters out reporting, so bright and alert --
But what of Kim Hudson, in her pink Jesus T-shirt?
Indeed, Monday was the day before Hanukkah, and KTVI-TV (Channel 2) welcomed Rabbi Avi Rubenfeld to the studio for a segment devoted to the festival of lights.
See also: Hanukkah Music to Cook By
As you would expect, Rubenfeld brought along the critical items you'd need to celebrate the Jewish holiday, including menorahs, candles, chocolate coins, fried potato pancakes -- called latkes -- and even a light-up menorah pendant clipped to his collar.
And yes, reporter Kim Hudson brought the Jesus. Just watch. And cringe.
Lest anyone think ill of Hudson and her choice of attire, we should point out that she wore the shirt during the previous segment (about a butt-warming chair cushion) and then for the rest of the day, during which she and her Jesus shirt learned new workouts, exposed Christmas gifting fails and sampled delicious-looking holiday cocktails.
Also, it's worth noting that wearing T-shirts on-air is kind of Hudson's thing.
Here's a better view of the shirt: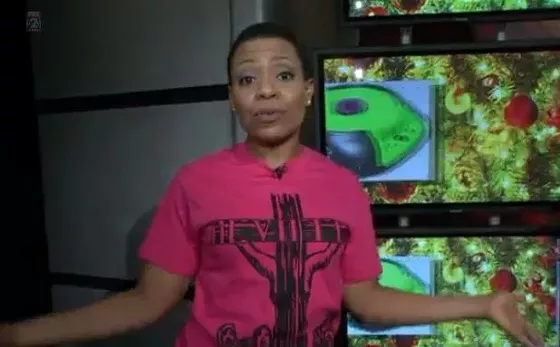 Update, 12:45 p.m.: We reached to Rubenfeld, who claims he wasn't aware that Hudson was sporting a crucified Jesus shirt while taping the segment.
"Honestly, I didn't even notice," he says. "I thought it was a pink cancer shirt."
According to Rubenfeld, Hudson called him yesterday to offer an apology, but he says he took no offense at her wardrobe choice. In fact, considering the Hanukkah story espouses the virtues of religious freedom, Rubenfeld now sees the TV segment as a kind of metaphor for the holiday's deeper messages.
"I think it was a wonderful thing," he says. "If you are comfortable with your beliefs, you will be comfortable with other people's beliefs as well. More of us should be tolerant, rather than finding reasons to be offended."
As for Hudson, she told journalism blog Romenesko that every day she wears different T-shirt from a community organization or business.
"I was promoting a Christian rapper who had an event that night for families affected by incarceration," she told the blog, explaining her Monday T-shirt choice. "No insult was intended."
Follow Danny Wicentowski on Twitter at @D_Towski. E-mail the author at Danny.Wicentowski@RiverfrontTimes.com