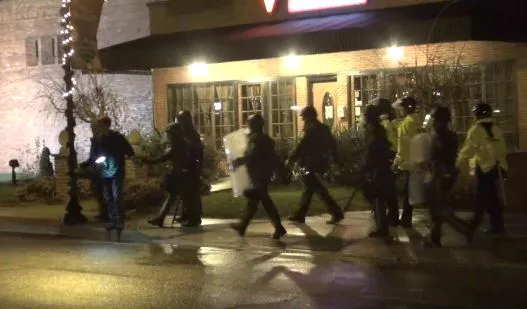 Police arrest Trey Yingst, on the left with a flash hanging from his neck, on November 22 in Ferguson.
A journalist detained by St. Louis County police while filming from a sidewalk two days before the Ferguson grand-jury decision is suing the department and the cop who gave the order for his arrest.
The ACLU of Missouri filed a civil-rights action on behalf of Gerald "Trey" Yingst, a News2Share reporter and producer, against the police and Lt. James Vollmer for its failure to train and supervise officers and for defamation.
See also: Ferguson Agrees Not to Arrest Peaceful Protesters on Public Sidewalks
Yingst was filming on the eastern sidewalk of South Florissant Road, near the Ferguson police station, at 11:30 p.m. on November 22 when police -- under Vollmer's command -- began ordering protesters to move across the street to the western sidewalk. Here's what happened next, according to the lawsuit:
Vollmer pointed at Yingst, and a few subordinate patrolmen moved towards Yingst, partially surrounding him. As the patrolmen surrounded him, Yingst, fearing imminent arrest, told Defendant Vollmer, "Sir, I'm just standing on a public sidewalk." At Vollmer's direction, the patrolmen handcuffed Yingst and placed him under arrest. While officers were arresting Yingst, he asked them, "Why are you arresting me?" The arresting officers proffered no response.
"Lock him up," Vollmer told officers under his command before they arrested Yingst, the lawsuit says.
Two livestreamers caught Yingst's arrest on video. In one recording (at the 35:40 mark), police in riot gear force Yingst's arms behind his back and arrest him while both of his feet are firmly planted on the sidewalk.
Another video shows police arresting Yingst (at the 1:15 mark) as other journalists, livestreamers and protesters stand nearby in the street. Police did not arrest any of the journalists standing near Yingst, either on the sidewalk or in the street.
See also: Why Police Will Continue to Arrest Journalists in Ferguson
Yingst's lawsuit against police and Vollmer includes a count for defamation over what the department tweeted about Yingst's arrest. The official St. Louis County police Twitter account tweeted: "@TreyYingst reporter from D.C. taken into custody for failure to disperse. Was asked to leave street by the commander and refused. #Ferguson" Yingst says he didn't refuse an order to leave the street and that police knowingly lied to explain his arrest in the tweet.
The day before police arrested Yingst, a judge ruled that police could not detain "individuals who are photographing or recording at public places," as long as they don't interfere with police operations. Another court decision just before Yingst's arrest said police couldn't arrest anyone for "peaceably standing, marching or assembling on public sidewalks in Ferguson."
"It is troubling that the First Amendment rights of the media continued to be trampled despite multiple court orders prohibiting such government overreach," says Tony Rothert, legal director of the ACLU of Missouri.
Yingst was the 23rd journalist arrested while covering Ferguson protests, according to a tally by the Freedom of the Press Foundation.
The lawsuit also says Yingst's camera, lenses and film were confiscated during his arrest and were not returned when he asked for them after his release.
Here's the lawsuit:
Follow Lindsay Toler on Twitter at @StLouisLindsay. E-mail the author at Lindsay.Toler@RiverfrontTimes.com.