All photos by Kelly Glueck
Brittany Ferrell says "yes" to Alexis Templeton.
Surrounded by turmoil in the streets of Ferguson, Alexis Templeton and Brittany Ferrell fell in love.
On Tuesday, the two University of Missouri-St. Louis students and activist leaders started to make their love official by getting engaged on the steps of St. Louis City Hall and applying for their marriage license. The couple says they're still planning their ceremony -- no surprise since Ferrell had only proposed the day before.
Ferrell and Templeton embrace after Ferrell says yes to her marriage proposal at St. Louis City Hall on December 16. Deray McKesson, another Ferguson activist, captures the moment for Twitter.
"Since she's made me happy for 130 days, I want to make her happy for the rest of my life," Templeton told the crowd that gathered to see them apply for licenses. Templeton, 20, and Ferrell, 25, cofounded
Millennial Activists United
with Ashley Yates, another black woman in her twenties, a youth-led organization that fights not only against the racism illuminated by the Ferguson protests but also against sexism and homophobia.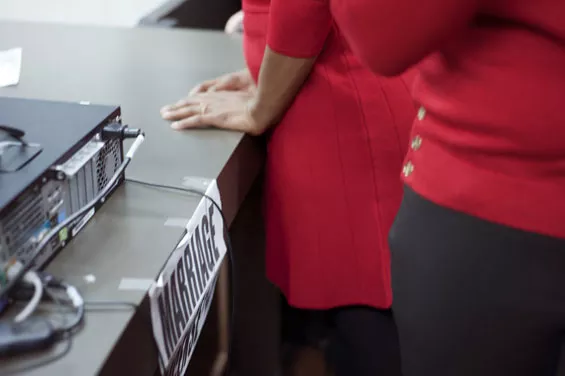 Templeton and Ferrell apply for their marriage license.
Templeton and Ferrell have had a powerful impact on the Ferguson movement by ensuring that all protesters are heard. When queer or female protester voices are quashed during Ferguson demonstrations, Templeton pushes back, her voice amplified by her 13,000 Twitter followers. Missouri has one of the most complicated gay marriage laws in the country. Only three places -- St. Louis, St. Louis County and Jackson County -- allow same-sex couples to apply for marriage licenses following
a judge's ruling in a St. Louis case that Missouri's ten-year-old, voter-approved ban is unconstitutional.
Follow Lindsay Toler on Twitter at @StLouisLindsay. E-mail the author at Lindsay.Toler@RiverfrontTimes.com.