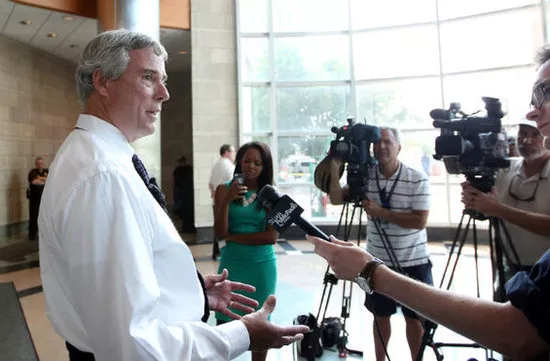 UPI/Bill Greenblatt
St. Louis County Prosecuting Attorney Bob McCulloch.
When it comes to a prosecutor's relationship to the police, how close is too close?
It's a question some are asking of St. Louis County Prosecuting Attorney Bob McCulloch. Weeks after he announced that a grand jury would not indict Darren Wilson for shooting Michael Brown, protesters are still clamoring for a special prosecutor to reopen the case, and critics continue to cite McCulloch's father -- a cop killed in action by a black robbery suspect when McCulloch was twelve years old -- as reason to doubt his objectivity in police-brutality cases.
But there are other, more recent McCulloch family connections to scrutinize: By way of a cop cousin indicted for assaulting a mentally disabled man and a lawyer brother who frequently defends officers, McCulloch appears to have a web of personal ties to Wilson's legal team.
See also: How St. Louis County Voters Could Fire Bob McCulloch
Last week the Public Accountability Initiative, a nonprofit watchdog group, detailed and mapped (literally) the real-life social network that links McCulloch's family to the Wilson defense team:
The two main nodes to look at are Bob McCulloch's brother, Joe McCulloch, and his cousin Thomas Moran.
Moran made headlines in 1997 after he was charged with felony assault, misdemeanor assault and conspiracy to hinder prosecution in the beating of Gregory Bell, a nineteen-year-old black man whose mental disabilities prevented him from communicating with the officers who mistook him for a burglar in his own home. An officer testified that he saw Moran, along with eight to ten St. Louis police officers, "kicking and stomping" Bell, striking him with in the head with a baton and pepper spraying him in the face while handcuffed, according to an article in the St. Louis Post-Dispatch. (The article is only accessible through the newspaper's archives.)
Moran was later acquitted of all charges by an all-white jury in Kansas City. The case was bungled by a prosecution that neglected to file a motion to keep the case in St. Louis, which would likely have resulted in a more diverse jury.
Although McCulloch didn't serve as prosecutor for his cousin's criminal case, two future members of Wilson's legal team -- attorneys Neil Bruntrager and Jim Towey -- filed supportive legal briefs on behalf of the St. Louis Metropolitan Police Officers Association during a subsequent federal civil-rights lawsuit brought against Moran.
Then there's Joe McCulloch, Bob's brother, a cop-turned-attorney who in 2009 teamed up with Greg Kloeppel -- a member of Wilson's stable of lawyers -- to defend four officers charged in the beating of a suspected meth cook in rural Missouri. (One officer was later convicted of felony burglary and assault.)
Three years earlier Joe McCulloch worked with Towey to successfully defend a Lincoln County deputy sheriff charged with manslaughter for shooting two men sitting in the cab of a pickup truck.
In fact, Joe McCulloch and three members of Wilson's four-person legal team -- Towey, Kloeppel and Danielle Thompson -- were listed as referral attorneys on the website of the St. Louis County Police Association, prior to the website being taken down.
But these familial and professional connections don't prove Bob McCulloch acted corruptly in overseeing the Wilson grand jury, says Washington University law professor Peter Joy.
"The fact that Mr. McCulloch has a brother who has represented other police or has worked on other cases with some members of Darren Wilson's defense team would not by itself trigger a conflict under the lawyer ethics rules in Missouri or other states," he writes in an email.
Actually, it seems McCulloch's connections to police union lawyers is pretty normal. A former Assistant St. Louis County Prosecuting Attorney (who requested their name not be published for fear of angering McCulloch or his supporters) tells Daily RFT that these professional relationships are "commonplace."
"It's not unusual when there are groups, firemen, policemen, labor unions, for their attorneys to be affiliated with the powers that be. That's just the way world works. Do I think that it's always a good idea to be so incestuous with the way things are handled? No."
Indeed, these associations between prosecutors, police and attorneys are systemic to the criminal justice system, and Joy, the Wash. U. professor, suggests that these kind of connections may be eroding the people's trust in that system.
"The bigger question is whether there should be a system in place to have a special prosecutor to review police use of force cases," he writes. "Even if there is no conflict of interest under the ethics rules, a law requiring a special prosecutor would remove perceptions of favoritism to the police by prosecutors who regularly rely on, and work with, members of the police department."
Follow Danny Wicentowski on Twitter at @D_Towski. E-mail the author at Danny.Wicentowski@RiverfrontTimes.com