Will Missouri be the next state to legalize weed?
Even in states where marijuana is recreationally legal, it's no free-for-all.
Age restrictions, public-intoxication laws, high taxes -- the rules for legal recreational pot use in Colorado, Washington (and soon, Alaska, Oregon and Washington, D.C.) resemble rules aimed at legal intoxicants, such as nicotine or alcohol.
But team behind the newest proposal to legalize marijuana in Missouri wants to change all that.
Author and cannabis activist Mark Pedersen doesn't think marijuana needs the same strict rules as alcohol or cigarettes. A better comparison, Pedersen tells Daily RFT, is to food, and he calls cannabis a "superfood."
"I believe that cannabis needs to be as legal as corn or wheat," Pedersen says. "We don't want to discourage use of cannabis because it is less toxic than baby aspirin. It would be like putting an age limit on corn."
See also: Why 2016 Could Be the Year Missouri Legalizes Marijuana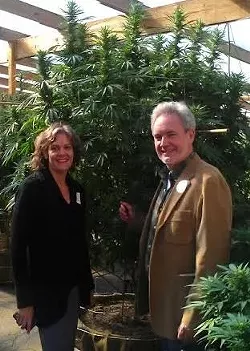 Courtesy of Regina Nelson
Mark Pedersen and his partner Regina Nelson.
Last week, Pedersen and the team from KC Norml, Kansas City's marijuana-law-reform group, submitted a petition to put legalized weed on the 2016 general election ballot. The ballot initiative is strikingly less restrictive than laws in Washington and Colorado, where weed is currently legal, and from the ballot initiative filed by Show-Me Cannabis in November.
See also: Show-Me Cannabis Files Petition to Put Legal Weed on November 2016 Ballot
Pedersen's proposal, Petition 2016-008, starts by removing marijuana from the Drug Enforcement Agency's list of Schedule I controlled substances, the list of drugs with the highest potential for abuse. It also says anyone incarcerated or on parole for marijuana-only convictions would be released.
The ballot proposal also prohibits law enforcement from charging a driver with a DUI if he or she tests positive for only marijuana.
"Cannabinoid metabolites remain in a person's system for days, even weeks after consumption" and after the buzz ends, Pedersen says. "Testing positive [for marijuana] has no bearing on an individual's ability to operate a motor vehicle."
Pedersen's ballot initiative purposely doesn't name an age limit for access to marijuana so that children who use or ingest the plant for medicinal purposes can't be restricted. In both Colorado and Washington, adults must be over 21 to buy weed.
Then there are the taxes. Pedersen, who works in Colorado making full extract cannabis oil for children, some as young as one year old, and adult medical patients, wants medical marijuana to be tax-free. He says legalization laws that include high tax schedules are designed "to channel revenue into a funnel so a number of people can get wealthy." He's seen how cost-prohibitive cannabis plants and oils are to families with medical needs even in a state where the plant is legal.
"The oil that I make for these children tremendously limits their seizures and in some cases stops their seizures," Pedersen says. "None of the people we are currently working with out here in Colorado would have access if we didn't provide it. They cannot afford it."
Pedersen also didn't include a limit on the number of marijuana plants a person could cultivate, a limit he calls "absolutely, positively absurd." Pedersen says he's met medical-marijuana patients who benefit from drinking juice from one full weed plant per day. Colorado residents are allowed to grow only six plants at a time.
See also: All Eyes on Colorado: 4 Reasons St. Louis Is Jealous of Legal Weed (And 1 Reason We're Not)
Pedersen admits he's concerned about filing a ballot initiative proposal at the same time as Show-Me Cannabis, which is aiming to put the question to voters on the November 2016 general election ballot. But with his open, liberal philosophy on marijuana use and his experience working with medical patients, Pedersen says, he couldn't hold back any longer.
"What we want to bring is education," Pedersen says. "If every person truly understood the scope of what we're talking about and what it means for people's health, they would be pulling down the gates."
In order to get on the ballot, KC Norml needs signatures from 8 percent of active voters in six of Missouri's eight congressional districts -- or about 160,000 signatures.
Follow Lindsay Toler on Twitter at @StLouisLindsay. E-mail the author at [email protected].