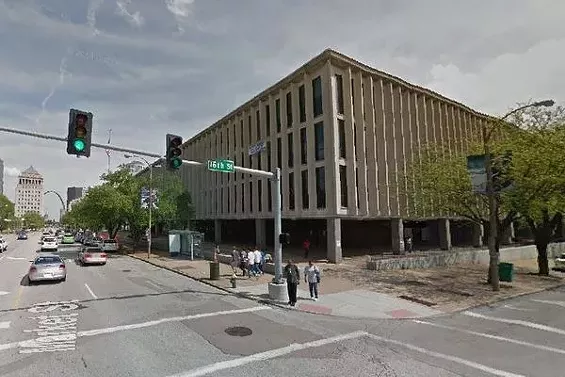 Google Maps
St. Louis municipal courthouse at 1520 Market Street, where you can get a new court date and keep that warrant cleared.
Don't want a warrant on your record? St. Louis city is offering the 71,000 traffic offenders still facing warrants in the city a free way to get a new court date without facing arrest, but the program expires at the end of the year.
The city forgave 220,000 traffic-related warrants in October, one month after the fatal police shooting of Michael Brown, as protests in Ferguson shone a spotlight on municipal courts that use traffic violations and court fees to pad city budgets.
UPDATE, 12/29: With two-and-a-half days left, the city has extended the hours of the municipal courthouse so more people can schedule court dates and stay warrant-free. Get details below.
See also: "This Is What Jim Crow Looks Like": A Day in North St. Louis County Courts
That means if you had a warrant for a moving or non-moving traffic violation (except for alcohol-related charges, DWI, DUI or leaving the scene of an accident,) the city cleared it months ago.
But if you want it to stay cleared, there's one thing you have to do: schedule a new court date.
"We want to make it easier for people to get their affairs in order, but they must come in to do so," says St. Louis mayor Francis Slay.
In 2015, the city will reactivate warrants for those who didn't schedule a new court date by December 31 by going to the courthouse at 1520 Market Street or by calling 314-622-3231. Update, 12/29: The courthouse will now stay open longer, from 7 a.m. to 6 p.m., to give people more opportunity to get a new court date.
As of Wednesday, 3,300 people had taken advantage of the warrant amnesty program, clearing more than 10,000 court cases. (Update, 12/29: The city now says 4,500 people have signed for a new court date, including eight in the past week.)
There are still 71,000 people facing warrants, and they're all listed on a 3,000-page document linked on the city's website. To see if you're on the list, go to the city's warrant forgiveness website and click the hyperlink that says "Municipal Court website."
"We issue traffic tickets for public safety, not as a revenue generator," Slay says. "We will hold people accountable for traffic offenses. But, a missed court date for a minor traffic violation should not stand in the way of a job, access to housing, or anything else. It's a balancing act. We want people to take care of their obligations under the law, but we understand that it can be burdensome and worrisome."
Scared you'll get slapped with a fine you can't afford if you get a new court date? Don't worry. The city doesn't incarcerate people who can't pay. The St. Louis municipal court has special dockets, payment plans and other alternatives, such as community service, for people who can't afford fines. The city also offers first-time hardship cases warrant forgiveness anytime during regular business hours.
Follow Lindsay Toler on Twitter at @StLouisLindsay. E-mail the author at Lindsay.Toler@RiverfrontTimes.com.