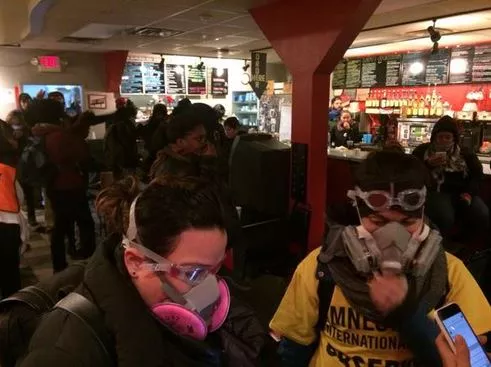 Occupants of MoKaBe's strapped on gas masks after tear gas seeped into the coffeehouse on November 25.
St. Louis police chief Sam Dotson would prefer that people stop asking him why he tear-gassed MoKaBe's coffeehouse.
"Windows were smashed on both sides of Grand, on both sides of Arsenal, and so MoKabe's was at ground zero," he says, again defending his officers' use of tear gas during the early morning hours of November 25. MoKaBe's sits just west of the intersection of South Grand Boulevard and Arsenal Street in the Tower Grove South neighborhood, where 21 business had windows broken following the non-indictment of former Ferguson officer Darren Wilson.
"The people at MoKaBe's want to create a victim mentality," Dotson continues. "They want to say we're targeting them, and we weren't. If they had followed directions then we wouldn't be having this conversion."
Perhaps. But late last week activists released newly edited video footage showing an armored police vehicle dropping gas canisters directly in front of the cafe. Dotson now confirms that multiple canisters were dropped along Arsenal after his officers determined that every person on the street constituted an "unlawful assembly."
See also: St. Louis Police Chief Says Tear-Gassing of MoKaBe's Was Unintentional
Dotson says the armored vehicle was driving along South Grand, between Arsenal and Juanita Street two blocks south, while officers continued to order pedestrians to leave the area.
"When they would drive along, every couple of feet, or every block, depending on what their approach was, they would drop one of those [gas canisters] out the windows, and the whole point is to make the crowd disperse."
As Daily RFT reported last week, dozens of protesters camped out in MoKaBe's that night after spending hours marching and engaging in civil disobedience. Some had participated in a brief shutdown of Interstate 44 one mile north, while others had just returned from the chaos in Ferguson, where looting and arson had overtaken the peaceful protests. Mo Costello, MoKaBe's owner, was on-site as well.
Also present in the neighborhood that night was John Ziegler, better known by his Twitter and livestreamer handle, "Rebelutionary_Z," who captured more than four hours of raw footage of police and protester activities on South Grand. Some of that footage was recently edited into time-stamped clips (as well as one longer video, embedded below) that focus on what happened at MoKaBe's.
See also: MoKaBe's Slammed By CopTalk Message Board for Serving as "Safe Space" for Protesters
The video begins around 1 a.m., when Ziegler was walking on South Grand. The camera rests on the billowing clouds of tear gas, and moments later he encounters an armored police van, which begins to audibly fire projectiles. Ziegler can be heard saying "They're firing rubber bullets at me."
The perspective then jumps to MoKaBe's, where people can be seen recovering from the exposure to the gas that seeped into the building minutes before. After moving to the sealed basement, Ziegler overhears a woman describing how those who tried to escape through the cafe's back exit had also encountered tear gas.
The crucial moment comes when Ziegler, after going outside to catch his breath, sees an armored police van driving north on South Grand and making a left onto Arsenal, directly in front of MoKaBe's.
Over a loudspeaker, officers can be heard commanding the crowd to "please disperse, please clear the area." Shortly afterward, the van starts dropping tear gas canisters. Here's a clip of that frenzied few seconds, which is time-stamped 1:19 a.m.
The videos appear to conflict with what Dotson told Daily RFT last week, when he insisted that, "There was never any gas specifically directed toward MoKaBe's, the business [or] the people on the patio."
Dotson disagrees with that interpretation. He maintains that he did not misrepresent the events at MoKaBe's when he spoke to Daily RFT.
"I don't see that as targeting," he says of the video. "When people don't leave the area, technically that's a crime. It's called an unlawful assembly, and when the vehicle comes around the corner, you hear it tell people to go home."
See also: Ferguson Agrees Not to Arrest Peaceful Protesters on Public Sidewalks
Dotson doesn't budge on his claim that his officers didn't intentionally gas inside the cafe, and he says that the nature of the tear gas makes it impossible to stop the smoke from dispersing in a wide area. He claims his officers were forced to clear South Grand and the surrounding streets with tear gas because criminals were running amok.
Much of the public's criticism, Dotson argues, stems from their misunderstanding how the police use the "unlawful assembly" designation to keep the peace.
"We will not declare an assembly unlawful simply because we don't like what they're saying," Dotson says. "There has to be that overt act that makes it unlawful. But everyone individualizes it, they think that they have to be part of that overt act. And they don't. A few bad apples can ruin it for the entire group, so when a police officer gives you an order to disperse, you have to disperse because somebody else has done a crime that makes that group unlawful."
However, Dotson's reasoning runs afoul of Washington University law professor Greg Magarian.
"To cast a net that broadly is just illegitimate. It's a basis for criminalizing presence in a public space, or even in a private place, and that's mind-boggling."
"From a police standpoint," Magarian continues, "it's easy to see why that's an attractive tactic to do. If no one is present, then you're not going to have any kind of problem. You'll be giving business owners 100 percent maximum peace of mind. But the fact that suppressing speech and suppressing assembly is convenient is exactly why we have the First Amendment."
See also: ACLU: Police Used "Five Second Rule" to Arrest Ferguson Protesters at Random
International human rights organizations like Amnesty International also blasted Dotson's argument that the tear gassing was justified.
"The police have the obligation to say on what legal basis they're asking the crowd to disperse," says Amnesty International deputy executive director Rachel O'Leary, who was tear-gassed along with around 70 others when the smoke entered MoKaBe's.
"The police said it was an accident, but the idea that MoKaBe's was tear-gassed twice in twenty minutes because something was going on farther away, I find difficult to believe."
In fact, O'Leary and other observers recovered multiple tear gas canisters outside the shop.
While Dotson may wish for people to get over the MoKaBe's incident, the police department's use of tear gas, as well as fundamental questions about the use of "unlawful assembly" orders to clear areas, continue to dog him.
While attempting to make his presentation during a meeting of the Ferguson Commission on Monday, Dotson endured heckles, jeers and calls of "Fuck the police!" and "Tell us about the tear gas you brought!"
Later, during a half hour set aside for public testimony, one woman questioned how police could call tear-gassing a "less than lethal" solution when they knew the gas would drift inside businesses and residences.
"Children and women were exposed to this tear gas," she said. "When they speak of preservation of life, and they speak about less than lethal [force], what does that truly mean?"
The backlash is also being fueled by heavy documentation of the MoKaBe's tear-gassing. Valeria Souza, a Washington University lecturer, collected social-media postings and witnesses statements from that night and wrote a lengthy first-hand account. Sara Vipond Brink, a local filmmaker, collected the Tweets and Facebook posts, edited Ziegler's footage and combined the findings into a massive, annotated timeline, published with the explicit purpose of refuting Dotson's claims.
"What's more frightening?" Brink writes in the description of one the videos. "A police chief who doesn't know that his officers are playing cowboy and terrorizing civilians, or a police chief who's lying through his teeth about it?"
Correction: MoKaBe's is in the Tower Grove South neighborhood not the Shaw neighborhood as initially reported.
Follow Danny Wicentowski on Twitter at @D_Towski. E-mail the author at Danny.Wicentowski@RiverfrontTimes.com