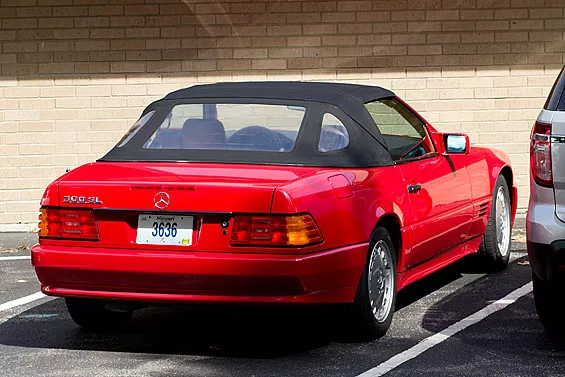 Tom Carlson
Mayor Mark Furrer's Mercedes parked outside Sunset Hills City Hall.
As the Sunset Hills board of alderman prepares to possibly impeach Mayor Mark Furrer for allegedly striking a cyclist with his car, a grand jury will investigate him for felony charges of assault and property damage, says the cyclist's attorney.
Court documents show Furrer is scheduled for a preliminary hearing Thursday, but attorney Michelle Funkenbusch tells Daily RFT Furrer will instead face a grand jury on Wednesday, with the jury's decision expected by Thursday.
UPDATE, Dec. 11: The grand jury has indicted Furrer on one count of second-degree assault, a class C felony, and one felony count of first-degree property damage. Next stop: trial.
St. Louis County Prosecuting Attorney spokesman Ed Magee would not confirm that Furrer's case had been switched from a preliminary hearing to a grand jury, telling Daily RFT that the office does not comment on grand-jury cases. UPDATE, 10:50 a.m.: Magee tells Daily RFT that Furrer will face a grand jury investigation.
Meanwhile the board of aldermen in Sunset Hills voted Tuesday to approve a new process for impeaching an elected official, a process the city decided it needed after accusations surfaced against Furrer. The vote to hire an attorney to advise the board during an impeachment failed -- with Furrer casting the tie-breaking vote.
See also: LISTEN: 911 Callers Tell Dispatcher Sunset Hills Mayor Ran Cyclist Off the Road
In July, Randy Murdick of Fenton accused Furrer of deliberately swerving into him with his red Mercedes convertible after screaming, "Get off my fucking roads!"
"He hit me so hard I almost fell into the convertible," Murdick told Daily RFT. Murdick says he went to the hospital after the incident and has a torn Achilles tendon and a bruised tailbone. He also says his $12,000 bike is badly damaged.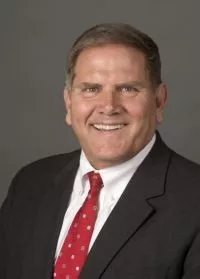 Furrer denied the claim, saying Murdick grabbed onto his car and then fell. He has said he will not resign from his post as mayor.
"There is no cause for impeachment. None of what I have been accused of is true," Furrer wrote to Sunset Hills residents in the city's December newsletter.
The St. Louis County Prosecutor's office charged Furrer with second-degree assault and first-degree property damage for striking Murdick.
Sunset Hills voted to create an impeachment process to potentially oust the mayor after news broke about his run-in with Murdick. The board of aldermen passed a vote of no confidence in the mayor in October.
See also: Sunset Hills Mayor Won't Resign, City Considers Impeachment After Car-Bike Collision
Missouri's judicial system requires prosecutors to show evidence in felony cases at preliminary hearings or to grand juries before trials begin. A preliminary hearing works like a mini-trial, with a judge, witnesses, court reporter and defense attorney present. A grand jury is much more secretive, with just a prosecutor and jury in the room. Defendants don't attend grand-jury hearings unless they are testifying.
Funkenbusch says she called the court to see when her client -- Murdick, the injured cyclist -- was scheduled to testify at the preliminary hearing, and was told that there would be a grand-jury investigation instead.
Grand juries typically indict defendants in cases they investigate, making the recent grand-jury decision not to indict then-Ferguson police officer Darren Wilson for the fatal shooting of Michael Brown an exception. Funkenbusch says she hopes the much-debated Wilson grand-jury decision doesn't taint the investigation against Furrer.
"Hopefully we're not going to have another situation where we question the method of this judicial process," she tells Daily RFT. "I think what they're doing is most likely to make it easier for the prosecution to get probable cause without a high-power defense lawyer there questioning witnesses."
Unlike after the highly unusual Wilson grand jury, a grand jury investigating Furrer would not release testimonies and transcripts. That means no one but the grand jury, prosecutors and law enforcement officer witness will know what happened during the investigation.
"It's strategic," Funkenbusch says of the decision to switch to a grand jury. "It's better not to show your hand in a grand jury than [to have] a preliminary hearing, where you would have to give the defense attorney a chance to cross-examine witnesses."
Follow Lindsay Toler on Twitter at @StLouisLindsay. E-mail the author at Lindsay.Toler@RiverfrontTimes.com.