Ray Downs
"Hands up, don't shoot."
A protest chant started by Ferguson demonstrators after the fatal shooting of Michael Brown is one of 2014's most notable quotes, according to an annual list compiled by a Yale University librarian.
"Hands up, don't shoot" became a defining rallying cry as word spread after Brown's death that then-Ferguson police officer Darren Wilson had shot Brown while his hands were raised in surrender. Although forensic experts weren't able to confirm the location of Brown's arms while he was being shot, the "Hands up, don't shoot" message has transformed into call to end police brutality against blacks.
Fred Shapiro, an associate director at Yale Law School's library who annually updates the Yale Book of Quotations, named "Hands up, don't shoot" the year's third most important quote. Shapiro says he chooses quotes that are famous, culturally important or reflective of the spirit of the times.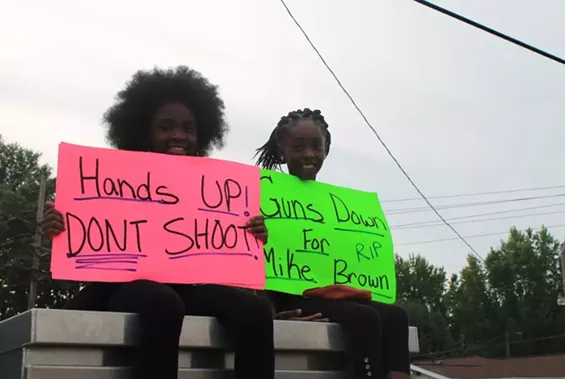 Ray Downs
Girls join a Ferguson protest with a "Hands up, don't shoot" sign on August 14.
Another protest rallying cry referencing police brutality and race in America took the No. 1 spot. "I can't breathe," repeated by Eric Garner while he was being choke-held to death by a police officer in New York, tops the quote list.
Rams tight end Jared Cook and four other players entered the field before their November 30 game with their arms raised in a clear reference to the "Hands up, don't shoot" chant, starting a childish tussle between police and the NFL over apologies. Last weekend, Cook wrote "I can't breathe" on his wrist tape before the game.
See also: Hands Up, Don't Apologize: St. Louis Rams, County Police Squabble Over Non-Apology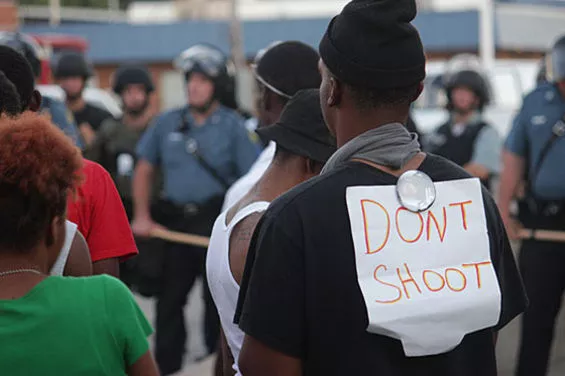 Danny Wicentowski
The second half to one of this year's most notable quotes.
Here's the full list, via the Associated Press:
1. "I can't breathe!" - Eric Garner, videotaped exclamation while being held by a policeman in New York, July 17.
2. "Time for some traffic problems in Fort Lee." - Bridget Anne Kelly, an aide to New Jersey Governor Chris Christie, in an email to David Wildstein quoted in the New York Times, January 9.
3. "Hands up! Don't shoot!" - Chant of demonstrators protesting the shooting death of Michael Brown, Ferguson, Missouri, August.
4. "Mr. Commissioner, we found out by one phone call. You guys have a whole legal department. Can you explain that?" - TMZ reporter Adam Glyn questioning NFL Commissioner Roger Goodell on why the NFL had not been able to view video of the Ray Rice incident, at a news conference on September 19.
5. "It bothers me a lot that you want to broadcast that you're associating with black people." - Los Angeles Clippers owner Donald Sterling, in a remark to V. Stiviano on an audio recording quoted in the Los Angeles Times, April 27.
6. "We came out of the White House not only dead broke, but in debt." - Hillary Clinton, ABC News interview, June 9.
7. "I grew up castrating hogs on an Iowa farm, so when I come to Washington, I'll know how to cut pork." - Iowa Senatorial candidate Jodi Ernst, campaign advertisement quoted in National Journal, March 25.
8. "I would call attention to the parallels of fascist Nazi [Germany's] war on its 'one percent,' namely its Jews, to the progressive war on the American one percent, namely the 'rich.' ....I perceive a rising tide of hatred of the successful one percent." - Venture capitalist Tom Perkins, letter to the editor, Wall Street Journal, January 24.
9. "We have always conducted our relationship privately, and we hope that as we consciously uncouple and coparent, we will be able to continue in the same manner." - Gwyneth Paltrow and Chris Martin, statement on Paltrow's website announcing their separation, March 25.
10. (tie) "Isn't it a bitch? I mean...this vice president thing?" - Joe Biden, response to student body vice president at Harvard College, Oct. 2.
10. (tie) "Great nations need organizing principles, and 'Don't do stupid stuff' is not an organizing principle." - Hillary Clinton, Atlantic Online interview, Aug. 10.
10. (tie) "Every time I get an opponent - I mean, every time I get a chance - I'm home." - Kansas Senator Pat Roberts responding to questioning about whether he actually resides in Kansas, KCMO radio interview, July 3.
Follow Lindsay Toler on Twitter at @StLouisLindsay. E-mail the author at Lindsay.Toler@RiverfrontTimes.com.