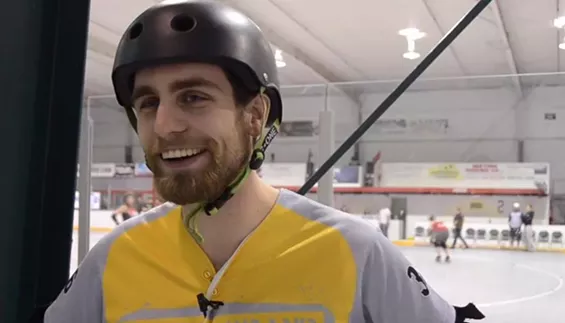 Nicola Muscroft
David Metcalfe, a.k.a. D Mouthful.
David Metcalfe's typical work day is nothing special.
He sits in a cubicle. He compares auto-insurance policies. He drinks coffee. He gets an hour for lunch.
But on Tuesday nights, Metcalfe sheds his bow tie, button-down shirt and buttoned-up demeanor for his alter ego D Mouthful, a roller-derby jammer whose name (he swears) is not a dick joke.
See also: Arch Rival Roller Girls Rumble in Queeny Park
"David is definitely more reserved than D Mouthful," Metcalfe tells Riverfront Times videographer Nicola Muscroft about his selves. "D Mouthful enjoys a good party. D Mouthful makes a lot of inappropriate jokes. D Mouthful likes to wear leather pants when he's not playing, when he goes to the after-parties and such."
Enlarge Player David Metcalfe: Insurance Man By Day, Roller Derby Jammer By Night from Voice Media Group on Vimeo.
D Mouthful's team, the South Grand Slammers, will take on the Riverfront Crimes on Saturday night in an Arch Rival Roller Girls doubleheader. Following that game, the Stunt Devils make their season debut against the M80's.
Want to catch the match? The action starts at 6 p.m. Saturday at Midwest Sport Hockey, 570 Weidman Road in Ballwin.
Follow Lindsay Toler on Twitter at @StLouisLindsay. E-mail the author at Lindsay.Toler@RiverfrontTimes.com.