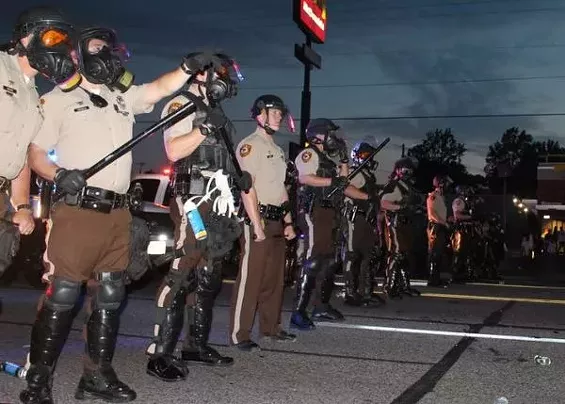 Ray Downs
No, the St. Louis County Police are not the ones sending those tweets you've been seeing.
Been seeing tweets from the St. Louis County Police Department that were a little too honest lately?
Well, they're not really from the police. Some comic genius launched a parody account for the county police this week, using the handle @sticountypd. (Capitalize that "i," and it's almost impossible to tell the two accounts apart. Almost.)
The first tweet from the parody account plays off the tiff between county police and the NFL after five St. Louis Rams players took the field Sunday with their hands up -- a gesture of solidarity with Ferguson protesters referencing the belief that Michael Brown had his hands raised in surrender before he was fatally shot by then-Ferguson police officer Darren Wilson. After an NFL executive called St. Louis County Police Chief Jon Belmar to express "regret" over the incident, the two institutions publicly beefed over whether or not the NFL had technically apologized.
See also: Hands Up, Don't Apologize: St. Louis Rams, County Police Squabble Over Non-Apology
In response, police tweeted this. (Note: This is a real police tweet, not a parody.) After only three days, the parody account had already gained more than 3,000 followers with tweets like these: The parody account looks real enough to be super confusing to the unsuspecting:
Follow Lindsay Toler on Twitter at @StLouisLindsay. E-mail the author at Lindsay.Toler@RiverfrontTimes.com.