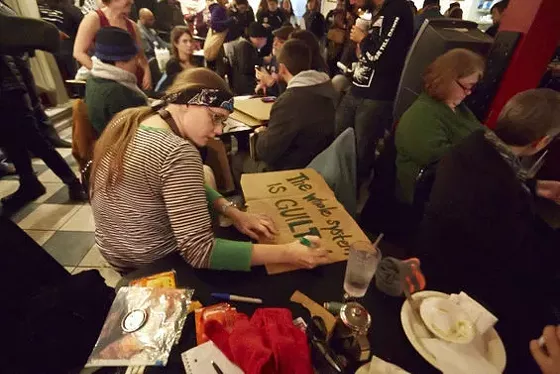 Theo Welling
MoKaBe's served as "safe space" for protesters on November 24, the day of the grand jury's decision. Hours later, police tear gassed the coffeehouse.
Anyone who has gotten even a whiff of tear gas can attest to its compelling, awful effectiveness. Seriously, the stuff works great as a crowd-dispersal weapon. But it drifts. It blows in the wind, "just like smoke from your barbecue grill," says St. Louis Metropolitan Police Chief Sam Dotson, who watched the thick white clouds wafting across South Grand Boulevard during the frigid, early morning hours of November 25. The cloud was moving toward MoKaBe's coffeehouse.
Hours earlier 80 people gathered in the coffeehouse to listen to an audio stream of St. Louis County Prosecuting Attorney Bob McCulloch as he declared that a grand jury would not indict Darren Wilson, the Ferguson cop who shot and killed unarmed teenager Michael Brown in August. Following the announcement, stunned TV audiences around the world began seeing footage of the of mayhem sweeping across Ferguson.
However, comparatively few were aware that around 1 a.m. St. Louis police deployed waves of tear gas on South Grand Boulevard in St. Louis to drive away window-breakers and vandals. According to Dotson, MoKaBe's, a self-designated "safe space" was simply caught in the crossfire.
Update, December 11: Video evidence shows that St. Louis police did, in fact, drop tear gas canisters directly in front of MoKaBe's. See followup post here. (End of update.)
See also: Shaw Protesters March, Peacefully Block I-44 Before Riot Cops, Burglaries Take Over
The use of tear gas has been harshly criticized since August when police first used it to clear streets in Ferguson. Daily RFT has previously reported the lingering damage wrought by tear gas deployed in residential areas, where it seeps into cracks in buildings and underneath doors. In mid-August, former Riverfront Times reporter Ray Downs captured video showing how officers fired tear gas at Ferguson residents standing in their own back yards.
Further condemnation arrived after MoKaBe's was gassed last week. In a blog post, Amnesty International -- whose observers were stationed inside MoKaBe's that morning -- said the gassing of a coffeehouse "underlines our previous concerns about its unnecessary or excessive use."
But for Dotson, the issue of whether it's right or wrong to deploy tear gas comes down to keeping the peace.
"MoKaBe's wants to think that they are center of the universe. This was not about MoKaBe's, this was about safety and security on Grand," he tells Daily RFT. He notes the 21 businesses whose windows were smashed not long after hundreds of protesters temporarily shut down Interstate 44 farther north on South Grand. Police reportedly made 21 arrests that night, which included five people charged for property damage, four for burglary and one for lighting fires.
So, Dotson continues, when officers wearing riot gear took up position near MoKaBe's at the intersection of Arsenal Street and South Grand Boulevard and ordered everyone in the area to leave -- citing "unlawful assembly" -- the purpose was to stop the vandalism, dumpster fires and destruction.
"We don't go to tear gas right away. We said over a loudspeaker, 'This is an unlawful assembly, please leave the area,'" Dotson says. "This is where people lose focus a little bit. When the order to disperse is given, it applies to everyone. People always say, 'It's not me, so I don't have to leave.' The challenge for law enforcement is that we don't know who the good guys are or who the bad guys are, because the bad guys intermingle with the good guys."
But officers were likely aware that MoKaBe's was full of people when the tear gas was deployed. Eyewitness accounts from that night and video taken at the scene show dozens of protesters standing on the patio, sidewalk and street outside at MoKaBe's while chanting, in clear sight of the police line blocking the entrance to South Grand.
Dotson confirms his officers fired canisters of smoke and tear gas in a half-block radius around South Grand and Arsenal in order to root out the vandals striking businesses a block south, such as St. Louis Bread Co., FedEx and AJ & R Pawn Shop.
Some of the later tear-gas salvos were filmed by a bystander. In the video below, you can see officers shooting canisters down Hartford Street. (Skip to 13:10.)
See also: [VIDEO] Artists Transform Protest-Related Vandalism into Beauty on South Grand
Dotson says that if people didn't want to experience the gas, they should have cleared the area.
"Did it blow into the Bread Company? Yes. Did it blow into FedEx? Yes. Did it blow into MoKaBe's? Yes," he says. "And that's just how it works. It's in the wind, and where the wind goes, it blows. There was never any gas specifically directed toward MoKaBe's, the business, the people on the patio, but people were given a lawful order to leave the area."
That's not how things felt for those inside the coffeehouse, says Valeria Souza, a lecturer at Washington University who had arrived at midnight with two other friends after hours spent protesting in Ferguson.
"It was this white cloud directly in front of the building, and it was getting thicker and thicker, because they kept deploying additional gas canisters," she says. "And then all of a sudden it it was so thick you couldn't see in front of you. We could see this giant, white thick cloud, impenetrable, and it starts coming toward us."
The cloud can be seen in this video taken by activist DeRay McKesson.
Continue for the rest of Souza's narrative of getting tear gassed inside MoKaBe's.
Souza says that police gave no warning before the billowing cloud of tear gas hit MoKaBe's. She estimates that of the roughly 70 people inside at the time, only 10 had proper protective gear. Some relied on bandannas or scarfs to cover their mouths, she says, but the dense smoke spilled into the building and filled the interior, forcing the those inside to retreat to the sealed basement.
Souza later wrote a detailed narrative of the MoKaBe's gassing on her blog. Here's her description of the overwhelming physical reaction to the gas.
I will never forget that moment because it felt like someone took a vacuum and sucked all the air out of my chest. Or like I got kicked and had the wind knocked out of me. It was such a potent feeling, I dropped immediately to my knees. I felt my eyes, nose, and mouth burning. The worst part, though, was that feeling in my chest. I thought I was going to suffocate. I wondered if I would die. For some reason, I ripped the scarf off my face even though that possibly made things worse by exposing me to more gas particles. I was not thinking rationally. I remember having only one clear thought in that moment. It was: "Thank God I took Albuterol [a brochodilator people with asthma use to open up the passages in the lungs] around a half hour ago." That medication possibly prevented me from having a full-on asthma attack.
She even took a tear-gas selfie while hunkered in the basement:
Another round of tear gas hit MoKaBe's minutes later, but it was significantly less heavy than the first, says Souza. By 2 a.m., after a series of confusing back-and-forth communications between protesters and police outside, those still inside MoKaBe's were allowed to leave through the front entrance.
Since then, Souza says, neither she nor the other protesters in MoKaBe's have received any explanation or apology for the gassing from the police.
"All we'd like is an acknowledgement of the police department that this happened, that it wasn't appropriate, and that they change their views on chemical weapons," she says. "This is not Iraq, we are not enemy combatants, this is not a war zone."
From Dotson's perspective, the police were forced to act to protect the businesses and property on South Grand, and no one wanted Tower Grove South residents to wake up the next morning to a row of burned out shops.
"I absolutely wish that we never had to do this," Dotson says. "I absolutely wish that those 21 businesses did not have their windows broken, I absolutely wish those fires weren't set. Had all of those things not happened, then we would not have had to do this. I do apologize for anybody who was caught up in this."
"For illustration, look at Ferguson," he adds. "We had all of these symptoms that you were seeing, the window smashing, fire setting, people not obeying the police. So I think the greater community has to say, 'Law enforcement: What are you doing to keep us safe?'"
Follow Danny Wicentowski on Twitter at @D_Towski. E-mail the author at Danny.Wicentowski@RiverfrontTimes.com