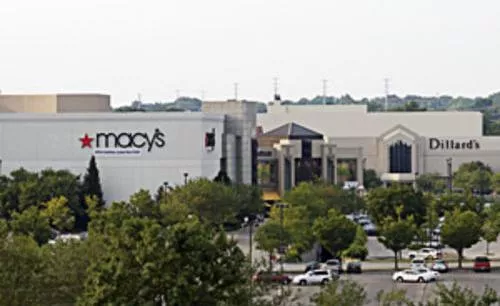 Photo: Jennifer Silverberg
Demonstrators demanding justice for Michael Brown took their protest to two of St. Louis' toniest malls today, closing down the Galleria and West County Center on the busiest shopping day of the year.
About 100 protesters hit the Galleria around 1 p.m. and later staged a "die in" on the floor of the mall.
The mall later closed temporarily from around 2 p.m. till 4 p.m. Richmond Heights police reportedly made no arrests.
Metro also diverted its bus service from the Galleria as a result of the demonstration.
Meanwhile, a similar group of protesters also hit West County Center in Des Peres.
Des Peres police chief Keith Krumm tells Daily RFT that as of 4:30 p.m. West County Center was closed. His officers made no arrests.
Correction: This article initially stated that Metro temporarily closed its Richmond Heights Metrolink stop. That is incorrect. The transit agency diverted its bus service from the mall. The re-routing of its bus service remained in effect Saturday morning with Metro posting the following at 5:37 a.m. Saturday:
Contact the author at chad.garrison@riverfronttimes.com or