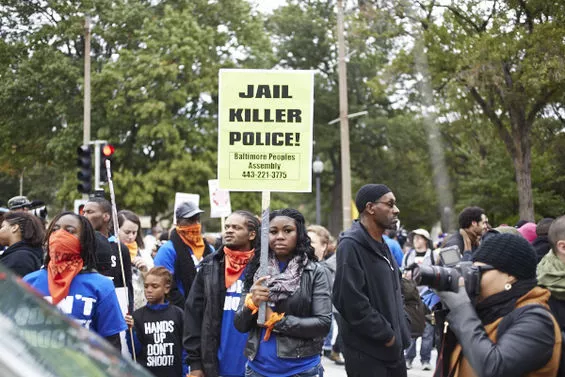 Theo Welling
As protesters demand Darren Wilson's indictment, details of his life post-Ferguson are starting to emerge.
Darren Wilson, the police officer who fatally shot Ferguson teen Michael Brown, has tied the knot.
According to The New York Times, Wilson, 28, and Barbara Spradling, 37, who is also an officer with the Ferguson Police Department, officially married on October 24.
Wilson and his bride could have obtained their marriage license in a faraway county or state. (Las Vegas, anyone?) Instead, the couple brazenly chose to apply in downtown Clayton, across the street from where a grand jury has been deliberating on whether to charge Wilson with a crime for Brown's death.
See also: Darren Wilson Quietly Meets with Television News Anchors About Possible Interviews
A clerk at the recorder of deeds office in Clayton tells The New York Times she was surprised to see Wilson at the office, which is often the target of protests calling for his indictment. The week Wilson got married, three protesters were arrested at the Buzz Westfall Justice Center for throwing pumpkins in response to riots at the New Hampshire Pumpkin Festival. Protesters wrote "POLICE BRUTALITY" on one of the smashed pumpkins, in reference to Wilson.
Municipal judge Christopher B. Graville performed the ceremony marrying Wilson and Spradling, who received a medal of valor 2012 for her police work, according to the New York Times. One of two witnesses at the ceremony was Greg Kloeppel, one of Wilson's lawyers.
Both Wilson and Spradling have been married before. Wilson finalized his divorce with Ashley Brown in November 2013.
Wilson and Spradling abruptly left their home in Crestwood soon after the August 9 shooting in Ferguson, neighbors told the New York Times. Wilson has been invisible since then. No images of him surfaced when he testified in front of the grand jury investigating his case, and St. Louis Prosecuting Attorney Bob McCulloch dropped five pending felony cases that were depending on his testimony.
Follow Lindsay Toler on Twitter at @StLouisLindsay. E-mail the author at Lindsay.Toler@RiverfrontTimes.com.