Steve Truesdell
Could Ferguson protesters win Time's Person of the Year poll?
Who should be Time magazine's 2014 Person of the Year? In the online readers' poll, Ferguson protesters are beating out dozens of household names.
Time's editors have bestowed the annual Person of the Year title on a person (or persons) who has influenced the news, for better or for worse, each year for nine decades. But the magazine also holds an annual online poll to gauge how readers feel about the year's newsmakers. So far, Ferguson protesters are polling high.
See also: Jack Dorsey Conspicuously Absent from Time Magazine's Recognition of "Twitter Guys"
As of Thursday afternoon, Ferguson protesters had earned more than 2 percent of the votes, more than John Oliver, Shonda Rhimes, President Barack Obama, Taylor Swift and Pope Francis.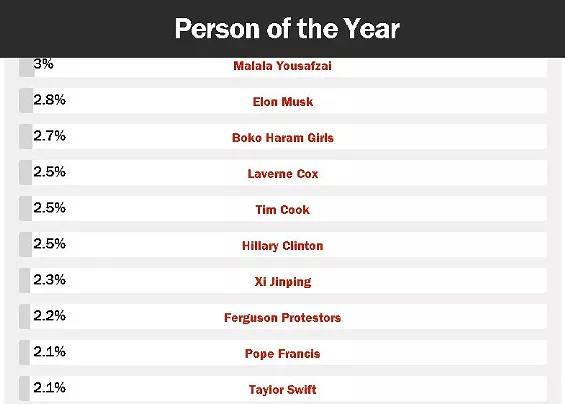 Two other groups are pulling more votes: the Boko Haram girls and Ebola doctors and nurses.
While the protesters aren't likely to win the poll, currently led by Indian Prime Minister Narendra Modi, it's an interesting indication of how much impact protests in a north St. Louis County suburb have had worldwide.
The video accompanying the poll includes a photo of a protester kneeling on the street with arms raised as tear gas or smoke bombs detonate nearby in bright flashes. The image is sandwiched between photos of two other 2014 sensations: the ice bucket challenge and Taylor Swift.
Want to vote for Time's Person of the Year? Cast your ballot by Facebook, Twitter or on Time's website. Voting ends at 11:59 p.m. December 6, and Time will announce the winner December 8.
Follow Lindsay Toler on Twitter at @StLouisLindsay. E-mail the author at Lindsay.Toler@RiverfrontTimes.com.