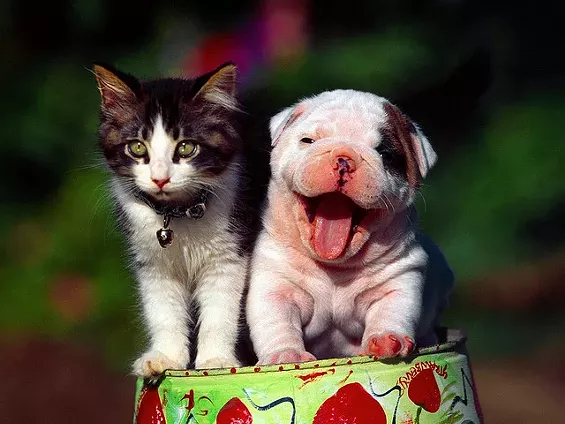 The Humane Society of Missouri offers tips on handling civil unrest for pet owners.
St. Louis is getting ready.
Churches are setting up as safe spaces. Governor Jay Nixon has declared a state of emergency. Mayor Francis Slay is asking for hundreds of National Guard troops to help with security. Before the city finds out whether Ferguson police officer Darren Wilson will face charges for fatally shooting unarmed teen Michael Brown, St. Louis is gearing up for the protests and unrest that are sure to follow.
Saint Louis County Animal Care and Control is starting its own preparations in case the unrest affects families with pets. Partnering with the Humane Society of Missouri, animal control is preparing assistance for displaced or injured animals, as well as emergency pet supplies.
See also: Stray Rescue Braces for Ferguson Protests, Sees More Dogs with Gunshot Wounds
In the meantime, the groups released some tips for pet owners worried about unrest. Here are five tips from the Humane Society of Missouri:
1. Make an evacuation kit. In a waterproof container, store your pet's medical records, veterinarian contact information, a minimum one-week supply of medication and food. The Humane Society of Missouri has a list of other items to include in your emergency kit.
2. Take a photo. Current photos and descriptions of your pet can help others identify it in case you and your pet become separated.
3. Don't just leave. Never abandon your pet. If you can't take it with you during an evacuation, check with friends or family to see if they can shelter your pet temporarily. Some pet-friendly hotels and motels will waive a pet fee in case of an emergency.
4. Stay inside. Loud noises and large crowds cause pets to stress, which could lead them to run away or get injured. Randy Grim, founder of Stray Rescue, says runaway pets have been a big problem ever since unrest began in August. Don't leave your pet outside. And just in case they do run away, make sure they are wearing identification or that your pet's microchip is up to date.
5. Prepare for tear gas. In August, pet owners called the Humane Society of Missouri asking what to do if their animal is exposed to tear gas. The best thing to do, the group says, it get to a veterinarian ASAP. But if that's not immediately possible, flush the pet's eyes out with a sterile saline solution, available at drug stores.
Follow Lindsay Toler on Twitter at @StLouisLindsay. E-mail the author at Lindsay.Toler@RiverfrontTimes.com.