Henry Goldkamp holds the anonymous, typed messaged that questioned the diversity of his What the Hell is St. Louis Thinking? project.
The first line of the first entry of What the Hell Is St. Louis Thinking? tells you almost everything you need to know about the story behind the book:
"Typewriters evoke a world of the immediate, a world in which our actions have immediate consequences, a world in which a thought becomes an incarnate word."
Who wrote that line? Nobody knows, not even the book's creator Henry Goldkamp. Yet it ably reflects Goldkamp's fascinations with typewriters and spontaneous poetry, interests he honed while hanging around the Grove and banging out verses for bar patrons on his 1957 Smith Corona. In August 2013 he set out to distribute dozens of typewriter stations across St. Louis, and bystanders were asked to anonymously write something -- anything -- and add it to the growing collection. The end result, as Goldkamp himself writes in the book's introduction, is akin to St. Louis "having a discussion with itself."
See also: What the Hell is St. Louis Thinking?: "My Home Smells Like Beer and Pretzels" [VIDEO]
Sure, Goldkamp's description of the book sounds a bit schizophrenic -- and in a way, that's not too far from the truth. Some entries read like prose compositions. Other pages contain haikus, rants, confessions and, in a few cases, children's hand-drawn illustrations.
Now, after months spent reviewing thousands of entries, Goldkamp (winner of RFT's 2014 Award for Best Local Poet ) and his publisher, Bottlecap Press, are preparing for the book's official release on November 22. Daily RFT flipped through our press copy and picked out five entries that made us sit up and say, "What the hell?"
1. WTHSTL Includes Its Own Haters.
Goldkamp and a few friends spent untold hours repairing and replacing broken typewriter stations. Naturally, he ended up with angry submissions like this one:
This project is a complete fail.

Machine doesn't work.

No ink.

No maintenance.

"Artist" doesn't give a shit.

Got the publicity he was looking for.
2. Extremely Short, Extremely Chilling Stories.
It was Ernest Hemingway who famously penned a six-word short story ("For sale: baby shoes, never worn") and WTHSTL's contributors build on that tradition: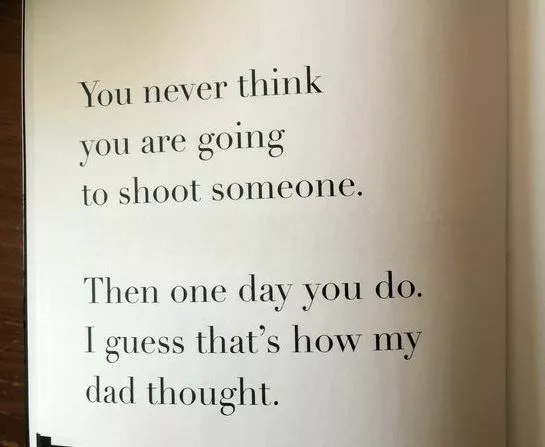 3. St. Louisans Love Their City
The final section of the WTHSTL features plenty of folks who are in love with St. Louis and want to see the city improve, like the person who wrote this touching letter: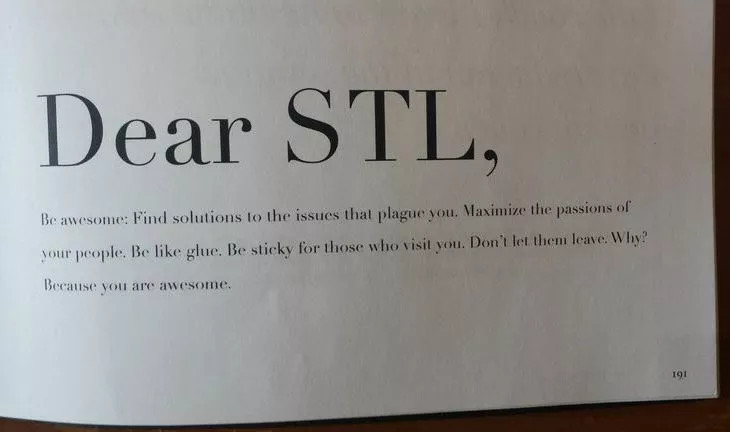 Dear STL,

Be awesome: Find solutions to the issues that plague you. Maximize the passions of your people. Be like glue. Be sticky for those visit you. Don't let them leave. Why? Because you are awesome.
Continue for two more entries from What the Hell is St. Louis Thinking?
4. What The Hell Is Wrong with St. Louis?
Of course, not everyone who sat down at Goldkamp's typewriters wrote starry-eyed appreciation letters to St. Louis. Many of these entries are deeply personal, conflicted, profane and critical of rising crime and inequality -- and keep in mind, these entries were written a year before Michael Brown's death set off widespread protests over those same issues. Here's one example:
What the hell is up with cops planting drugs on ANYONE, let alone brown skinned individuals.

What the hell is up with our schools not being accredited?

What the hell is so important about Catholic high school.

I love when we open the door for one another, we don't do this.

I love when we acknowledge another human being with love, respect and care regardless of hair, eyes, body type, gender, ethnicity. BUT THIS IS NOT ST. LOUIS...we will move on and most importantly forward otherwise we will all die or kill each other.
5. The Ones Who Never Leave
In the end, Goldkamp succeeded in his mission to document St. Louis' thoughts -- the book's entries span generations, race and geography, and at its best the pages flow together in a stream of St. Louis' collective consciousness. However, one entry in particular seems to wrap all that complexity together in one paragraph: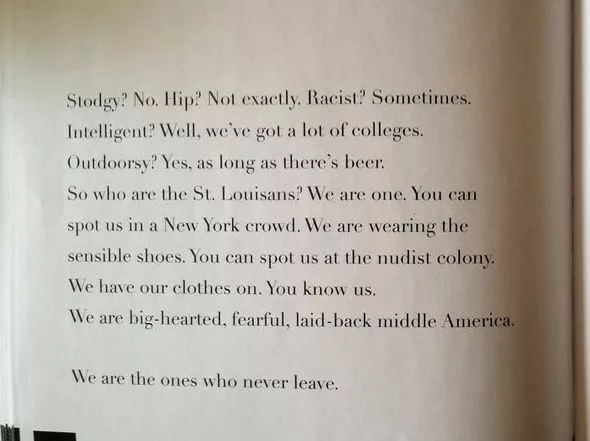 For more info on the book, as well as the option to buy your own copy, check out the official What the Hell Is St. Louis Thinking? website.
Follow Danny Wicentowski on Twitter at @D_Towski. E-mail the author at Danny.Wicentowski@RiverfrontTimes.com