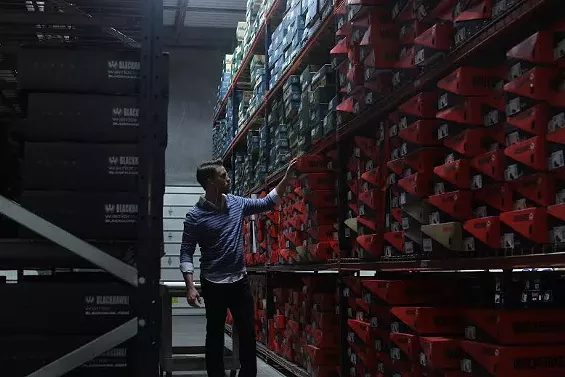 Photos via TacticalGear.com
Sales at TacticalGear.com and the company's Chesterfield store are up more than 20 percent.
St. Louis-based TacticalGear.com is crediting the "Ferguson phenomenon" for a double-digit bump in sales.
Sales from last week are 21 percent higher than sales for the same week last year, a jump CEO Chad Weinman calls "significant growth." Weinman says the uptick is especially noticeable at TacticalGear.com's Chesterfield store, where many of his customers are Department of Homeland Security and Missouri State Highway Patrol officers arriving in St. Louis to handle security at expected future protests.
"You can feel the tension in the air," Weinman tells Daily RFT. "I think everybody is a little on edge, and people are taking steps to ensure their safety and the safety of their families."
Of all the tactical apparel, equipment and footwear in stock, outerwear has been particularly popular with officers, Weinman says, which is no surprise given the sudden drop in St. Louis temperatures.
"Somebody coming from out of state may not anticipate that it would be as cold as it's been," Weinman says. "These folks don't have access to the normal channels for equipment and clothing because they're not in their home territory."
Officers sometimes buy tactical gear (such as vests, boots or bags) on location to ensure it's personalized for their bodies and for the job.
Chad Weinman, CEO of TacticalGear.com.
"These guys have a lot of gear," Weinman says. "It's all about accessibility. It's all about having what they need the minute they need it."
But officers aren't TacticalGear.com's only market. Customers who aren't members of the military or law enforcement are rapidly buying Weinman's supply of concealed-carry weapon holsters. That makes sense, Weinman says, since gun sales around St. Louis have spiked as a grand jury decides whether or not to charge Ferguson police officer Darren Wilson with a crime for fatally shooting unarmed teen Michael Brown.
"Typically, when you get your CCW permit, the next thing you're going to do is buy a concealed-carry weapons holster so you can carry this weapon you're now legally allowed to have on your person," Weinman says. Police and military officials typically don't buy waistband or shoulder holsters for the job, he adds.
Weinman says the latest increase in sales isn't just a holiday shopping boost. Sales this time last year were 21 percent lower than they are now.
Weinman says he can't escape and apprehension and uncertainty St. Louis is experiencing in the lead-up to the grand jury's decision.
"Anywhere I go in St. Louis, from a bar in Clayton to a restaurant in Creve Coeur, it's on everybody's minds," he says. "I think that people just don't know what to expect."
Follow Lindsay Toler on Twitter at @StLouisLindsay. E-mail the author at [email protected].