Courtesy of Soh family
Yongsang Soh.
As October 26, 2013, bled into a new day, Yongsang Soh sat at a table at the Ameristar Casino in St. Charles with three friends, all seemingly content with drinking and gambling their way into Sunday.
Affluent, serious and handsome, Soh appears in photos with a messy mop of black hair, a barely there smile and a narrow, refined face that takes after his mother's. A thrill seeker and devoted Cardinals fan, Soh had recently purchased two tickets to see his team play in the World Series against the Boston Red Sox. The next month, Soh, a senior enrolled in Washington University's notoriously demanding Philosophy-Neuroscience-Psychology Program, planned to spend Thanksgiving break in Las Vegas.
If Soh was upset at losing several hundred dollars at the casino, he didn't voice it to his buddies as they headed back home to the Dorchester, a high-rise apartment on Skinker Boulevard just a ten-minute walk from the campus of Wash. U.
By 2 a.m. Soh and his entourage were on the 21st floor of the building and had joined three other friends from school who'd been tripping on LSD for hours. One of them handed Soh a tab and passed another to "Jim," one of his friends who'd accompanied him to the casino. [Note: Riverfront Times has changed the name of this friend because we were unable to reach him for comment. He did, however, speak to private detectives. Those accounts are used in this article.]
An hour later, Jim began noticing something unusual in Soh's behavior. Later, he would tell a private detective that Soh seemed anxious, flustered and was mumbling to himself in his native Korean.
Around 4 a.m., Soh, Jim and a few others piled into a car for a psychedelic drive through Forest Park, located across the street from the Dorchester. The early-morning expedition included a snack stop at John Donut in Soulard. While still at the shop, Soh and Jim complained that they were not getting high enough. Each took another tab of acid, according to private investigators.
Around 5 a.m. the friends returned once more to the Dorchester. This time they gathered in Soh's apartment on the 23rd floor where they allegedly smoked some joints and began watching the conspiracy-theory documentary Thrive. As dawn began to break at 6:30 a.m., the party had frittered away to just Soh and Jim.
At 7 a.m. one of the partiers returned briefly to look for a misplaced cell phone. Jim lay on the leather sofa; Soh was flopped on an overstuffed brown recliner. The friend asked if they were OK. Jim replied that everything was fine. Soh, who was covered with a blanket, said nothing. The friend left.
Jim told private detectives that he later locked himself in the apartment's bedroom to get away from Soh's continuous, panicked yelling in Korean. Jim would be the last person to see Soh alive.
At 8:30 a.m. a woman watching the news in her apartment on the 11th floor of the Dorchester glimpsed a "shadow" flit past her east-facing window. About 40 minutes later, drawn by the wailing of sirens, she walked to her window and peered down.
The 22-year-old Soh lay splayed on the driveway. He'd been wearing mismatched shoes when he spilled off the 23rd-floor balcony. A Nike sneaker clung to his right foot, while the other shoe, a Sperry-style loafer, was thrown several feet from the impact. According to the police incident report, Soh's battered body showed no signs of defensive wounds that would hint at foul play before his plummet. Following an initial autopsy, the medical examiner listed the cause of death as "suicide." But that verdict changed just last month when St. Louis' Office of the Medical Examiner amended the cause of death to "undetermined" after new testing paid for by Soh's family revealed LSD in his body.
St. Louis detectives gather near one of Yongsang Soh's shoes at the scene of his death.
Within the St. Louis Metropolitan Police Department, the investigation into Soh's death remains "ongoing," although cops say they are not seeking a suspect and consider the fatality a "non-criminal incident." But try telling that to Soh's wealthy and influential family. This summer, they demanded that Washington University pay up $50 million for not pursuing criminal charges against Soh's friends and Sigma Alpha Mu fraternity brothers whose drug dealing they believe is responsible for their son's death.
This week, the family pressed the issue further in filing a wrongful-death lawsuit against the university, alleging the St. Louis institution "acted with reckless indifference in failing to report the criminal conduct of the SAM House and its members to appropriate prosecutorial authorities despite the university's extensive knowledge of their criminal activities and enterprise."
Had the university acted responsibly, Soh's parents argue, their son would still be alive today.
---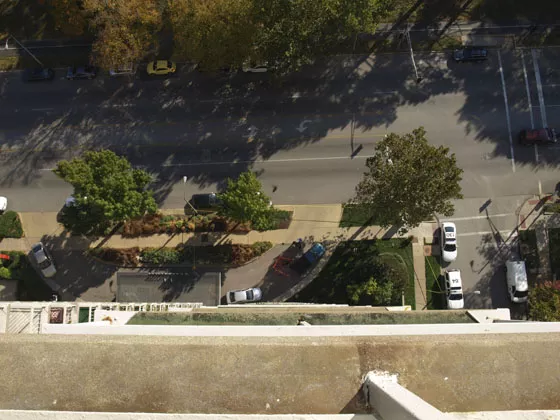 View from the balcony from which the acid-addled Soh plummeted.
Soh's father, Changwoo Soh, is the CEO of Papa John's Korea. His mother is said to be related to the family behind Seoul-based electronics giant Samsung.
It's difficult to gauge how much the Soh family is worth, but the family's St. Louis attorney, Albert Watkins, values the stand-alone equity of Papa John's Korea at around $12 billion. In South Korea the Sohs are "the functional equivalent to the Kennedy family," says Watkins.
In the lawsuit filed last week in St. Louis City Circuit Court, the lawyer places Yongsang Soh's net worth at the time of his death "in excess of $300 million." Not bad for a kid who'd yet to start his career. But Soh was destined for great things, according to his family. A triplet, Yongsang — more so than his brother and sister — was the sibling pegged to succeed his father in business. So it was with money to burn and a dynasty at stake that the bereaved Soh family immediately began to question the official narrative of their son's death.
According to police, Soh tumbled not from his own balcony but from the apartment next door, a display unit that management left unlocked to show prospective tenants.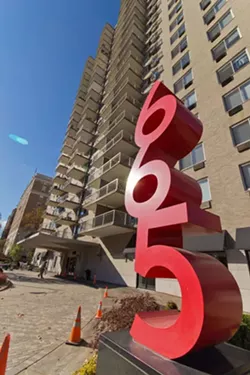 Tom Carlson
The high-rise Dorchester Apartments on Skinker Boulevard.
"The detectives observed a single set of footprints in the freshly vacuumed carpeting leading directly to a balcony which overlooks Skinker Blvd," reads the police report. "[T]he victim's body could be observed on the driveway in line with the balcony...it is believed the victim was the sole occupant of the apartment prior to his fall."
Within days of Soh's death, his family reached out to PDI Investigations Inc., a detective firm headquartered in Clayton. Internal emails and reports provided to Riverfront Times by Soh's attorney trace the path of the ensuing investigation. It's clear that Mike Barbieri, a security consultant with the agency, deemed Soh's death suspicious from the very beginning. (Barbieri confirmed the authenticity of the reports but declined to comment on specifics, citing confidentiality.)
"We believe that there is reasonable doubt regarding the death of Yongsang and the investigation should proceed on a criminal basis," Barbieri wrote in a November 2013 letter to Soh's family under the subject line "Yongsang Soh — Murder Investigation."
Just a few weeks after Soh's death, only his friends knew about the LSD use that night — Jim and the others hadn't shared those details with the cops. Still, Soh's apparent suicide appeared implausible to Barbieri, who found records of Soh's plans for Thanksgiving and the next week's World Series game in St. Louis. Soh had even confirmed a few shipping orders at high-end clothing websites such as Gilt, Yoox and The Corner on October 25, the day before he died.
Barbieri and his team also dug into Soh's Internet search history. They found no online searches for subjects associated with suicide. But they did find something else disturbing: reams of emails from a listserv that connected former members of the Phi chapter of Sigma Alpha Mu, also known as the "Sammy House," a fraternity with an infamous reputation at Washington University.
In 1999 the university levied a two-year suspension against the chapter for "poor leadership, financial woes [and] troubling behavior with alcohol," according the school's paper, Student Life. The chapter returned to campus in 2002, but in 2008 found itself in trouble when the university evicted the frat once more following a drug bust. Though officially homeless, the fraternity technically survived with its members resettling in nearby dorms or other housing, such as the Dorchester. Finally, a 2011 investigation by campus police into further incidents of drug use and hazing led to the chapter's dissolution in July 2012.
The listserv discovered in Soh's computer showed evidence that the Sammys' illicit activities were going strong until the end, and that Soh — along with Jim and others present the night of his death — may have been wrapped up in an Internet drug-trafficking ring.
"This listserve is very important to us as a brotherhood," read one email dated February 14, 2012. "You guys should use your list serve to organize yourselves, stay in touch and most importantly, share hilarious pictures/stories and sell each other drugs." An example of the "hilarious pictures" was a photo of an alleged fifteen-year-old girl passed out on a couch at a freshman mixer. The caption read "beached whale." Evidence of drug transactions included a photo of a five-ounce bag of psilocybin mushrooms for sale.
On March 29, 2012, a member of the listserv posted an alarming note referencing Jim and warning other Sammy members that the cops were investigating their group of friends living in the South 40 dormitory.
"Just a few hours ago, [Jim] and I think our common rooms got raided. We were at lunch and our suite mate called us and told us the following: Three people with black gloves and some sort of liquid in a bottle searched our common room for like an hour. They knocked on our individual doors but did not open any locked ones. Our suite mate followed these people to the [dormitory] police station."
The email's final line read: "Keep all your doors locked. Try to get rid of all illegal substances. Delete all text message."
By mid-January 2014, the Soh family's private investigators had interviewed Jim and another half-dozen of Soh's friends. Over the course of multiple interviews, Jim told the investigators about the LSD, and described Soh's erratic behavior that Sunday morning. The investigators built a detailed timeline of Soh's final night, starting with drinking and gambling at the Ameristar Casino, returning to the Dorchester, the first tab of acid between 2 and 3 a.m., the ride to John Donut — all the way to his downstairs neighbor noticing a shadow passing by her window.
On June 26 a hand-delivered letter from Watkins' law firm arrived at the office of Washington University chancellor Mark Wrighton. In its eighteen pages (and twelve pages of exhibits), the attorney laid out everything his clients now knew of Soh's death and placed the blame squarely on the university.
"Consistent with the traditions of Korean nobility," Watkins wrote, "my clients have directed me to extend this correspondence with an eye toward according The University the opportunity to reconcile its accountability for the incalculable loss sustained by the Soh family."
Near the end of the note, Watkins laid out the demands of his clients: The university would turn over its investigations of SAM members' drug trade and Soh's death to the proper authorities, completely overhaul its campus disciplinary system and — the kicker — pay the Soh family a settlement of $50 million.
The letter gave the university twenty days to respond. That deadline came and went.
---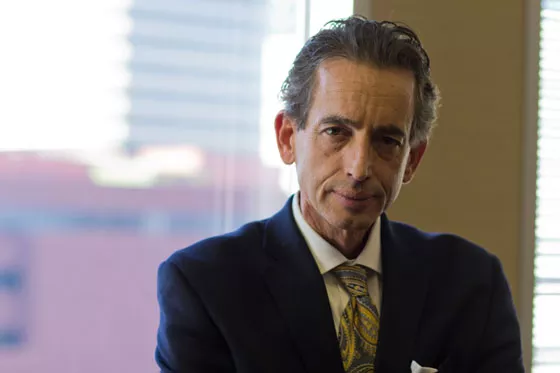 Tom Carlson
Attorney Albert Watkins accuses Wash. U. of a "cesspool of negligence."
In his downtown Clayton office, Watkins sits behind an executive desk large enough to double as a billiards table. Nearly every vertical surface in the office is adorned with some plaque, award or certification — a veritable art gallery of legal hubris. This is the work home of an attorney who can crank up a publicity circus with the drop of a metaphor.
"This is a cesspool of negligence, like a pus-filled boil," he says of Washington University's internal disciplinary policies. "You press on one side and the pus is ejected out on the other side."
Through Watkins, the Soh family argues that Wash. U. was negligent in not directing its police force to pursue criminal charges against the Sammy House. Watkins accuses university officials of instead using its campus police to funnel such misbehaving students to the school's internal judicial system, where officials can freely accuse, punish or pardon students away from the public eye.
Like many major universities across the country, Washington University's police department is, on one hand, comprised of licensed officers who have the authority to arrest suspects and refer charges to prosecutors. But in reality, campus police refer the majority of their criminal drug cases to a university's internal judicial system, which may require that a student get drug tested, attend therapy or, at worst, endure suspension or expulsion.
The reason for this arrangement is simple enough, notes Watkins. Schools don't want their students' youthful indiscretions on campus to harm their post-college careers.
"But the pattern and practice that has been employed has given rise to overwhelming entitlement on the part of universities to do damn well anything they want in this regard," says the attorney.
Washington University police chief Don Strom did not respond to interview requests for this story. But according to Washington University's federally mandated Clery reports on campus crime, from 2011 to 2013 Wash. U. police referred 129 students to the Office of Student Conduct for drug violations. The St. Louis County prosecutor's office confirms that it has received twenty drug case referrals from Washington University since 2011, and 155 total criminal cases since 2010.
Notably, Wash. U. police recorded a spike in campus drug crime in 2012 after a massive bust that school officials say swept up members of SAM House shortly before the chapter was dissolved. That single bust resulted in 49 referrals to the university's judicial system, seven expulsions and thirteen suspensions.
Which brings Watkins to Soh and the lawsuit against the school.
"The link," he says, "is that many of the individuals who surrounded Soh at the time of this death were on this super-secret probation protocol. Had they actually been turned over to law enforcement, then...the events that occurred would not have occurred."
The lawsuit Watkins filed this week arrives as university leaders nationwide struggle to define their institutions' roles in the criminal justice system. Currently the U.S. Department of Education's Office for Civil Rights is investigating 85 colleges for disturbingly lenient sexual-assault policies. On the other hand, in October a group of Harvard professors voiced concern that the Ivy League school's strict, new sexual harassment policy violates due process under U.S. law.
Here, too, the case of Soh's death exposes the ill-defined and frequently messy relationship between a university and its adult students. By way of the lawsuit, Soh's parents are essentially rebuking the university for not pursuing criminal charges against their son and his friends in order to — in effect — save them from themselves.
Reaching again for a stomach-churning metaphor, Watkins likens the university to a grocery store that's liable when a customer slips and falls on a puddle of vomit.
"In this case, the university had been walking around in its own bile and the bodily fluids of criminality for years and years and years," he says. "It's chosen to leave this very unsafe environment for anyone to slip in."
---
News of Soh's death last October quickly rippled through campus, especially within the tight-knit community of Korean students studying in St. Louis. A few days later, Washington University's PR team released an obituary. In it, a professor recalled Soh as "the person who made our class joyful."
"The Washington University community has lost a member of our community," wrote vice chancellor for students Sharon Stahl, concluding the obituary. "This is also difficult for the Korean student community. They are far away from home, and we hope that they feel the caring and concern that the entire community has for them. I know that they are supporting each other, but they also have the support of all of us."
A week after his death, the university hosted a memorial service and flew the school's flag at half-staff over Brookings Hall.
Citing pending litigation, Washington University declined to discuss with Riverfront Times the specific allegations Soh's family has made about how the school polices its students. But generally speaking, the university says discipline is weighed on a case-by-case basis.
"The Washington University Police Department and the Office of Student Conduct work closely together and refer students to each other depending on the circumstance of a situation," writes Jill Friedman, a Washington University spokesperson in an email to Riverfront Times.
"In general, the seriousness and type of a potential crime are factors that are considered. For example, crimes against persons and cases that involve a felony where a suspect has been identified generally are referred [to prosecutors]."
In her email, Friedman contests Watkins' allegations that the university let criminal members of the Sammy House off the hook. She confirms that individuals associated with SAM had been referred for criminal prosecution in 2012.
"After a complete and fair investigation into activities related to the Sigma Alpha Mu fraternity chapter, the university took serious disciplinary action against involved students — up to and including permanent termination — and referred individual cases to the local prosecutor for consideration of criminal charges," continues Friedman.
The accusations the Soh family have leveled at Washington University somewhat mirror a lawsuit filed earlier this year against High Point University in North Carolina. In that case, school officials were accused of knowing about a fraternity's "extreme and outrageous conduct" that led to the overdose and death of a 22-year-old pledge during an alleged hazing incident. This August a judge dismissed the allegations against the school.
"I disagree with the case law," says Drew Brown, the attorney who filed the suit. "I think that if something can be prevented, who ought bear the cost of it? The one who could have prevented it, or the one who was a victim thrown in the system?"
Though in light of his own experience, Brown views the Soh family lawsuit against Washington University as "particularly weak."
"That seems like a very difficult case," he says. "The person made a choice. It wasn't a hazing incident when they were forced into a situation where they didn't know what was going to happen to them. Adults over eighteen made a choice to take drugs."
---
Courtesy of Soh family.
Soh family photo. From left to right: Yongsang's brother Wonsang, mother Namyeon Suk, sister Hyunjung and father Changwoo.
Had he lived past October 26, Yongsang Soh would now be 23 and likely starting law school, looking forward to the day when he would graduate and take over the family business. Instead, private investigators continue to pick through the detritus of his life.
Watkins, never one to pull punches, says he believes Soh was murdered and unwillingly ingested the LSD that night. The attorney says he has shared all the evidence uncovered by private investigators with the St. Louis Metropolitan Police Department and the U.S. Attorney's Office.
The most significant hole in the lawsuit, however, may be Soh's relationship to Sigma Alpha Mu. The fraternity's executive director, Leland Manders, says Soh's name is not on the organization's official rolls. A former member of the Washington University Phi chapter, speaking on the condition of anonymity, suggests that Soh's absence from the registry doesn't necessarily mean he wasn't initiated or a part of the fraternity family. It could be the paperwork got lost or was never properly filed.
In the comment section of the Student Life article reporting his death, Soh's classmates and friends expressed disbelief, shock and heartbreak.
"Yong did not commit suicide," wrote one commenter. "He is not the kind of person to do something that would break his friends and family's heart. I was a close friend of Yong and he was a happy guy and a pure soul, very determined and future-driven. We even made plans for upcoming weekends and breaks. Such a tragic accident that brought a huge loss to all of us...rest in peace and you will be greatly missed forever."
"Yong was a great guy," wrote another. "Unassuming, gracious, and always supportive. Just a wonderful human being."
At his memorial, a Dorchester resident recalled how gleefully he played with her dog.
"Yong loved all animals," Soh's brother, Won, tells Riverfront Times in an email. "He told me that he found an innocence in them that at times was missing in people. He valued this."
The last time Won saw or spoke to his brother was in August 2013 when the siblings convened in South Korea to celebrate their father's birthday. Both Won and Yong were getting ready to return to their respective colleges, Yong to Wash. U., Won to University of California-Berkeley. The brothers discussed their travels in China, as Yong had spent the previous summer in Shanghai in preparation for his future managing the family's business interests there.
"His loss to us is still shocking and surreal," Won writes in a November 9 email. "I expect to see him when I am home in Seoul, bounding around a corner of our home. His loss to our family is difficult to express in words, and thus I cannot. We were twins, of a group of triplets that included my sister Hyunjung, and because of this we miss him even more deeply. Yong's spirit will continue to influence us all, and our memories of him drive us forward to seek justice for the tragic events that happened to him, if justice is due."
Follow Danny Wicentowski on Twitter at @D_Towski. E-mail the author at Danny.Wicentowski@RiverfrontTimes.com