The Eads Bridge, as recorded in the equivalent of the 1875 version of Google Maps.
If you could take a hot air balloon in 1875 and drift through the squalid sky above St. Louis, you'd see a city bustling with breweries, horse-drawn carriages, trains skimming the riverfront and ferries chugging beneath the Eads Bridge.
Such was the view granted to a group of artists who took to the skies between 1874 and 1876 to furiously sketch St. Louis -- each home, building and street in the burgeoning metropolis. The result was a staggeringly detailed perspective map, arguably the most impressive ever made, titled Pictorial St. Louis: The Great Metropolis of the Mississippi Valley, a Topographical Survey Drawn in Perspective A.D. 1875.
The map has attracted a cult following among cartography buffs, and first editions can sell for tens of thousands of dollars. So it came as a bit of shock when Brandon Clark nabbed a largely intact original for less than $100 at an estate sale last May.
"It's a little bit fragile," says Clark, a 32-year-old software developer living in Poplar Bluff. He tells Daily RFT that he was perusing an estate sale in Cape Girardeau when he saw the thickly bound, 222-page book. Though its first pages were somewhat ragged, the ornately printed title, Pictorial St. Louis, was clearly visible.
"I just did a quick Google search at the auction, and saw that a single page was going for a couple hundred dollars on eBay," he says. "I think I paid $71 for it."
On Monday, Clark posted a listing for the book to Craigslist. He hasn't set a price and is hoping to collect offers from interested buyers.
The cover of the Brandon Clark's copy of Pictorial St. Louis.
See also: Inside the City's "Vault": Cardinals' 1917 Incorporation Papers and More [PHOTOS]
Don't be confused: Pictorial St. Louis is a map, but its creator intended it to be presented as a book. As the story goes, Richard J. Compton set out in early 1870s with the goal of not only fashioning the most beautiful and accurate map of St. Louis ever produced, but to sell advertising at the same time. Each page, originally produced on lithograph plates, measured eleven inches tall and eighteen inches wide; putting all the plates together would form an unwieldy map at least 24 feet long and eight feet high, which doesn't make for easy referencing on the go. So Compton sold it as a book.
Here's a composite picture of what the full map looks like:
How do like them map-making apples, Google?
In the final product, buildings and structures on each page are marked, referring to thousands of descriptions of shops and services -- that was the advertising part of it. Basically, Pictorial St. Louis was the both the Google Maps and the Yelp! of 1875. That combination has fascinated history buffs ever since.
"It's remarkable," says Cameron Collins, who writes the history-as-told-through-cocktails blog Distilled History, winner of Best Personal Blog in Riverfront Times' 2013 Web Awards. "I don't know any other map that so details a major American city at a specific time."
Compton employed a team of artists, led by Camille N. Dry, who staged multiple balloon trips over the Mississippi River to capture the panoramic view of the city. No cameras were used. The finished product consisted of 110 drawings and 112 pages of business listing. Published in 1876, it sold for $25 -- or around $543 in today's dollars.
"To me, it's startling to take a look back and see what's not there anymore," says Collins, who devoted a lengthy blog post to the map's history. Plate 43, for instance, covers the area around Washington Avenue and 14th Street, including the Campbell House Museum, an 1850's townhouse where Collins regularly volunteers as a tour guide.
"If you look at it, it's just densely filled with churches and structures all over the place. Only four structures on plate 43 still stand today."
Indeed, the change is breathtaking. Here's plate 43:
And here's a a screen grab from Google Maps of roughly the same area: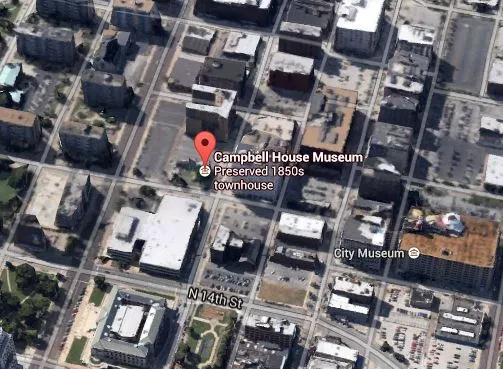 See also: Local Photographer "Blends" Old St. Louis With New in These Photos
But the best part about Pictorial St. Louis is that the entire map is indexed, searchable, gloriously zoom-able on the Library of Congress website, which allows users to click on individual plates from a grid.
Other cartographic devotes have uploaded their own digitized versions, stitching together each page to create fully interactive composite photos of the map.
And you don't have to scour estate sales or shell out thousands of dollars for a first edition if you want your own copy. Later reprints can be bought for a couple hundred bucks. According to Reddit commenters, there are also a handful of St. Louis print shops selling affordable, scaled down versions of the map.
Otherwise, you can head to the Mercantile Library, which has the full map on display, and the Missouri History Museum is planning its own exhibit of Pictorial St. Louis for 2015.
Continue for more photos of Clark's copy of Pictorial St. Louis.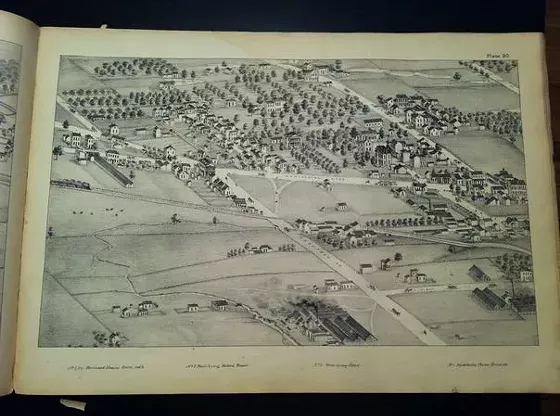 Follow Danny Wicentowski on Twitter at @D_Towski. E-mail the author at [email protected]