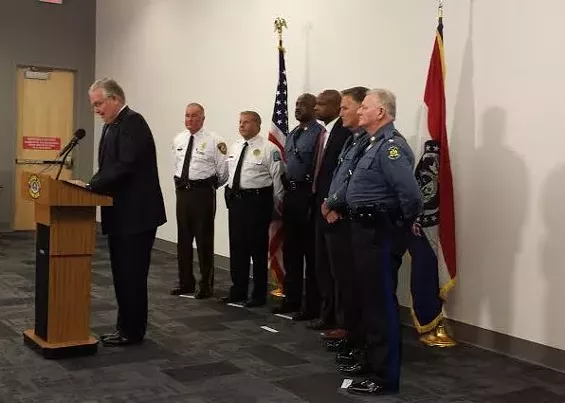 Jessica Lussenhop
Governor Jay Nixon lays out plans for protests in Ferguson and St. Louis after the grand-jury announcement.
Governor Jay Nixon announced the law-enforcement strategy for future protests in Ferguson and St. Louis at a press conference this afternoon at the Missouri State Highway Patrol Troop C headquarters in St. Charles County.
Nixon said three local agencies -- the St. Louis Metropolitan Police Department, the St. Louis County Police Department and Missouri State Highway Patrol -- will form a unified command to maintain security during protests. The National Guard, which was called up during protests in August, will hold back, Nixon said, until "we determine it is necessary to support local law enforcement."
"As governor, the most important part of my job is keeping the people of Missouri safe," Nixon said. "That is why we have been working around the clock to prepare to keep residents and businesses of the St. Louis region safe -- regardless of the outcome of the parallel local and federal investigations."
Law enforcement will protect residents and businesses from possible violence during protests linked to the fatal shooting of Michael Brown, the unarmed teen whose death sparked weeks of demonstrations. But while August's protests were mostly confined to Ferguson, St. Louis County police chief Jon Belmar said the next round of protests could take place throughout the region -- something the unified command is preparing for.
"The leaders of the agencies in the unified command are focused on the preservation of life, the protection of property and ensuring that all peaceful demonstrators can exercise their free-speech rights," Belmar said. "We also want the public to know that we are fully committed to preventing lawbreakers from threatening public safety."
The grand-jury announcement, which St. Louis County Prosecutor Bob McCulloch insists will come out no earlier than November 15, is expected, at the very least, to touch off new demonstrations.
"Peaceful protests were marred by senseless acts of violence and destruction," including looting, arson and gunshots, when unrest began in Ferguson August 10, Nixon said. "That ugliness was not representative of Missouri, and it cannot be repeated."
See also: Turkish Journalist Bilgin Şaşmaz Sues Police Over Ferguson Arrest
Ferguson police are not part of the unified command, though Nixon dodged a question about their direct involvement in future security efforts.
More than 1,000 officers have received more than 5,000 hours of additional training to prepare for future protests, especially training in allowing peaceful protesters to assemble, Nixon said.
"Violence and destruction will not define us," said Missouri State Highway Patrol captain Ron Johnson. "Instead, it is the voice of change -- which can be heard because of the First Amendment -- that will define the true character of our region. We will protect the people's voice of change and ensure the safety of all."
Local officials joined Nixon at the press conference, including St. Louis Metropolitan police chief Sam Dotson, Missouri State Highway Patrol captain Ron Johnson, Colonel Ronald Replogle, Major Bret Johnson and Missouri Department of Public Safety Director Daniel Isom.
Nixon asked Missouri residents, especially protesters, to be calm, peaceful and respectful after the grand-jury announcement.
"Ultimately, with folks watching us," Nixon said, "the true goal here is to get beyond the individual matters that might be involved here and get to long-term, lasting movement forward on issues that have been intractable...for far too many years."
Follow Lindsay Toler on Twitter at @StLouisLindsay. E-mail the author at Lindsay.Toler@RiverfrontTimes.com.