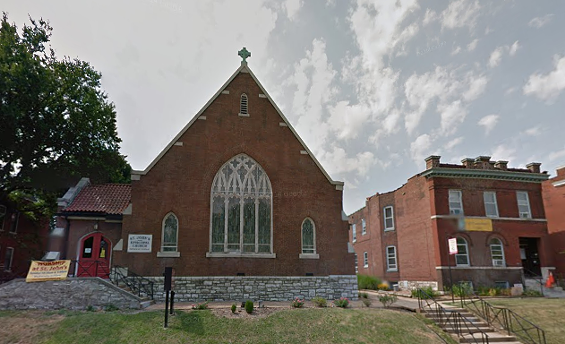 Google Maps
St. John's Church says it'll offer sanctuary to people who are blocked from their homes by protesters.
Religious groups are preparing for the unrest, protesting and, possibly, violence that many fear will erupt in St. Louis after a grand jury decides whether Ferguson police officer Darren Wilson should face charges for fatally shooting unarmed teen Michael Brown.
The St. Louis County Prosecuting Attorney's office says the jury's decision won't be ready until mid-November at the earliest. But the Lou's rumor mill is working overtime with predictions of when the verdict will be released and how violent (or not) the reaction will be.
"No one can doubt the anxiety in St. Louis city and county as we await the county grand jury's decision to indict officer Darren Wilson, or not, in the shooting death of Michael Brown," says Bishop Wayne Smith with the Episcopal Diocese of Missouri. "No matter the decision, there will be disappointment and upset in the community, and likely there will be turmoil and protest."
Houses of worship are pledging open doors to all in the wake of the grand-jury decision, offering prayer, counseling and even shelter, food and medical care for any blocked from reaching their homes by protester or police lines.
See also: Downtown Church to Hold 24-Hour Vigil After Michael Brown Grand Jury Decision
The night after the St. Louis County Prosecuting Attorney's office releases the results of the grand-jury investigation into Brown's shooting, clergy groups and the NAACP say they're calling the community to gather at the West Side Missionary Baptist Church, at 2677 Dunn Road, northeast of Ferguson. There, clergy and community leaders will share how congregations and residents can peacefully respond to the jury's decision.
St. John's Episcopal Church
, near the southeast corner of Tower Grove Park, says it will open immediately after the grand-jury decision and will hold a prayer vigil at 7 p.m. that night. After the vigil, the church's response depends on how the community reacts to the news.
If protesters descend on the Shaw and Tower Grove neighborhoods as they did last month after a police officer fatally shot eighteen-year-old Vonderrit Myers, the church may need to serve as a sanctuary for people who can't return to their homes. Especially if the protests turn violent, the church will provide nursing volunteers for medical help, National Lawyer's Guild legal observers, social workers, clergy and other help to anyone looking for a safe place.
While St. John's is preparing for the worst, church officials say they are praying for the best.
"Please pray that St. John's will not need to serve as a sanctuary," the church says on its website. "Please pray that there will not be any violence in our neighborhood or in any other neighborhood after the indictment decision."
If St. John's isn't needed for sanctuary, church leaders may assist activities or vigils at other churches.
Compton Heights Christian Church -- located at 2149 South Grand Boulevard in the Shaw neighborhood -- announced a 24-hour safe space to start immediately after the grand-jury decision is released. The church says it will provide prayer, quiet meditation space, conversation, art space with soft music, counsel, food and drink. For more information, call 314-771-5071.
St. Barnabas Episcopal Church in Florissant will also be open for prayer all day after the grand-jury announcement.
As Daily RFT reported last week, Christ Church Cathedral downtown is opening for a 24-hour vigil after the grand jury announcement, offering people prayer, reading, singing and counseling as a nonviolent alternative for any experiencing what the church calls "deep brokenness" after Brown's death.
"We know this decision will be a crisis point for our region," says the cathedral's dean Mike Kinman. "Even the anticipation of it has put St. Louis in a place of fear, anxiety and high reactivity."
Update: The Connection United Methodist Church, at 6701 Virginia Avenue, says it will open as a safe space from 6 to 9 p.m. the night the grand jury decision is announced.
Eliot Unitarian Chapel, at 100 S. Taylor Avenue in Kirkwood, will host an interfaith candlelight vigil at 7 p.m. on the night of the announcement. Representatives from the following faith communities will participate: Olive AME, Kirkwood Baptist, Kirkwood United Methodist, Harrison Avenue Baptist, Kirkwood United Church of Christ and Central Reform Congregation.
Our original story continues below.
But churches aren't just waiting for the grand-jury decision to come down. Religious leaders have often joined protesters in Ferguson during demonstrations, and worshippers at Ward Chapel African Methodist Episcopal Church in Florissant held an anointing service Sunday to bless cold-weather clothes, including hats and gloves, to be donated to protesters.
Mid-Missouri churches are preparing for protests and possible violence, too. The African American Clergy Coalition of Mid-Missouri is organizing vigils in Boonville, Columbia and Jefferson City.
Is your house of worship or community organization offering shelter or a safe space after the grand jury decision is announced? Want to be added to this article? Email Lindsay Toler at lindsay.toler@riverfronttimes.com.
Follow Lindsay Toler on Twitter at @StLouisLindsay. E-mail the author at Lindsay.Toler@RiverfrontTimes.com.